Based on all the leaks, it appears that Apple will indeed reveal a "Magic Toolbar" on its forthcoming MacBook refresh. Most are expecting to see a trio of new models: a 13″ MacBook (reportedly to replace the Air), 13″ MacBook Pro, and 15″ MacBook Pro.
No doubt the updates will include faster processors, better displays, longer battery times, and smaller footprints, not to mention narrower bezels.
But unless Apple is holding any surprises up its sleeve (rare these days in the world of tech) the headline feature appears to be what's missing.
Gone is the row of function keys along the top of the keyboard.
In its place is something called the Magic Toolbar. The OLED touch panel strip looks to be context aware, displaying keys and actions based on what you're doing. For instance, if you're completing a check out, it may prompt you to use the Touch ID to authorize payment. And, I'm guessing that if you're using, say, Adobe Lightroom, you'd see a series of softkeys related to photo processing — contrast, shadows, highlights, exposure, etc. No doubt, these will be customizable to the nth degree.
Mac Rumors posted images of the new MacBook and the Magic Toolbar, and here's how it looks: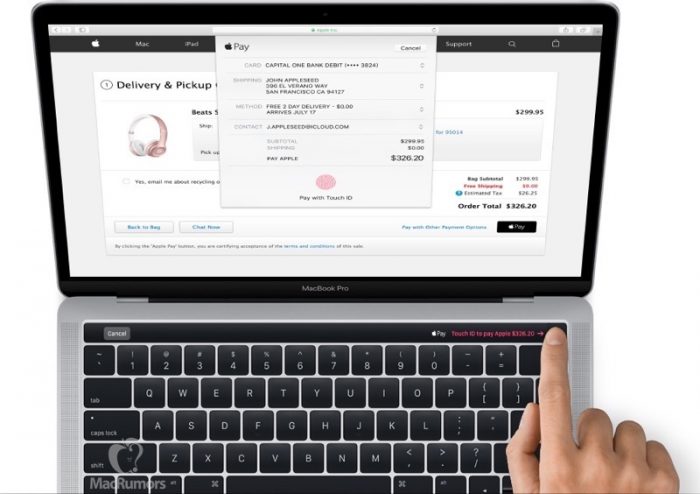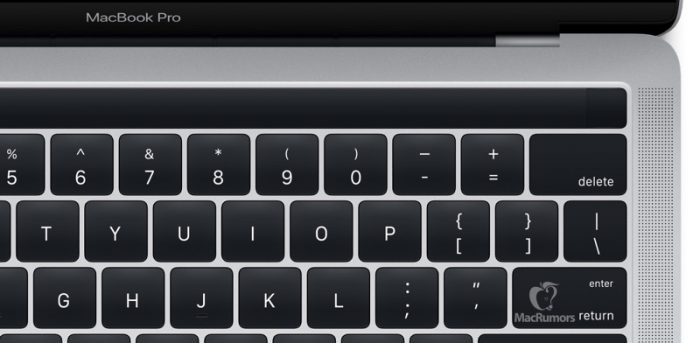 Apple prefers us to touch a Magic Toolbar instead of the screen
Interestingly, it looks like Apple will not include touch-enabled displays with its 2016 Macbook refresh. Instead, we will be touching the toolbar.
That touch philosophy — or lack thereof — is in marked contrast to the approach taken by Microsoft.
Microsoft has gone touch in a big way. Most of its devices (but not all), including laptops and hybrids feature touch displays. HP, Lenovo, Asus, and many other third party manufacturers have embraced Windows 10's inventive tablet/desktop operating modes to produce some fresh and unique designs.
The new "Tablet Mode" makes, thankfully, for a touch friendly experience on Windows 10. Add to that the anniversary update earlier this year which added the "Windows Ink Workspace" and, in my estimation, Microsoft has catapulted into the lead. You can doodle, you can write directly on a notepad (and have it converted to text), you can use the device as a tablet, or snap on a keyboard, for instance, and use it as a plain old laptop.
While Microsoft is opting for unified platform with Windows 10 — one operating system for desktops, tablets and laptops — Apple is keeping those worlds, at least from an OS perspective, separate. There's iOS for the iPad and iPhone. And MacOS for MacBooks. Cloud services perform unification services such as syncing files, browsers and workspaces.
MacBook or Surface Book?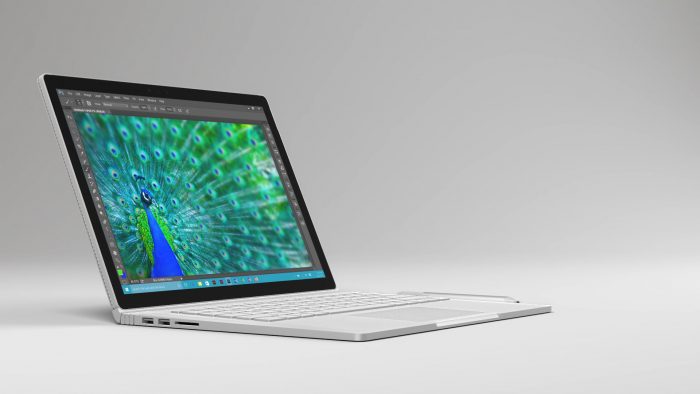 If you're like me you've been waiting for hell to freeze over. Finally. Finally new MacBooks are near. Time for an upgrade?
I'm still on a 2012 MacBook Air. That it works so well still (along with my old 2010 MacBook Pro which has had its internals upgraded many times over) is testament to Apple's rock solid engineering. As always, the touchpad is best-in-class. Same with the speakers, with their rich tonal response. Those two, reasons enough I've never quite been able to make the jump to a Windows-based laptop, even though I'm all Win 10 on my desktop and video editing systems.
I recently bought a Lenovo Ideapad Miix 700 running Windows 10 on sale and use it to storyboard and jot down ideas for Stark Insider videos. While I feel more productive using the MacBook Air, I feel more creative using the Lenovo. I sometimes snap on the keyboard cover at the coffee shop. But for the most part I find myself using it in tablet mode, using the handy adjustable stand to find the perfect angle, whether on the kitchen counter, or on a desk. It beats my MacBook Air in many ways (resolution, touchy-ness and compactness), but still falls short in some important ones, such as the aforementioned touchpad and speakers. Still, for $499 color me impressed.
A few years ago I'd never dare switching from a MacBook to a Windows-based laptop.
Yet, in 2016 it seems like a very real possibility.
I'll be watching both the Microsoft (Wednesday, Oct. 26 7:00am Pacific) and Apple (Thursday, Oct. 27 10:00am Pacific) announcements closely this week.
A MacBook used to be a slam dunk. But, man, that Surface Book is tantalizing. If Microsoft fine tunes it enough with the second generation I might just might jump the Apple ship, Magic Toolbar and all.