Sloooow motion. Slow-mo. Right?!
Doesn't slowing a moving image down just make everything seem more interesting? Possibly. We see it in sports all the time during replays. And, in case you never noticed, take time to watch that next luxury goods commercial, say, for a Lexus car. Note the use of slow motion. Ditto for music videos. And just about anything related to fashion.
So, it would be a first for me:
Shooting slow motion on the new RED Raven camera.
Though I had already shot one video with the Raven — All American Apple Pie with Loni Stark — I just knew that at some point I had to dive into high frame rates. After all, RED has a strong reputation for producing cameras that perform some pretty serious slow motion results, while not sacrificing resolution or image quality.
Paging Loni Stark!
Next I asked my indefatigably and evermore supportive spouse to pull some "wardrobe" for a quick shoot. Oh, and a scarf. Of course. Hopefully, there would be a light wind in the air — there was! Loni's look could perhaps be best described as, ummm, California Casual: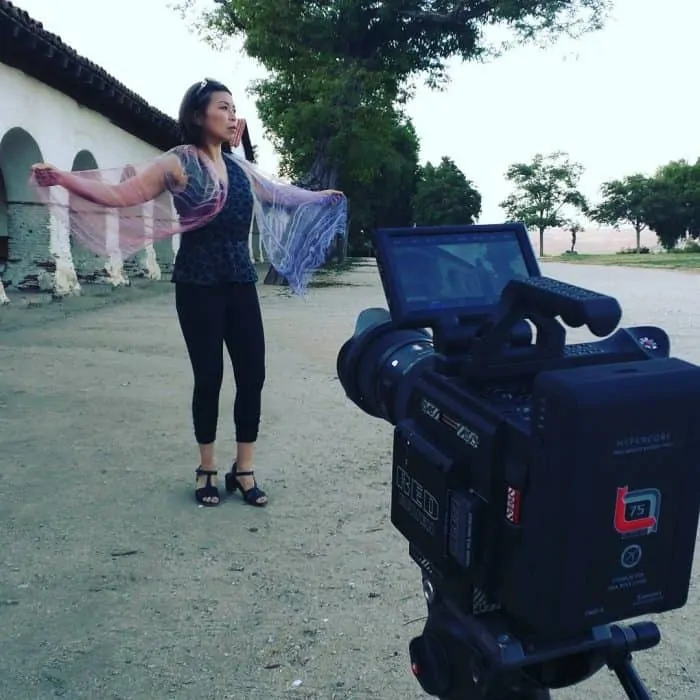 Then it was off to the races: 1 Loni, 1 Mission, 1 RED Raven.
I opted for 4.5K WS and 49.95fps (with a 23.98fps project base). To get slo-mo all I have to do was drag the footage (ProRes files) onto a 23.98 timeline in Adobe Premiere Pro and everything would playback at half speed. And that's exactly how it worked. No issues. Shot mostly handheld using a Sigma 18-35mm ART lens.
Shooting at historic sites is something that never gets old. It's like a film set, ready, right there, all for the taking. Plus soaking in some of the history is always enjoyable and interesting. Years ago I shot "Morado" at the very first mission of the Californias, Misión de Nuestra Señora de Loreto Conchó. Located in the lovely fishing village of Loreto in Baja California Sur, the place is beautiful — views of the towering Sierra de la Giganta on one side, and the dazzling Sea of Cortez to the other. It's amazing to think Mission Loreto (1697) and Mission San Juan Bautista (1797) are actually connected by the famous El Camino Real which extends all the way from California down south into the Baja states in Mexico.
After about an hour of running around San Juan Bautista, when Loni started getting cold as the sun sunk, we wrapped. The little kid in me of course wanted to shoot to nightfall, filling up my (paltry) 128GB RED minimag to my heart's content with lovely California vistas. But thanks to Loni and a gorgeous June day here south of San Francisco, I was a happy camper. With a goofy grin. "Walk over there!" "Turn around!" "Act dramatic!" "Work it, work it!"
WATCH: Mission San Juan Bautista with Loni Stark