With summer approaching, and quality family time in tow, I thought I'd revisit one of my favorite West Coast recipes.
My version of All American Apple Pie is low on the sugar count (in fact, there is none!), and high on the apple count. Just as a classic apple pie should taste — naturally sweet, but not cloying. Perfect for pairing with a sweet coffee-based drink, or perhaps even some Rose on a balmy summer evening.
Safe to say I think this is the definitive killer recipe for apple pie.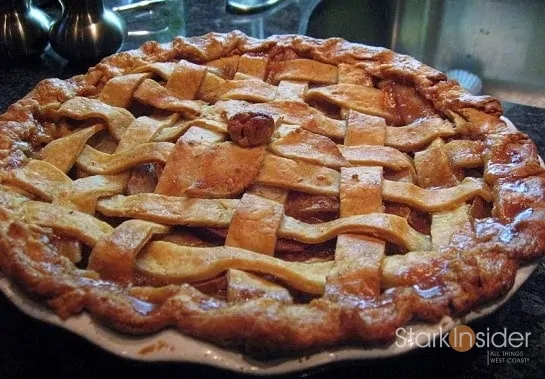 You can watch the video above for an in-depth look as I whip up a version for a guest blogger who stopped by my kitchen to get a first hand look at the mystery surrounding my All American Apple Pie.
Fair warning, there could be more to this recipe than first meets the eye.
After all, this is Stark Insider…
RECIPE: ALL AMERICAN APPLE PIE

From Loni's California Kitchen

Ingredients:

6-7 medium/large granny smith apples. You can use with types of apples, but I like the balance of tartness and sweetness that granny smith apples provide tablespoons of brown sugar.
2 tablespoons of all-purpose flour
1 teaspoon of cinnamon
1/4 teaspoon of salt
1 teaspoon vanilla extract (I just eyeball this)
1 tablespoon of unsalted butter
2 tablespoons of cream or half-and-half
2 ready made pie-crusts. You can make your own crusts and I have in the past. I found for the level of effort and the results, it just wasn't worth it. I like using Trader Joe's pie crusts as I find it has a great homemade taste.
Happy baking, enjoy the summer!
We look forward to seeing you out on location in and around the San Francisco Bay Area.
Don't forget: there's no crying in apple pie. Blood? Maybe… at least if you're being stalked by an overzealous editor with a new camera.
WATCH: All American Apple Pie with Loni Stark and Friends (Video)