"Alexa, ask Pebble how the Kickstarter campaign is doing."
Another savvy move by Pebble.
Today, the Redwood City wearable maker announced its upcoming Pebble Core wearable will feature Amazon's Alexa voice search assistant. This means you could use a voice command while you're running, for instance, to play a song. Or ask any question you'd normally ask Google Now or Siri, like the score in a sports game, the weather, your step count, or just about any search you'd normally type into a web browser.
"Core will be the first truly independent 3G wearable to give you the magic of Alexa on the go," noted an update on the Pebble Kickstarter campaign web site. "Ask for your latest workout summary, catch up on current news, check the weather, or change your tunes–Alexa has you covered with its ever improving set of skills."
For those that missed it last week, Pebble Core ($79) is one of three new wearables Pebble is shipping later this year.
The Core is a display-less wearable that you clip onto your clothing or keychain. It can track runs, and record various fitness information and thanks to 3G doesn't need to be tethered to a phone.
Because Pebble Core doesn't feature a display of any kind, the Alexa integration makes a lot of sense. In addition, Pebble also revealed the Pebble 2 ($99) and Time 2 ($179) smartwatches as part of its 2016 Kickstarter campaign.
Pebble and Amazon Alexa

With Alexa on Pebble, you'll be able to issue voice commands to accomplish a variety of tasks including:

Play any song, artist, or playlist.
Control your home — adjust temperature, lights, and locks.
Answer almost any question you can think of.
Get your Pebble Health summary.

Source: Pebble
Analysis: Pebble and Amazon Alexa
The integration of Alexa voice search, and an emphasis on fitness tracking clearly suggest a focused direction for Pebble — one that eschews all the fancy (gimmicky?) features found on more advanced wearables from the likes of Apple (Apple Watch) and Google's Android Wear (Moto 360, Huawei Watch, LG Watch Urbane).
With Fitbit and Garmin leading the wearable market at large, it's evident consumers want simple to use devices, with long battery that add value to everyday life without introducing cumbersome, computer-like capabilities. After all, that's what our phones do perfectly well.
Apple has Siri. Android Wear has Google Search. Now, upstart Pebble has Amazon Alexa.
Given that Pebble is a small company (just over 100 employees) this move is strategically sound. Amazon has a massive cloud-based presence. You can expect it will only get bigger and more intelligent over time, as CEO Jeff Bezos bolsters his platform to take on Google, Microsoft and Apple in the cloud wars. There's clearly no way Pebble could develop this capability in-house.
So, Apple has Siri. Android Wear has Google Search. And now, upstart Pebble has Amazon Alexa.
Further, using Kickstarter once again enables Pebble management to gauge market demand, and plan manufacturing accordingly. Risk mitigation!
My continuing suspicion throughout 2016 is that Android Wear-based smartwatches are largely sitting in the channel (Amazon, Best Buy, etc.) unsold. "Shipping" numbers provided by analysts, therefore, aren't necessarily indicative of consumer uptake. Google recently teased Android Wear 2.0. That update, one that focuses largely on the UI and user experience, won't ship until Q4. Consequently, consumers may hold off on a smartwatch purchase — adding increased friction to a market already fraught with heightened expectations. Or they may wait for heavy smartwatch discounts, which I predict will come in the back-to-school September-ish time frame.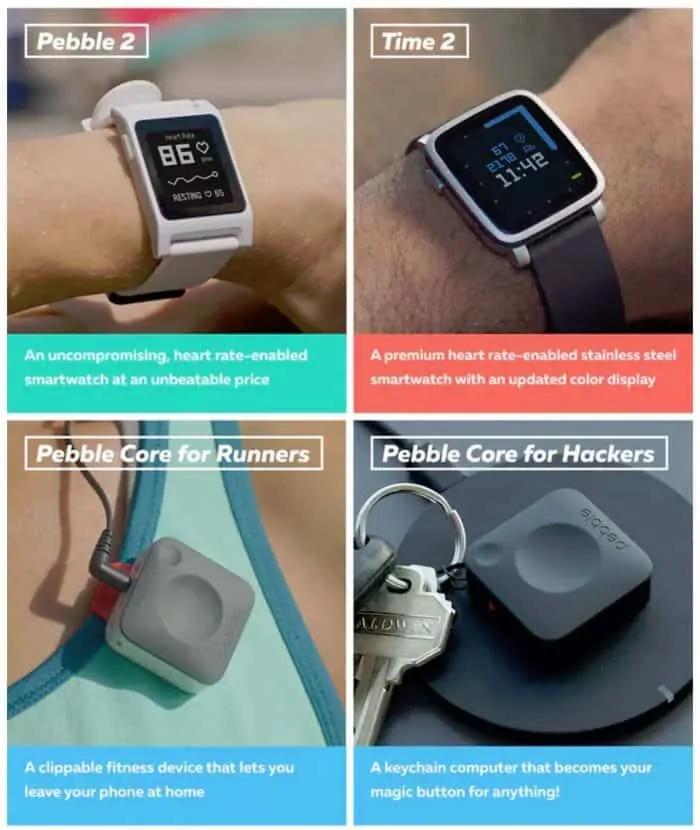 Unfortunately, I think we'll only see Alexa voice integration on the Core, and not the Pebble smartwatches. That's because the former is built on a "hackable" version of the Android operating system. The latter run Pebble's proprietary system.
Apple has an announcement in a few weeks. I'm guessing we will see minor updates to the Apple Watch (bands, a minor OS update), with the big reveal saved for the fall.
Meantime Pebble is hanging in there — in a very competitive market no less.
I wonder, could Amazon be a suitor for Pebble?!