Pebble is pouring it on today.
First, the big announcement this morning. The Redwood City start-up unveiled three new wearables. Follow-ups to the original Pebbles, called the Pebble 2 ($99 USD via Kickstarter) and Pebble Time 2 ($179), and, perhaps most interestingly, a screen-less fitness tracker called Pebble Core ($69). The latter features 3G and GPS, plus support for Spotify streaming. Targeted at runners it will be interesting to see how this model compares to competitive offerings from Garmin and Fitbit.
Once again Pebble turned to Kickstarter to fund the product launch. This marks the third time that CEO Eric Migicovsky has turned to crowd-funding. Previous results were staggering to say the least, with $10 million raised in 2012 for the original Pebble, and then $20 million in 2015 for the Pebble Time series.
Next, Eric and his team held a Reddit AMA in the afternoon. There, I was able to dig through an impressive array of questions to pull out the answers to the things I was most curious about, especially when it came to the Pebble 2 and Pebble Time 2 (which is actually an updated Pebble Time Steel).
Pebble 2 and Pebble Time 2: Top 10 Q&A
Is the charging connector (Smart Accessory Port) the same as the one found on Pebble Time?
Yes.
"Pebble 2 and Time 2 have the same connector as PT/PTS." But one small difference to note: the P2 does not provide power to the smartstrap port. (doesn't matter to me)
Will the new Pebble OS updates be supported on Pebble Classic and Pebble Steel?
No.
Supported devices for Pebble OS 4.0 include Pebble Time and above.
How will Pebble compete as a smaller player in an increasingly competitive market?
Direct quote from the AMA:
"We're focused on making the best damn wearables out there. We've got a particular stance that is different than the other guys. Great smartwatch needs to be great watch. Affordable, durable, colourful. Think of Pebble like the Swatch of the smartwatch world, vs the other guys"
(note: a clue here that CEO Eric Migicosvsky might be Canadian?)
Will the heart rate monitor (on Pebble 2 and Pebble Time 2) work in the water?
No.
Are there hardware changes with the next-gen watches?
Yes. More info can be found on the Pebble Developer blog. I found this table particularly useful in understanding the differences among the company's various models: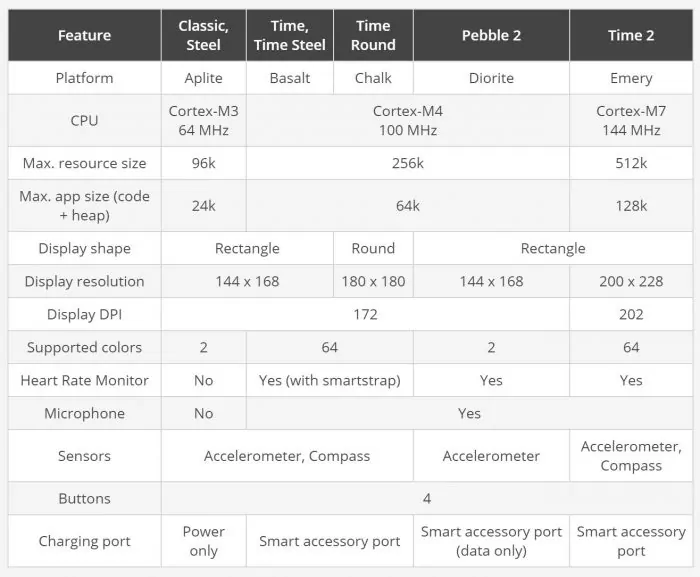 Why upgrade from a Pebble Time to a Pebble Time 2?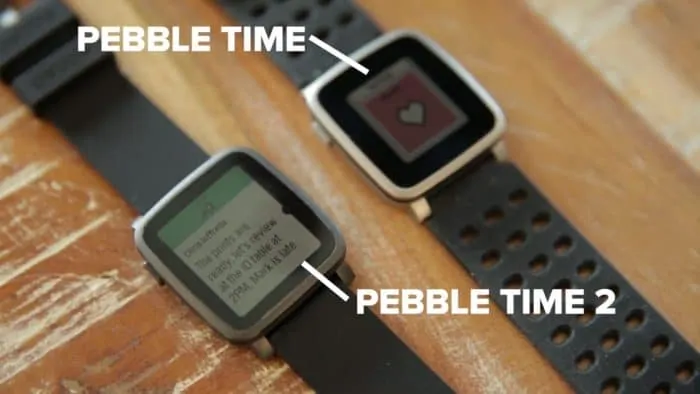 "The new Pebble Time has a gorgeous much larger screen. It's physically 53% larger, but it has 80% more pixels. It makes a huge difference. Also if you have a Pebble Time, you would probably enjoy the upgrade to a steel-made watch, then there is the heart rate monitor too."
What about the layoffs, should we be concerned about the long-term viability of Pebble, the company?
Per Eric:
"Earlier this year we made some changes that get us back on track to profitability. We're on track to be profitable (cashflow positive) by the end of 2016."
Will fitness tracking be automatic?
Via Thomas Sarlandie, head of Pebble developer relations:
"Pebble will automatically detect runs, report them in the Health app and integrate with 3rd party services."
Also, I'll add something here too (from me, Clint, the author of this post, not a Reddit-or): one thing to keep in mind and a feature that I really like about the Pebble Time is that, not only does it automatically track your steps (something we all expect from a wearable in 2016), it will also automatically track your sleep. So you don't need to manually "start" sleep tracking as you have to do on, for example, Android Wear-enabled watches. That's a royal pain. I love waking in the morning, taking a glance at Pebble and seeing when I feel asleep, and how many hours I slept, including deep sleep. Simply fantastic. And, another reason why I believe the Pebble team gets the little things right. These little things add up, and overall end up delivering a superb user experience. Android Wear… you listening?
But… no NFC?
Via Eric:
"No, sorry. I'd recommend the Pagare smartstrap if you're interested in NFC payments or the Seeed Studio hacker smartstraps with an NFC module."
Finally, what about syncing step counts across Pebble devices?
Here's what CTO Andrew White had to say:
"Today, the Pebble Health view in the mobile app syncs and merges the step count from multiple paired Pebbles. The step count shown on the Pebble itself is not currently synced across watches but it's on our to-do list."
More Pebble 2 Q&A worth reading…
If you're a Pebbler and like me have been participating in the journey since the 2012 OG, you'll definitely want to head over to the Reddit AMA.
There you can sift through pages of interesting information about the new Pebble 2 and Time 2 watches.
Plus it also provides unique insight into the communication style the company employs. You get the sense this team loves what they do. They know they're underdogs. Because of that, there's this sense of a David vs. Goliath mentality. And that approach yields creative solutions, a team that, from the outide, appears to really gel, and an overall belief that Pebble can win this thing. Here's hoping.
Stay tuned to Stark Insider. I'll continue to document my experience here, not only with Pebble, but of course, the chief competition such as Android Wear, WatchOS and the Apple Watch, and Samsung's nascent Tizen (Gear S2).