Loni Stark continues her exploration of the creative impulse, in and around San Francisco. Recent Stark Insider video features include a profile of the new $21 million SF Opera Lab, Dirty Dancing re-visited, the art of swordplay on the set of Cyrano, and mini-doc with the talented YouTube-winning a capella group Pentatonix.
There's a lot "Brand New" about Ben Rector these days.
He's coming off his sold-out mega Brand New Tour. His album Brand New is flying off virtual store shelves. As is his new single… yes, "Brand New" — also meeting with much enthusiasm and acclaim.
No surprise then that Rector says he's getting less sleep these days and that frantic fans can at times prove to be overly energetic.
"I chipped my tooth on the last leg of the tour," he tells me before taking the stage at the Live in the Vineyard music festival in Napa. "The crowd was so intense and close, the microphone bumped right into my face. Later, I realized that something wasn't right."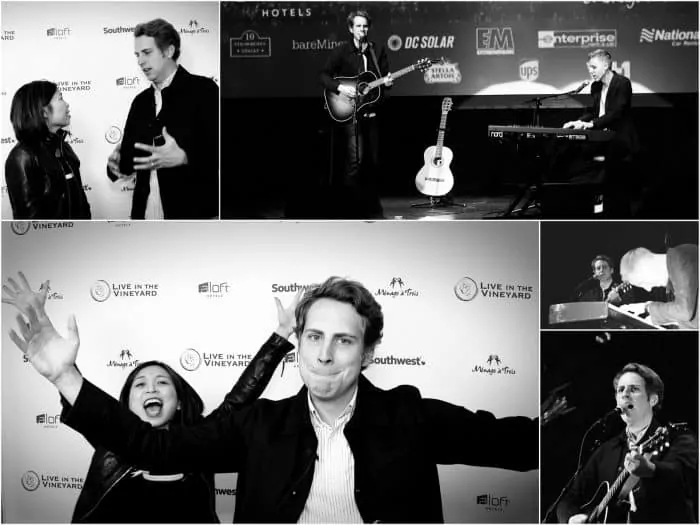 Aside from that minor mishap, life on the road has been very good for the Oklahoma singer-songwriter. Last month he made a successful appearance on Conan. Under the "Aptly Named" label, Brand New debuted at number 9 on the Billboard 200 — his first album to hit the top 10.
Rector's acoustic set at last month's LITV music festival had fans off their feet, and had us shouting out cheeky suggestions for a random word for him to somehow incorporate into the chorus of at least one song. Which word? You'll just have to see it for yourself in the video below, shot at the Uptown Theatre in Napa.
Like when I close my eyes and don't even care if anyone sees me dancing
Like I can fly, and don't even think of touching the ground
Like a heartbeat skip, like an open page
Like a one way trip on an aeroplane
It's the way that I feel when I'm with you, brand new
Brand new
Baseball. Serial Selfie Videos. Frisbees. Dancing (and I don't even care if anyone sees me dancing)…
That and a whole lot more on this special Stark Insider episode featuring the everyday, city-hopping hero known as Ben Rector.
WATCH: Ben Rector "Brand New"
Live in the Vineyard Music Festival