Opera! Join Loni Stark in a very special episode as the Stark Insider crew heads to San Francisco Opera's beautiful new space in the War Memorial Veterans Building.
After a $21 million renovation, the Diane B. Wilsey Center for Opera opened earlier this year to the public, and has been receiving rave reviews. I was invited last week to take a look, and in the above video hopefully you'll discover how magical this new venue is, and drop by at some point to attend a performance.
At the heart of the new 38,000 sq. ft. complex is the Taube Atrium Theater which features an intimate space that can be configured in several ways. Here seen in 360-degree set-up for SF Opera Lab's production of Svadba-Wedding: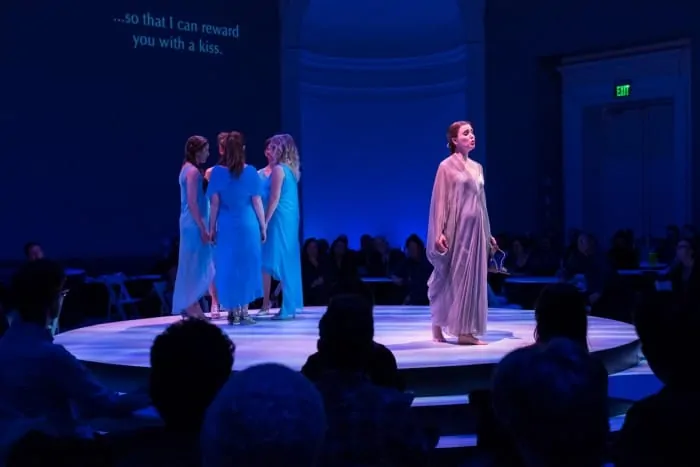 Located throughout the complex, which is located on the top floor of the War Memorial Veterans Building, are historical reminders of the original construction from 1932 including: two elegant, soaring black scagliola columns you'll see as you enter the theater; stunning alcoves in the corners of the 299-seat theater; and, expansive skylights that flood the place with abundant natural light.
But under the surface there's a modern engine in place.
The sound, general director David Glockley tells me, is of paramount concern. "I wanted the experience to be perfect," he said as we spoke in the newly created education studio, in its own right a piece of modern architectural art — glass walls, acoustically isolated floors, and that colorful mural that served as a most fitting backdrop for our interview.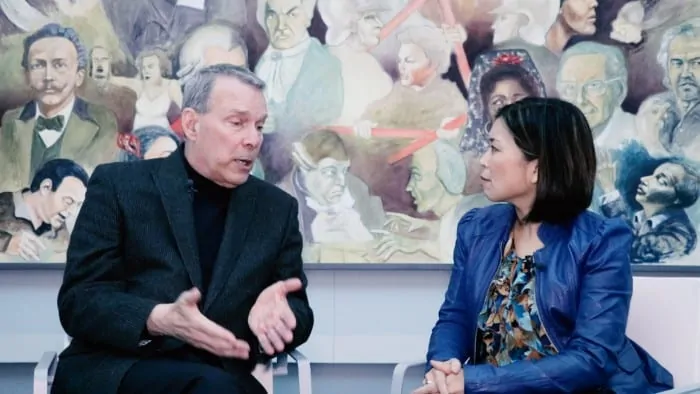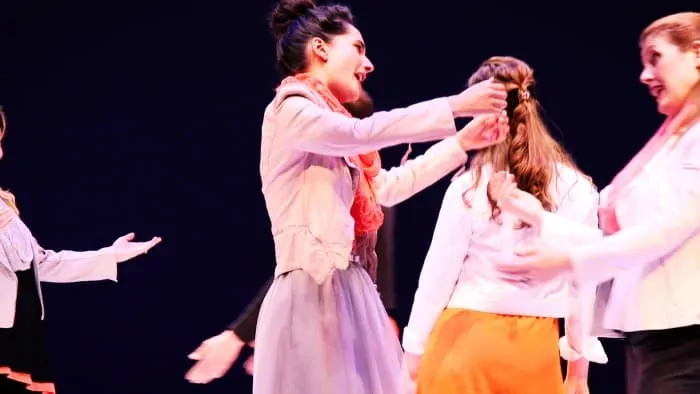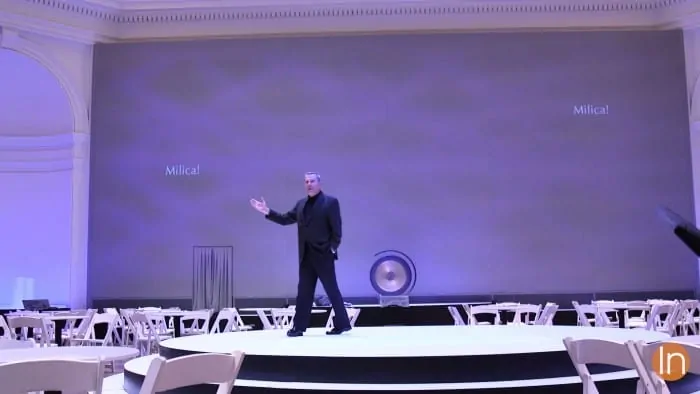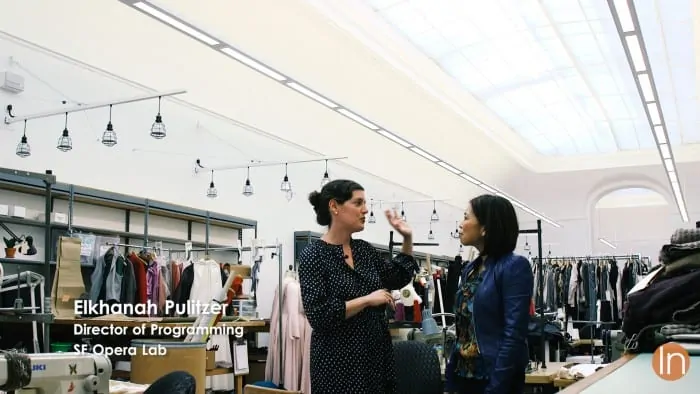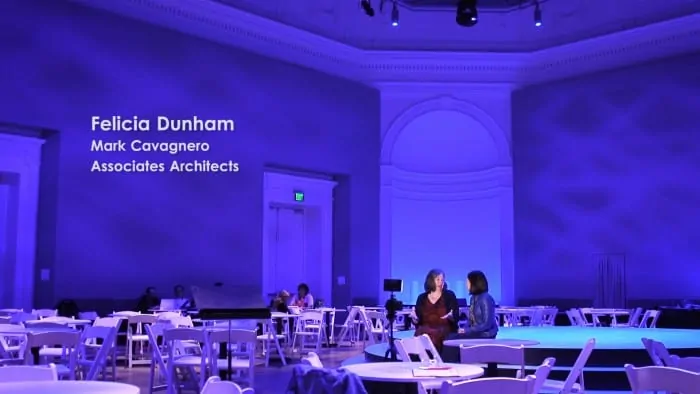 Director of programming Elkhanah Pulitzer expects to stage all sorts of intimate, contemporary fare in the new space. Indeed, the current production Svadba-Wedding is perhaps the perfect example in this inaugural season: An a capella opera featuring six female singers, the opera is seemingly not constrained by conventional norms, and is constructed around Serbian poetry. During rehearsals I witnessed first-hand the impressive acoustics afforded by the specially designed Meyer Sound Constellation system (24 hidden microphones, 75 self-powered speakers) and marveled at the blue — very blue! — walls that were lit up with various projection art and super-titles.
Gockley, who is set to hand-off the baton this year after a decade of running the San Francisco Opera, also appreciates the convenience the new campus affords. For once, the team will enjoy being together in a unified space. "Previously we rented a place in the Presidio," he notes. "We had to run instruments, and music stands back and forth, and back and forth." Am I sensing an upcoming episode of Mozart in the Jungle here?
San Francisco Opera's
Diane B. Wilsey Center for Opera

Located in the War Memorial Veterans Building in San Francisco.

Completion date: February 2016

Size: Approximately 38,000 sq. ft (28,000 sq. ft on 4th floor, 10,000 in basement)

Architect: Mark Cavagnero/Mark Cavagnero Associates Architects

Spaces: The Atrium Theater, Education Studio, Exhibit galleries, SF Opera Archives, administrative offices, Costume Studio.

Taube Atrium Theater: 299 seats. Can accommodate various configurations including 360-degree stage, acoustic construction enhances isolation from Herbst Theater located below, Meyer Constellation sound system.

Programming: Headed by Elkhanah Pulitzer. Inaugural season includes Svadba-Wedding, The Triplets of Belleville Cine-Concert (animated French film will be live scored), Chamber Works, Voigt Lessons (one woman show starring soprano Deborah Voigt).
It's wonderful to see these types of remodels take place. Last year, we saw the hugely successful re-birth of The Strand theater on Market.
Now, in true Silicon Valley fashion, David Gockley and team are pushing the envelope, and exploring the possibilities artistic innovation can bring to the community. Bravo! for Opera!