Pentatonix has a new single and a new world tour. Talk about busy! Fortunately, I was able to meet up with the a cappella group last week during the Live in the Vineyard music festival. On a rainy day in Napa, the group was all hugs, before heading down to the barrel room at the Charles Krug winery where they delivered a beautiful seven-song set.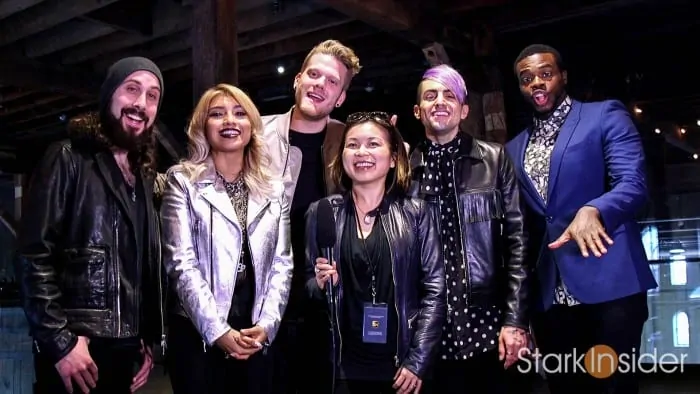 "If I Ever Fall in Love" is their new single, supporting their eponymous album. Be sure to watch the video above as Pentatonix perform the track live for the first time.
The group rose to fame after winning NBC's Sing-Off. Covering famous songs with flare and utter charm, the group soon amassed an impressive fan base of loyal YouTube and social media "Pentaholics". PTX, as they're also known, won two Grammy awards in 2015 and 2016 (Best Arrangement, Instrumental, or A Cappella) for "Daft Punk" and "Dance of the Sugar Plum Fairy" respectively. However, their latest album — which debuted at #1 on the US Billboard 200 — is the Texas-based group's first foray into originals.
Close your eyes and listen to some of their songs, and you'll quickly realize the talent goes oh-so-very-deep among the band members (Scott Hoying, Mitchell Grassi, Kirstin Maldonado, Avriel Kaplan, Kevin Olusola). In the age of Auto-tune, EDM, and so much post-production trickery, how refreshing to have a group stand up, with just mics, and perform such memorable, emotional songs.
PENTATONIX

Set list

Live in the Vineyard
Charles Krug Winery, St. Helena, California
April 7, 2016

1. Cracked
2. Can't Sleep Love
3. Evolution of Michael Jackson
4. Misbehavin'
5. If I Ever Fall in Love
6. Daft Punk
7. No
I asked Pentatonix when they realized singing professionally could become a thing. "I think later on the Sing-Off. This is something very special, and people enjoy it a lot and it's something I have a passion for. None of us thought we wanted to do a cappella professionally," said Scott Hoying, PTX baritone lead. "We were all like 'Wow, we're singing and enjoying it, let's run with it.'"
Join me as I head to Napa in this very special Stark Insider episode to meet up with the most hug-friendly band of all time, Pentatonix.
Yeah!
WATCH: Penatonix – Stark Insider Interview