Is it a hit or not?
Apple isn't saying. The company has been uncharacteristically mum on the subject of Apple Watch sales. You'd think that if they were going gangbusters CEO Tim Cook would be the first to say so. It would be the first slide at the company's next product reveal: 500 Million Sales! 10 Billion Watch Apps! 65 Countries! We loooooove you!
Given that the Apple Watch has received mixed reviews — most either love it or hate it — and that there's a myriad of reasons why users dump it after a short time (something that never happened with the iPhone, iPad, or just about any new shiny gizmo that comes out of Cupertino), it's hard to tell how well the slick wearable will do over time.
IDC,  however, paints a rosy picture.
The research firm's latest report estimates that 3.9 million Apple Watches shipped in Q3 (ending September 30, 2015). If true, that would represent about 18% of the entire wearables market. An impressive debut to be sure — especially given that the trajectory is surely up and to the right at this point.
Fitbit Still on Top – But for How Long?
Fitbit still leads the wearable pack with 22% share, likely driven by its low prices, and wide distribution strategy.
Third in the IDC rankings is Xiaomi. A surprise that one. I've never seen a smartwatch or any other wearable product made by Xiaomi. This is probably because most of its sales are happening domestically, inside China which, according to IDC is the fastest growing wearable market. That could change in the future if the tech giant decides to expand globally. Given that Huawei has already, I'd be surprised it that move doesn't come sooner than later.
A Gap in the Wearable Market?
Interestingly in terms of market dynamics, according to IDC there's a "bifurcation" in prices.
Existing models are either pricey "smart" wearables (such as $400+ smartwatches) or at the low end commodity level, "basic" wearables (sub $100 fitness trackers). That, they suggest, leaves room for others to fill the gap. Others like Pebble, and new entrant Fossil (Q Founder based on Android Wear).
From IDC's data it's hard to tell how any of the Android Wear OEMs are doing. Motorola, LG, Asus, Huawei all make smartwatches based on Google's nascent wearable platform. At best we know they (and others) account for the "Others" category, which accounts for about a third of the wearable market.
According to one survey, over 50% of Apple Watch owners report they either don't own it anymore (36%) or leave it in a drawer (18%).
Samsung is making a push with its own Tizen wearable OS. Most recently we've seen it in the well-received Gear S2 smartwatch. This may represent a change in strategy, as previous efforts were based on Android Wear.
Apple Watch: Love it or Hate it
And that brings us back to the Apple Watch.
People seem to either love it or hate it. That's not necessarily a bad thing. But it may suggest that wearables, or at least smartwatches, are niche products. Our expectations of the size and growth of the market may not be as dreamy as many suggest. Yes, the market is growing fast, but that's obviously because it's small.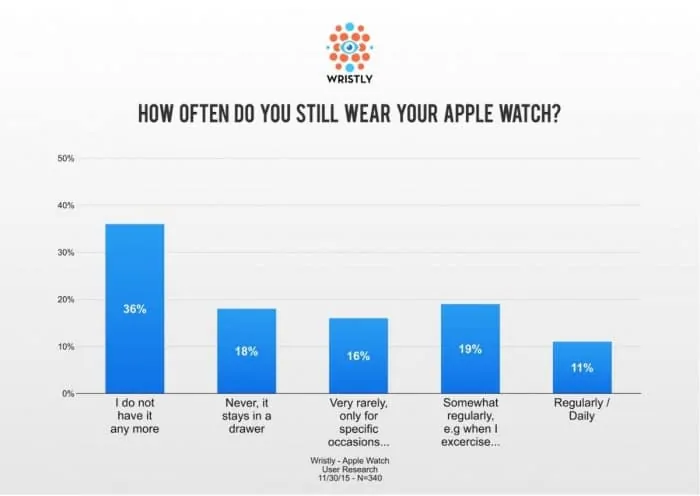 I Hate It!
According to a survey by Wristly, over 50% of Apple Watch owners report they either don't own it anymore (36%) or leave it in a drawer (18%). Certainly, that can't be encouraging to those measuring loyalty, customer satisfaction and potential for word-of-mouth upside.
I Love It!
Contrary to that result, the Apple Watch apparently has the highest level of satisfaction (97%) amongst any of its first generation brethren, including the iPhone in 2007 (92%) and the iPad in 2010 (91%). See: "State of the Apple Watch".
Analyst firm FBR predicts Apple will move 5-6 million watches in December alone.
Ho Ho Ho… Hold on to that Forecast
So you can see the challenge: Is the Apple Watch a hit? Too early to tell I suspect. And reports (and opinions) are often conflicting.
Keep in mind, too, that a lot of the love for wearables is coming from early adopters, and those who run tech blogs. Smartwatches are the shiny new thing. And we all love playing with the shiny new thing. I'm guilty on that count, and may even have a smartwatch problem… LG G Watch, Pebble Classic, Pebble Time, Moto 360, Asus ZenWatch 2, Samsung Gear S2, Apple Watch… hmmm. I really hope my wife doesn't read this.
Perhaps the holiday season will be the ultimate test for the mainstream, sensible consumer. If millions more are ready to pony north of $350 (US) for an Apple Watch it could bode well for the future of the category. Analyst firm FBR predicts Apple will move 5-6 million watches in December alone.