Google today announced a pair of two Nexus phones in San Francisco. The event, as is increasingly common, was also live-streamed (replay on YouTube).
The smaller Nexus 5X is made by LG, features a 5.2-inch 1080p screen. Starts at $379 (16GB).
The Nexus 6P is made by Huawei (a first), features a 5.7-inch 1440p screen. Starts at $499 (32GB).
Both phones come with the new USB Type-C connector, which means no more fiddling about trying to figure out what side of the cable is "up". For some this could be a pain, though, as it means either replacing existing USB cables lying around the house, or buying an adapter.
Read about today's Google Event: S'more to love across all your screens (Google Blog)
Both are unlocked (the trend of 2015), carrier free (i.e. no bloatware!), and are available for pre-order today from the Google Play Store.
But, the biggest comparison will likely not come between the two Nexus phones, but rather amongst the competition. The most interesting to me, and I suspect for many others will be:
Nexus 6P vs. Motorola X Pure Edition.
Both are large screen phones, and both are positioned at the top end of their respective product line-ups. So, how do they compare?
First, the Motorola X Pure.
Moto X Pure Edition (Motorola)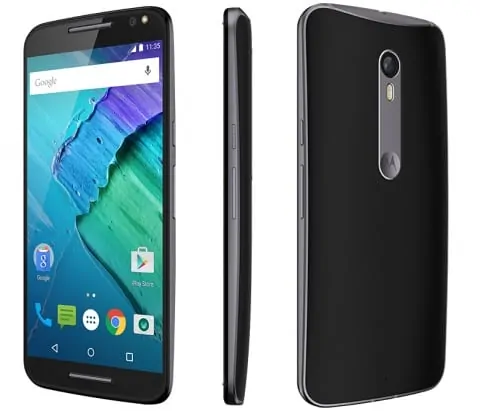 There's a lot to like here. First, there's that unmistakable Moto design language — a nicely curved backside, relatively small bezels, clean surfaces. Buttons are where you expect them to be (nothing funky like we've seen on something like the LG G3), the camera is pretty sweet (21MP) and has 4K recording.
Dimensions: 153.9mm H x 76.2mm W x 6.1 to 11.06mm Curve
Weight: 179g
The Pure X uses a Snapdragon 808, has 3GB RAM and — this will please many — has a Micro SD card. Battery is rated at 3000mAh.
Screen-wise, the Moto X Pure has a 5.7″ 1440p Quad HD display and front-facing speakers (thank you, so handy in the car for nav, and at home for videos!).
Bonuses include TurboPower charging. Plus the X Pure in for about 15-20 min, and you get about 10 hours of extra battery. Perfect for a Starbucks refuel.
Moto X Pure Edition pricing:
$399 / 16GB
$449 / 32GB
$499 / 64GB
Overall, a really nice job by Motorola on this phone. With several inlay styles (18) and a variety of accent colors (7), you can customize to your heart's content. Also, don't forget you also get the Moto Display which allows you to see notifications in a low power ambient mode while your phone is resting on a table (still, I wish these new phones still came with LED notification lights).
Nexus 6P (Huawei)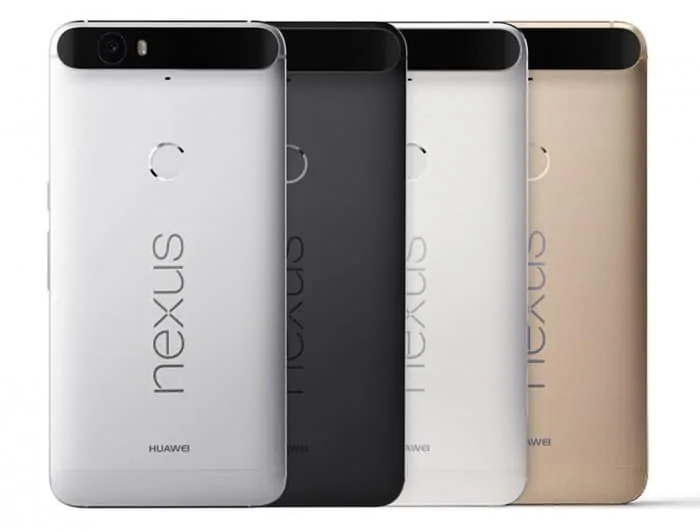 The Nexus 6P is positioned as a flagship phablet. Fortunately it's priced more like a conventional Android phone, and not like Samsung's (well regarded) Note range. Like the Moto X Pure, this is looking like a great device, save for a few missing bits, which I'll get to in a sec.
Nexus 6P specs include: 5.7-inch AMOLED 2560×1440 display, Snapdragon 810, 3GB RAM, front-facing speakers, 12.3MP camera.
Dimensions: 159.4 H x 77.8 W x 7.3mm
Weight: 178g
USB-C is also here as well — like it or not, reversible connectors are the way forward, so order up some new cables.
Missing features are a bit of a disappointment, though not surprising given the endless "leaks" over the past few weeks. Most notable is the absence of QI wireless charger. Bummer that. I love dropping the phone onto a charging pad at night, as I was able to do with the Nexus 6 (and Nexus 5 before that). Also, there's no SD storage slot, nor removable battery. And — this could be huge omission for series photogs — there's no optical image stabilization (OIS) for the camera. Ugh. Big miss there.
Nexus 6P pricing:
$499 / 32GB
$549 / 64GB
$649 / 128GB
Moto X Pure or Nexus 6P?
Choosing between the two is a close call. Obviously if budget is the primary decision criteria, go with the Moto X Pure. At $399 for the base 16GB model, you'll pay $100 less than the 6P's $499 entry price.
But you know what?
Pricing aside, I'd still go with the X Pure.
The Moto X has a better camera, wallet-friendly pricing, and an SD slot which I like for loading on movies and music (great when travelling too, when a network or wi-fi aren't readily available). Also, the Moto X Pure comes in a more compact package — narrower and not as tall as the 6P — and, like past Moto X phones, feels pretty sweet in the hand thanks to that curved back.
Neither phone has Qi charging which is a shame. Then again, Qi seems to be on the way out. Not sure why that is, I love the convenience.
If you want Android 6.0 Marshmallow right away, or if you really want a fingerprint sensor, the Nexus 6P (or 5X) should be top of mind of course. Also, you might even want to consider the Nexus 6 (2014) which still packs a lot, especially considering a 32GB Nexus 6 can be had for only $349 (and will likely receive Android Marshmallow update next week).
More Android on Stark Insider: Top 5: Best unlocked Android smartphone deals
Both the Moto X Pure Edition and Nexus 6P are solid Androids. Although I'd save $100 and go with the X with its awesome Moto Display feature and svelte ergonomic, I'd suspect I'd be pretty happy too with the Nexus 6P and its rapid-fire OS updates.
Heck, with phones like the Moto G ($179!?), and Huawei Ascend Mate, and Asus Zenfone 2, and Alcatel OneTouch Idol 3, we really are living in a new era of unlocked greatness.
I remember when I got my first Android phone in 2009, the now historic Motorola Droid. I entered my Google credentials, and, boom, everything synced; a far cry from my aging BlackBerry. That phone came with a 2-year Verizon commit. I was happy as a clam. But, now, in 2015, the choice for budget-friendly Android devices is staggering. Moto X Pure Edition? Nexus 6P? Nexus 5X? Choice is all so very good.
WATCH: Google Press Event 9/29/15 ft. Nexus 5X and Nexus 6P