BottleRock is back.
And, I mean, it's really back.
Of course it never actually left the building. Two years earlier, the music fest was born here in Napa. But things didn't go so well. A quick visit to Yelp — where it scores a 2.5-star average — will tell you all you need to know about that fiasco (not to mention the $8 million deficit). Lines were atrociously long. Logistics were overall poor making navigating stages and the grounds problematic. And, the music, the very thing we all came out for was, sadly, underwhelming.
Forget all that. This is a new BottleRock, and, though I was skeptical going in, I came away a firm believer that it could become a legit mainstay. There's a new team including Latitude 38 who took over in January 2014, and PR firm Sunshine Sachs who came on board this year. Results are visibly, dramatically improved.
When No Doubt (great choice) closed out the final night it was a triumphant punctuation mark for a weekend filled with stellar acts, superb food choices, entertaining culinary demos, and interesting artworks. There's no shortage of things to do, and, although there's about 30,000 of your closest friends on hand, it never feels too crazy (well, at least not until some of the later sets at the Intel mainstage) and never unsafe. While Gwen Stefani was giving it her all as only Gwennie-Gwen-Gwen can, my phone vibrated. It was an email. BottleRock organizers were already announcing dates (May 27-29) and prices (starting at $225) for next year's edition. TL;DR: buy some.
Headliners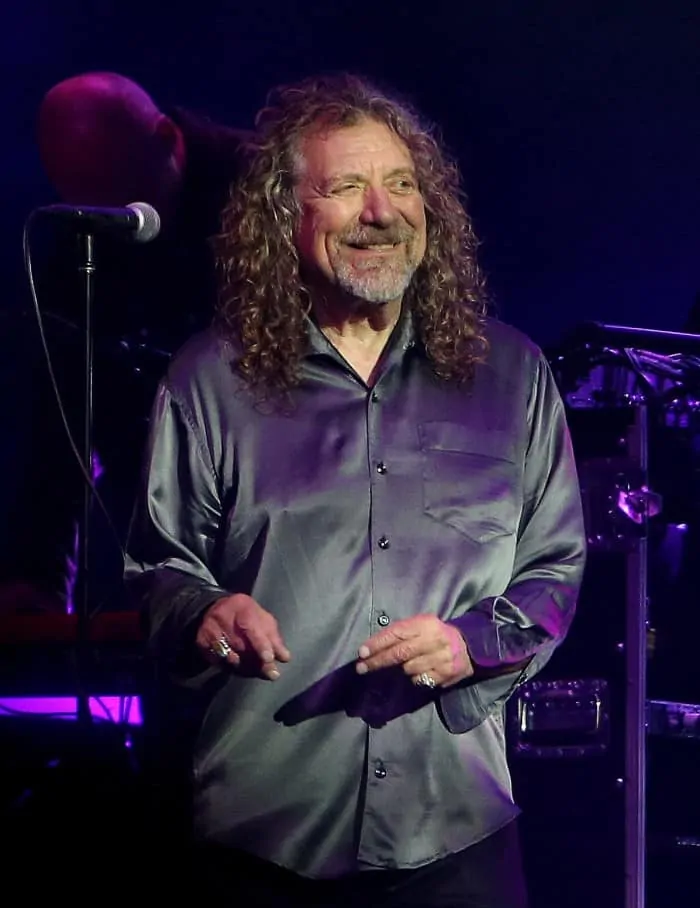 Booking big names is part of the trick. Getting the right mix of artists is equally important in satisfying the tastes of a diverse concert-going audience, which appeared to include a combination of millennials, Gen Xers and concert veterans. Here, BottleRock flat out nailed it. In headliners Imagine Dragons, Robert Plant, and No Doubt we got a quality line-up, including a new, red-hot, ultra-contemporary band (embarking on a world tour in support of their new album Smoke + Mirrors), a living legend, and an iconic, energetic pop group.
Imagine Dragons scored massively well, if social media is any indication. The Las Vegas group have quickly garnered a reputation for delivering knock-out live performances. Friday night at BottleRock, no exception. It was a beautiful thing to hear Dan Reynolds belt out chart-topper "Shots" while downtown erupted. Just incredible.
Robert Plant amazes. Earlier, I suspected there might be only one of two outcomes: he limps around on stage, a shadow of his former legendary self, or the Rock God shows up. It was the latter. 100%. He floated above the Napa Valley Expo, oozing ultra-cool. Incredible isn't it, how even subtle body language of an epic performer becomes so electrifying? Fortunately Plant and his band opted to serve-up plenty of Led Zeppelin classics ("Whole Lotta Love", closer "Rock and Roll"). The new material ("Rainbow") worked surprisingly well too. This may well become one of those "where were you when" performances.
No Doubt capped off the festival on day 3 with a fun, poppy, hit-fueled set. You really couldn't ask for anything more. This is a band that delivers the goods, time and time again. It's a slightly shocking reminder, though, to realize that the group's breakthrough album Tragic Kingdom is 20 (!) years old. And Gewn Stefani, 45 (and a Mom)?! You'd never know it though. The one snafu that I noticed all weekend happened about half-way through No Doubt's set. The video screens went blank. Fans didn't take too kindly to Twitter — fair enough, you can't see anything from the back. Fortunately the screens came back, just as the group was revving into high gear for "Just a Girl".
A Deep, Impressive Music Line-Up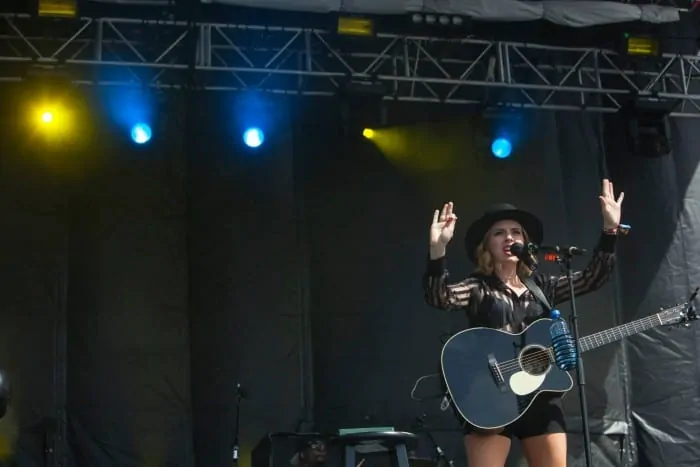 There was little to no drop-off in quality earlier in the days either. BottleRock brought a deep line-up to town.
Echosmith is a fun family band (four siblings) with some catchy songs hitting the charts ("Cool Kids" and "Bright"). We saw them earlier this year at Live in the Vineyard where they entertained at the Lincoln. Ones to watch.
Juno nominees (Best Group) Mother Mother have an eclectic sound and look, intermixed with interesting harmonies. Check out their video for "Monkey Tree" on YouTube to see what I mean. For me, a welcome discovery.
Scott Weiland was back, this time with The Wildabouts… cloaked in no shortage of controversy and Spinal Tap-esque headlines. No worries, though, this time they sang "Vasoline" proper, with Weiland doing his STP thing. The crowd approved.
The Mowgli's. Loved them. I didn't get to hear whole set as we were interviewing Big Talk for Stark Insider just moments earlier. What a sound! Great licks and beats. My first time seeing Mowgli's live. You know how some bands just sound even better live? U2 I think is a high profile example of that. Priory is an up-and-coming Portland band I put into that category after witnessing a searing set at Live in the Vineyard earlier this year. The Mowgli's too… great stuff.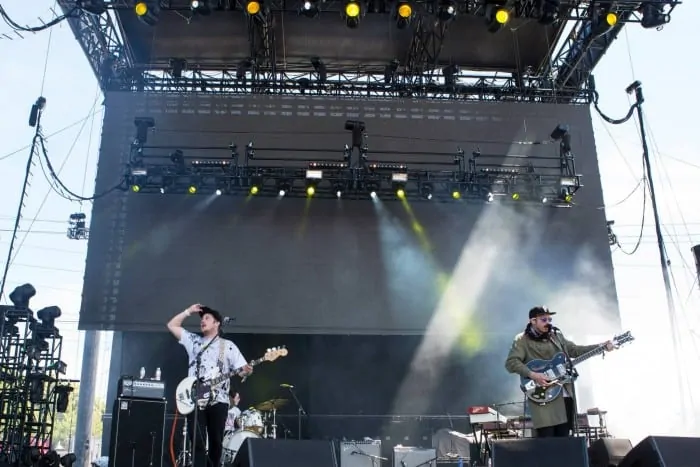 Plenty of other bright spots. It was a treat being able to saunter under the Napa sun to the various stages (Intel, Jam Cellars, Miner Family, and Emerging) with ease and convenience (thank you for the massive block of restroom stalls). With some overlapping sets, you had to manage the schedule carefully. Other highlights: Foster the People, Snoop Dogg (but of course), local group Moonalice (whose frontman, VC-turned-singer Roger McNamee, had non-stop praise for BottleRock during the presser), ZZ Ward, Big Talk (featuring drummer Ronnie Vannucci Jr of The Killers), Capital Cities, Fritz Montana, Portugal the Man, Zella Day, among many others.
It was especially thoughtful of the BottleRock organizers to reserve a noon time slot for the Napa Valley Youth Symphony. I can only imagine how exciting it must have been for them to perform at such a high profile event.
And the Food Killed too…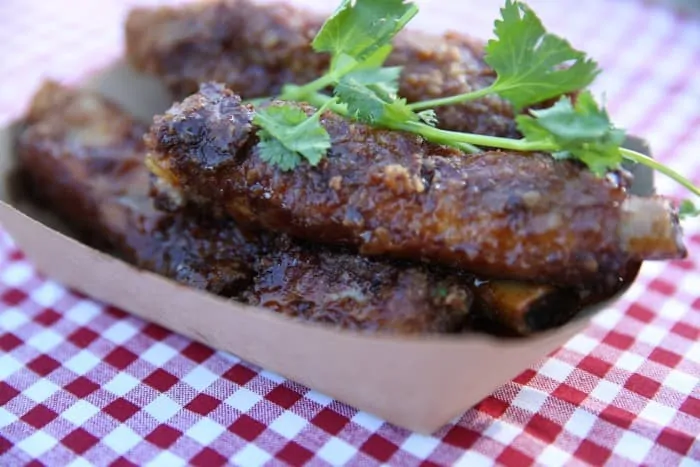 The cliché was in full effect. Come on an empty stomach, they said. So true. Hot dogs and fries? No, sir. Here it's all about flavor, flavor, flavor. And choice, choice, choice. I was astounded by the number of vendors on site, and equally astounded with the quality of the dishes. The hardest part was deciding what to eat. Fried olives stuffed with sausage (Il Posto Trattoria). Grilled corn (La Condesa). Plenty of things with bacon on top. BottleRock could've gone on for a week and I don't think any of us would complain when it came to the food.
I confess, though, I did manage to sneak over to Morimoto for some fanciful sushi. It's pretty hard to resist. Speaking of Morimoto…
Culinary Stage Entertains
I'm not a big food demo kind of guy. I find these forced events hammy at best, and boring at worst. But, BottleRock seems to be doing everything right this year. And the culinary stage entertained. Mashing up some of the more interesting artists, with chefs, and others turned out some winning combinations, perhaps most notably Chef Morimoto and Snoop Dogg. Let's roll some sushi… hmmm. There's one for the ages. Imagine Dragons guitarist Ben McKee and Chef Rick Moonen also entertained while attempting to make Risotto in front of a sizable, enthusiastic crowd. In all, there were about a dozen of these demos over the course of the three days, and it seemed to be an idea that clicked. My guess is organizers will bring it back en force again in 2016.
Though it won't matter to most, BTS the media were given significant access to the performers. It was a well-oiled machine. A press lounge located at the rear of the grounds impressed with amenities. A sizable set with chairs and lights provided a convenient backdrop for a series of rolling interviews. Every 15-30 minutes or so, new talent would arrive before us, ready for some Q&A. If BottleRock gets a spike this year in terms of coverage, you can bet that some of that is the result of having an efficient process for giving us what we need to file stories, upload videos.
Outside Lands?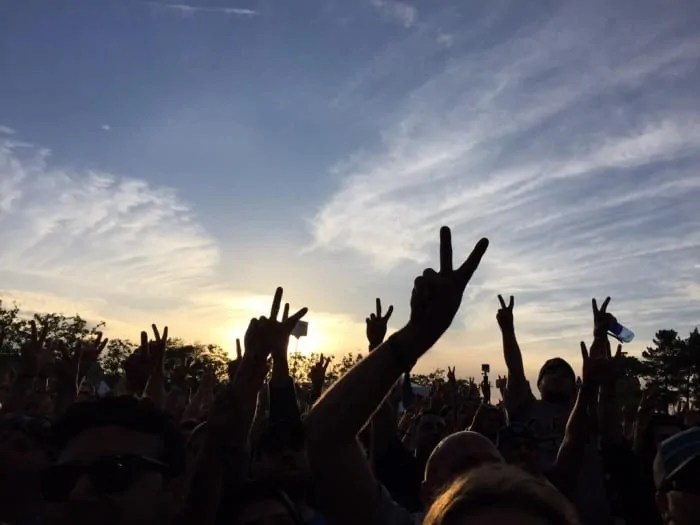 About the only negative thing I could find, aside from the brief video outage during the No Doubt set, was to be found on Twitter. There many shared sad, sad stories about how they wished they could be at BottleRock — how they regret not being there, and how they had to instead settle for the (entertaining) #BottleRock feed. I'm paraphrasing, of course. This is Twitter. There was far more choice language involved.
Some of the buzz coming out today suggests BottleRock has stepped up to the big leagues — if so, a monumental achievement given last year's misstep and that the festival is merely three years old. Outside Lands. Coachella. Austin City Limits. BottleRock. Does that sound natural? Quite possibly. Based on this year's event I wouldn't bet against BottleRock becoming a fan (and band) favorite.