Cy Ashley Webb reviews Antigone at Cutting Ball Theater in San Francisco.
Some time ago – maybe it was Carey Perloff's program notes to ACT's Venus in Fur – someone smarter than me wondered aloud whether our insistence on seeing new works –  new world premier,  or at least regional premiers – came at the expense of abandoning the classics. You don't have to be ISIS, bulldozing the ancient city of Nimrud, or the Taliban, defacing the 1500 year old Bamiyan Buddhas. All you have to do is ignore those works that form the basis of everything else.
Fortunately, thanks to Cutting Ball and the other two theaters currently revisiting Antigone, that just isn't a problem, at least in San Francisco. Cutting Ball did something truly interesting in commissioning a new translation by Daniel Sullivan. Sullivan's transaction, which Artistic Director Rob Melrose described as "not a literal translation, but … not an adaptation either" certainly succeeds in bring this work to new audiences without losing the grace of Fagle's or Fitzgerald's translations, and for that alone,  is worth checking out.
Not a literal translation, but … not an adaptation either
The focus of this production is slightly different than that of many predecessors because it focuses on the deaths of Eteocles and Polyneices that form the backstory. We don't normally think too much of them; while the text is driven by Antigone's need to bury Polynices, we accept that as a given, and are more obsessed with the backstory of Oedipus.
This production doesn't let that happen. In the first moments, a video of their murder is projected on the stage floor – a projection that this reviewer couldn't see from the third row. However, visibility is a small nit, because both sides of tiny stage are flanked with floor-to-ceiling portraits of these young men, each with serious visage, and looking unnervingly similar to the other. Cutting Ball just isn't letting their audience escape these killings, which makes Antigone's tragedy seem to arise organically.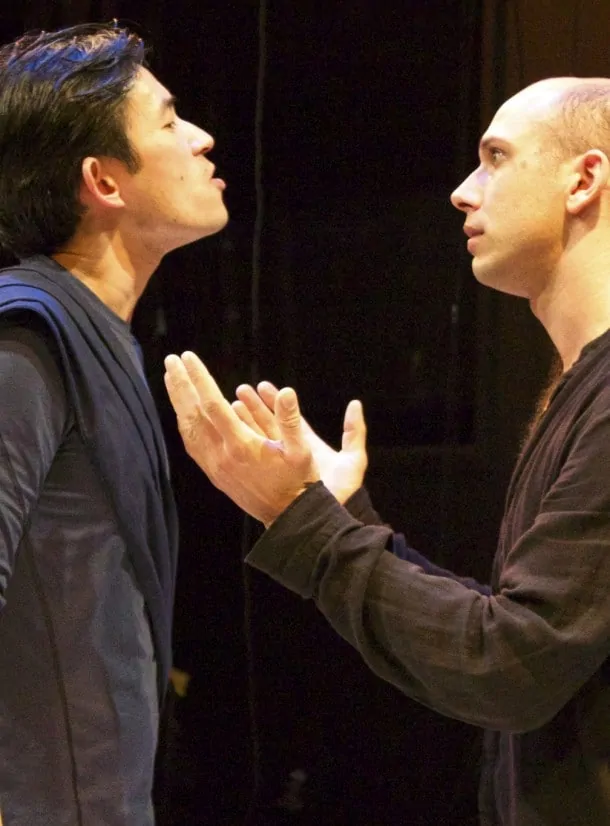 Just enough thoughtful vocal music took your mind from one place to another without stealing center stage. Here the vocal bits, including snippets of an Armenian lullaby, polyphonic Georgian folk tunes (sounds a bit like Dzintar, the Latvian woman's chorus that regrettably had a only single CD), Velum Templi, and others, took this production to places that –   while unorthodox – were completely consistent with the story. Even the wistful "How are Things in Glocca Morra?" was entirely appropriate to frame what might have been in Thebes.
MORE THEATER COVERAGE
BY CY ASHLEY WEBB
Especially noteworthy were Paul Loper's Tiresias and Jason W. Wong's Kreon. Loper is the sort of actor who's totally in the moment, absorbing what other cast members put out there and responding to it. In comparison, others often seem to be acting. Jason Wong was good, but for very different reasons. He brings the artificial bombast of a political blowhard, who only absorbs that which threatens his ego. One suspects that he'd do an excellent Ted Cruz.
Cutting Ball's Antigone will be on stage at the Exit through March 22nd.