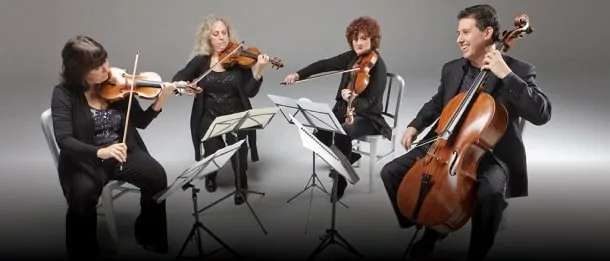 If you've seen the Ives Quartet before, you return with certain expectations. Of course there will be Haydn, and of course it will be perfect. As always, the IQ will be relevant, with offerings that ease into whatever larger conversation we seem to be currently having. Their performance of late Haydn and Schubert string quartets seemed to flow logically from András Schiff's recent performances of Haydn and Schubert late sonatas. Lastly, the IQ can usually be counted on to perform something new that will echo in your ears for months to come.
This time the new find for me was a composition by George Rochberg, a 21st century composer that some classify as a neoconservative postmodernist. I was unfamiliar with Rochberg (1918 – 2005), let alone his String Quartet No. 6, of which the IQ offered up the third movement, a variation of Pachelbel, which, as Stephen Harrison pointed out, is a series of variations itself. Different variations on this have been repeatedly done, with most sounding little better than Brian Eno's unfortunate take on it. Rochberg's was an exception.
The piece starts on its familiar path, delivered with the IQ's  customary warmth and resonant sonority. However, don't get too settled into this, because it doesn't stay overly familiar for long. The piece fragments, splitting the phrases that make up this circle of fifths celebration into shorter pieces, followed by longer flowing gestures. Unlike other takes on this piece, which try to wow you with how unique and smart they are, Rochberg's never gets too far from where it started – and is all the better because of it. Cello and viola bring it to a long quiet close.
However, I'm getting ahead of myself. The concert opened with two movements from Haydn's String Quartet in D Minor, Op.103, a work that Harrison characterizes as one "that never was." An incomplete piece, it's not at all the jokey Haydn with whom we are most familiar. The first movement is delightful, surprisingly modern and flowing. The second includes a series of ascending gestures that percolate throughout, before closing with just a touch of brio.
Complexity increases as the work becomes intensely agitated.
The second half of the concert was Schubert's String Quartet in G Major, D. 887. Written in 1826, two years before Schubert's premature death at 31. In a letter to his friend Leopold Kupelwieser, around this time, he writes. "I feel myself to be the unhappiest, the most wretched man in the world. Picture a man whose health will never be sound again and who, out of sheer despair over that, constantly does everything he can to make matters worse instead of better… My peace is gone. My heart is heavy." In the depths of despair, he was remarkably prolific, he penned this quartet.
I'll undoubtedly have more report after the March 15 IQ salon, which will include another performance of at least parts of this piece, as well what is sure to be an animated discussion as to how this string quartet sounds so positively symphonic. Tonight, however, it was impossible not to appreciate the intense attack that began the first movement of this four movement quartet, and the color evident throughout it. Incredibly rich and complex, as performed by the IQ, it seemed impossible that this was a string quartet. Melody is carried first by Mussumeli, played over oscillating tremolos on the part of viola, cello, and violin, before giving it over to Harrison on cello. The second theme shifts to something even fuller and sonically denser. Complexity increases as the work becomes intensely agitated. There is so much here, that it seems impossible to pull off, which of course the IQ did masterfully.
We are profoundly lucky to have the Ive Quartet in our neighborhood, gracing local stages with consistently bravura performances.