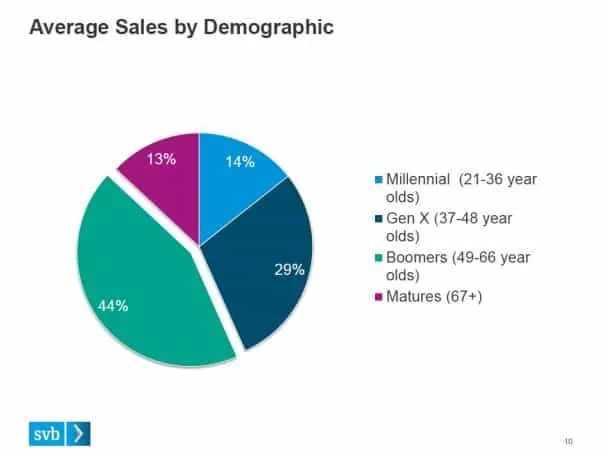 Baby boomers continue to drive the wine market, accounting for 44% of all wine sales in 2014. Gen-X'ers follow at 29%. And, according to the "Annual Wine Conditions Survey" published by Silicon Valley Bank, the three year trend suggests there is little change in this demographic segmentation when it comes to wine sales.
In total 582 wineries responded to the survey from several wine regions across the U.S. including Central Coast (San Luis Obispo, Paso Robles), Lodi (includes Livermore), Mid-Coastal (Santa Cruz, Monterey), Central Valley, Napa and Sonoma (representing 39% of all responses), Okanagan, among several others. Interestingly, most were small production operations with about 50% producing 5,000 cases or less (by comparison, a large–monstrous–wine operation such as Gallo produces over 75 million cases per year).
The most common price point amongst respondents for a bottle of wine was $20-29.
Millenials (21-36 year olds) drove 14% of wine sales. This is an interesting demographic to watch. With the uptick in craft beer and cocktails/spirits will this generation reduce sales potential for wineries in the coming years? Or will their tastes shift?
Overall sales continue to grow at a strong pace. Year end 2014 came in 13% year-over-year, continuing a winning streak over the following three years: 13%, 14.9% and 13.7% in 2011. All of these results beat SVB projections, perhaps suggesting the booming economy–tech and overall–is contributing to sales success.
Other noteworthy survey results and trends:
WHOLESALE IS TOP DISTRIBUTION CHANNEL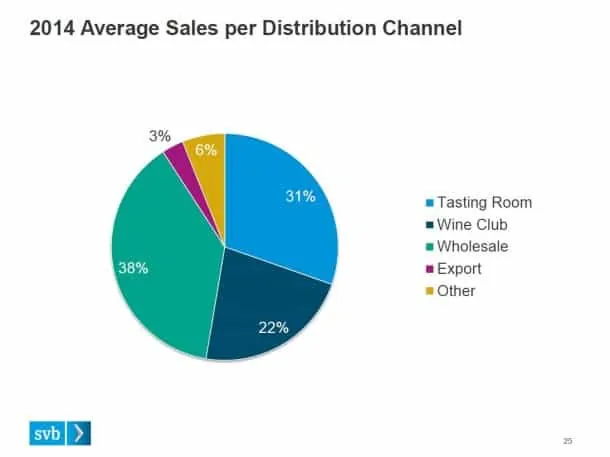 If you want to move wine get a wholesaler. That seems to be the message–and in some states, due to restrictive laws, this is a necessity. In 2014 38% of all wine sales funneled through a wholesaler.
Tasting rooms are also still  important coming in second place, with 31% of all sales.
DESPITE EARTHQUAKE NAPA POWERS FORWARD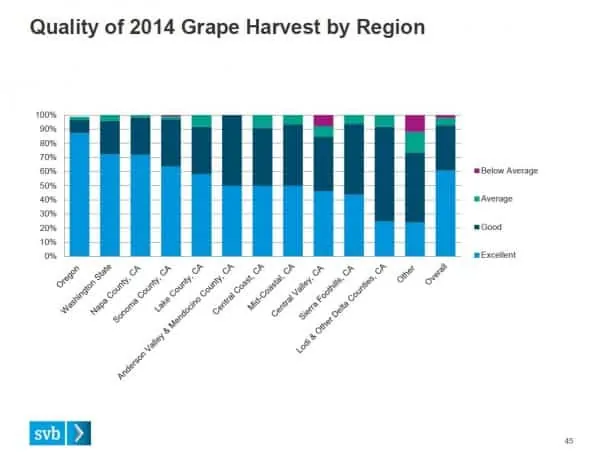 In the regional breakdown section of the SVB wine report, greater than half of the wineries said that 2014 was the best year in history, or "one of our better years." This despite a devastating earthquake. Keep in mind, damage was fairly restricted, having severe consequences for wineries and other businesses in the aftermath. Also, obviously there is a difference between quality and quantity–with the latter, in some cases, having being nearly or completely wiped out at some family-owned businesses impacted by the quake.
2014 WAS YET ANOTHER STRONG HARVEST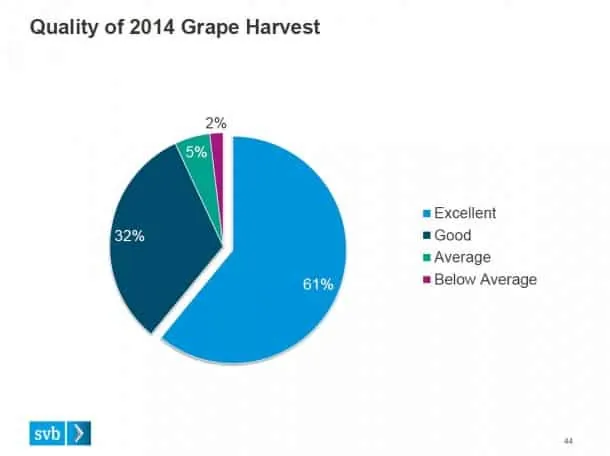 We seem to be in the midst of a golden age. 2014 looks, by several accounts, to be another winning harvest. 93% responded it was either excellent or good.
ON VARIETALS?
Nothing in this year's report about varietals. But I have heard and read that the sweet Moscato trend slowed in 2014 (mercy me) and that Champagne continues to generate the most conversation, at least on social media.
NEXT UP…
Premiere Napa Valley is coming up this month. The annual auction of barrel lots from across Napa is typically a good indicator of the fine wine (and cult) segment of the market–last year a lot of Celia Welch's Scarecrow Cabernet sold for $260,000 U.S., or $4,300 per bottle. In that interview with Stark Insider, Welch wondered, "Who knows if that will ever happen again."
We will soon find out. At the Premiere Barrel Auction (and through the entire Premiere Week) we will have ample opportunity to get a glimpse of investors' appetite for pricey bottles made by some of the region's top flight winemakers.