Some good real estate news out of the Baja.
Loreto Bay, a small resort located along the Sea of the Cortez, is continuing to see its fortunes rebound. Construction has resumed on the two low-rise condo buildings located on the "Paseo" at the center of the resort.
Up until this year, they had stood still. In 2008, the recession stalled their progress, not to mention sales across the entire development plummeted. In fact, the original Loreto Bay developer filed for bankruptcy. Thanks to a strong home ownership association, a fortuitous acquisition of the original Loreto Bay Inn and Golf Course by Carlos Slim, and the perseverance of so many local businesses and contractors, the Loreto Bay project somehow, some way, survived the massive downturn (Donald Trump's ambitious Baja project further north up the Baja peninsula fared less well and was scrapped).
Long-time readers of Stark Insider probably already know the adventure that is home-buying here in the Baja (we purchased a little casa in 2006). We chronicled the ups-and-downs here on this site for several years and shot over 40 videos which you can watch on YouTube. We learned about "mañana". We also learned to be patient. This was not Silicon Valley. And that was the point. Today, Loreto Bay is very close to the original developer's vision of walkable villages — meandering tree-lined pathways, nearby cafes and family-run shops, community meeting spots sprinkled throughout. There is still rebar to be seen, and many unfinished homes, especially in the northern part of Loreto Bay, known as the "Aqua Viva" neighborhood. And those two condo buildings, though painted as best as possible to conceal an empty shell, have been eyesores for as long as I can remember…
Until now.
Loni and I were fortunate to get a tour of the progress of Posada Norte (the 2nd building next door is known as Posada Sur) from real estate veteran Nellie Hutchison. Nellie has been here since the beginning. If you want to know anything about Loreto, home buying, or life in general here in this pretty and quiet little area of Baja California Sur, I would be hard pressed to think of anyone has informed as the hard working entrepreneur. We spent about an hour touring the units. Both buildings are four stories, with the ground level reserved for commercial space.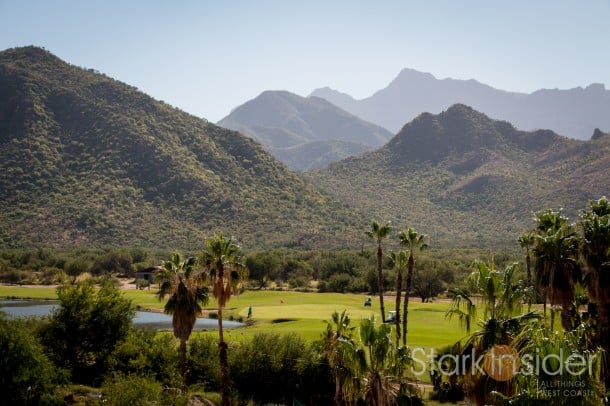 Here's some quick things I learned:
* There are 2 condo buildings in Loreto Bay: Posada Norte (North) and Posada Sur (South)
* Prices start at $179,000 USD (1 bed/1 bath, 893 sq. ft.)
* Of the 8 penthouses, only 2 remain and are going for about $595,000 (in 2006/2007 these sold for about $1.2M)
* Nellie says 20 of 51 units are sold
* At least 1 home owner was moving in (to a penthouse) while I was touring
* Expected completion is Q4 2015 – though that depends on how sales for the season (which ends March 2015) progress
* Most units have views of either the water (Sea of Cortez) or mountains (Sierra de la Giganta) – heart-dropping in some cases
* Both condo buildings feature an expansive, open-air interior space that will be used as community/activity space
Those of us that bought homes here in 2006 are down about 50%. Now could be a good time to buy. Maybe- I'm not giving any advice here. I've seen several properties and half-finished homes around are unit be snatched up in recent months at heavily discounted prices. Additional risk, of course, is born by a condo structure – you're beholden to others to buy before the building can be fully completed. But, it looks like that won't be an issue based on sales activity to date, and the level of construction activity I saw on the ground during the tour (a crane! that's a first I think for Loreto Bay, at least in recent years). In addition to breathtaking views, Nellie reminded me that the condos will have virtually zero maintenance, unlike the village homes which, with their open-air plans, are exposed daily to the rigors of the Baja climate (sea salt, scorching sun, and annual hurricanes). Something to consider if you're looking at condo ownership vs. a village home here in Loreto Bay.
Does any of this matter to anyone not interested in this particular resort development?
Maybe. Maybe not.
If you follow the overall real estate economy in Mexico (and in vacation spots in general) Loreto and Loreto Bay are just a few more data points that can help you assess trends. As far as I can recall Loreto Bay was a decent "canary in a coal mine" back in 2008. Things started crashing here before the market at large — I suspect that most of the invested cash here is non-discretionary, second home purchases would have something to do with this being the kind of project that first gets axed from a household budget.
With that, here's a look at Las Posadas of Loreto Bay, as they stand as of November 2014.
IN PHOTOS: Condo Buildings at Loreto Bay, Baja California Sur, Mexico