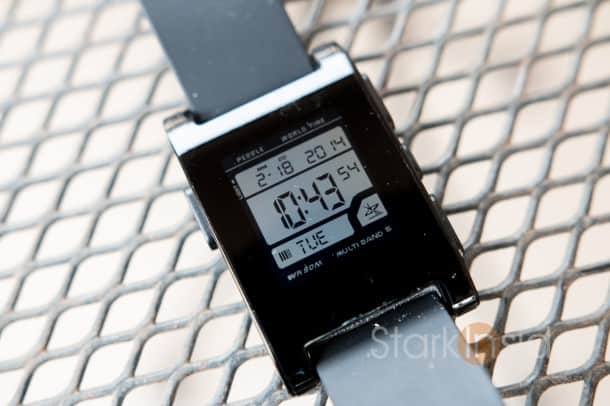 In a few weeks the first products running Android Wear will begin shipping. At the I/O developer conference in San Francisco we got a sneak peek at smartwatches running on Google's new wearable platform. The onslaught from Google and its partners is likely to put a squeeze on a small Palo Alto start-up called Pebble – the Kickstarter darling that created the first truly usable smartwatch, and one that I absolutely adore.
Can Pebble overcome the challenge?
LG continues to raise its profile in mobile. First it was able to score a major partner win when Google asked the Korean giant to build the Nexus 4. That continued with its well-designed, albeit fragile, Nexus 5. In 2013 it entered the tablet space with the G Pad, a competent 8.4″ tablet powered by Android. Now it's among the first to produce an Android wear smartwatch. In a line of odd, not so inspired names, the "G Watch" fits the bill. It costs $229 and is available for pre-order now on the Play Store.
Another not so little player, Samsung, is also salivating about the potential of the wearable market. And it's been at it longer than anyone (save perhaps for Pebble). In keeping with their penchant for seemingly non-stop product announcements (can anyone make sense of Samsung's tablet model line-up and naming conventions?), Samsung management has gone on an all-out assault: Gakaxy Gear, Gear 2, Gear 2 Neo, Gear Fit. This is a company that just loves to throw plastic products at the wall and see what sticks. A lot of it doesn't. Now they will try their hand with an Android Wear-powered device. Priced at a reasonable $199, Gear Live, like the G Watch favors a square design. It will also ship July 7. There's little to differentiate these two watches. The Samsung has a Super AMOLED display with slightly better resolution. That, plus low energy Bluetooth and the benefit of a hear rate monitor makes it my pick between the two. Many, though, await the round incarnation of Android Wear. The Moto 360 looks to finally be a wearable with a sense of style.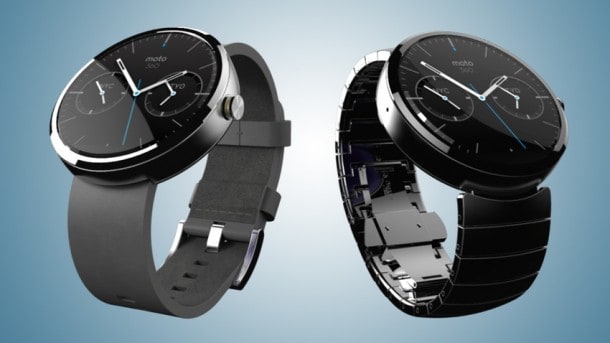 And that leaves the poor little Pebble.
Pebble runs its own in-house operating system. It also has its own app store that features a deep selection of (entertaining, bizarre, useful) watchfaces and apps. With a team of about a hundred or so employees, it's hard to imagine how Pebble can the incoming assault led by none other than Samsung. Is it possible? David/Goliath scenarios happen all the time in tech. One thing we've learned: being big doesn't guarantee success with a product or service. Look at Google's continued efforts to break into social networks. Google+ is an abject failure with the masses (though it does have loyal niche markets such as tech and photography), despite the company's stranglehold on search (Google.com, Google Now), video (YouTube) and mobile (Android). Yes, we mostly love Google, but that doesn't necessarily mean we love every product (Wave) or service (Google Catalogs) that comes out of Mountain View.
ALSO SEE: Life with Pebble – There's no going back (Review)
Pebble has a chance because the company is singularly focused on wearables. That means it can potentially better understand the market, apply resources to build compelling products, and stay in closer touch with customers. Potentially. It will be interesting to see what the team does in light of this intensified competition. Here's a few ideas that come to mind when I think about Pebble and differentiation:
1. Price
Pebble ($149) is already cheaper than the G Watch ($229) and Gear Live ($199). Given that it doesn't feature a color display nor the amazing voice recognition service that anchors the Android Wear experience, that makes sense. However, I think a sub-$100 price point is in order. Let Android Wear (and Apple's answer which should come in Q4) take the top end.
2. Emphasize strengths – battery life is a good place to start
I get about a week of use from Pebble before it needs a charge. That's great. A lot of that has to do with the low energy display. The first incarnation of Wear, however, is all about sizzle. So we'll get color, cool Google Now style cards, touch screens, and all that great stuff. But we'll also only get one day battery life. Sure, that's how our smartphones work too. I wonder if we all want to charge yet another device every single day? Pebble: there's your differentiator… endurance.
3. Cross-platform
Pebble runs on iOS and Android. Google and Apple will, obviously, only support their own platforms. That gives Pebble access to two potential buyers. Therefore, in theory, their addressable market is larger.
Escape Hatch: Build on Android Wear
If all else fails, Pebble could consider releasing a watch running on Wear. That would all but negate the above differentiators. It would also alleviate a huge burden of developing, maintaining its own operating system. Instead it could focus on designing watches. A major problem with this scenario is that it plays into the strengths of the much larger competition. That is: scale. Manufacturing is all about size and volume. Pebble has neither. So it's highly unlikely such a plan is even plausible.
It's going to be a tough haul for Pebble. Getting such a fantastic smartwatch to market first was an impressive accomplishment. It's most amazing feat may well be withstanding competition from the Samsungs and LGs of the world.