It's here. But has Amazon done enough?
Jeff Bezos unveiled–with suitable flare, technical deep dives, and even a tad bit of Jony Ive design pride to boot–the new Amazon smartphone. As expected the new Fire Phone features a 4.7-inch IPS HD display, Gorilla Glass 3, and quad-core processor.
During the closed presentation (there was no live stream this time), Bezos stressed a few features designed to separate the Fire Phone from the competition.
Should Apple and Samsung run for the hills?
"Great imaging hardware" – a 13MP camera with optical image stabilization built-in – something neither the Apple iPhone 5S or Samsung Galaxy S5 have.  A quick comparison also illustrated the potential to capture photos in low light thanks to a shutter that says open four times longer.
"Better outdoor viewing" – according to Amazon, the Fire Phone has an "industry leading" ultra-bright display. Rated at 590 nits it should help clarity under strong sunlight.
On the content side, there wasn't much surprise when Bezos trumpeted the Prime Ecosystem (which was preceded earlier by a reminder of how well customers rate Amazon customer service). Fire users will have access to a boatload of content, including videos, music, a newsstand, and access to a bevy of the usual grab-bag of apps including Pandora, Audible, Spotify, etc. Prime, which normally costs $99 annually, will be included free for the first year.
TIP: Amazon Fire Phone is now available for pre-order on Amazon starting at $199 for the 16GB model
Once again with Mayday, Amazon is relying on its reputation for best-in-class service. The free service will be available 24x7x365 from the Fire Phone – it's promised an operator will be available to help with any issues in less than 15 seconds. A subtle jab at Apple, Bezos noted that you needn't make an appointment or head to a store for help.
Design-wise the phone has a rubberized frame. Good news for those who find their phones too slippery. Unique injected-molded steel connectors should eliminate the dreaded USB wiggle that Bezos notes everyone hates.
While many manufacturers (such as Asus-built Nexus devices) are moving away from buttons, Bezos and his team appear to be embracing the physical. The Fire Phone has a dedicated camera button and a dedicated button for a new service called Firefly. A visual recognition service, Firefly can apparently recognize over 100 million objects. Thanks to a visual database that includes everything from songs, to television shows and books, and even phone numbers and email addresses.
Best for last?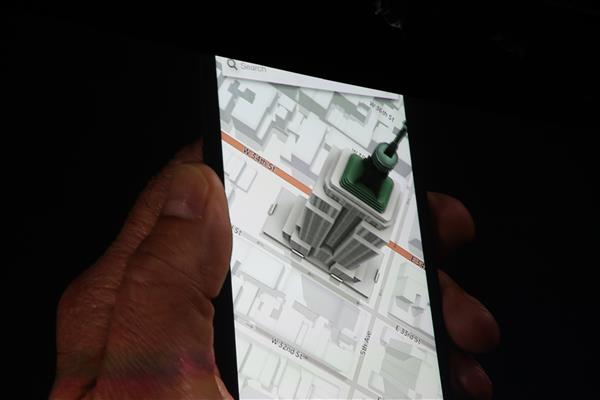 3D was the big pre-event story surround Amazon's new phone. It was the nearly final item in today's presentation. Sure enough, the new featured arrived with plenty of Bezos sizzle. Called "dynamic perspective" images can change as you move your phone and perspective.
Should Apple and Samsung run for the hills?
Well, not quite.
Yes, Amazon is a formidable competitor. Look at tablets. Once dominated by Apple and the iPad, Android competitors, including Amazon's own Fire tablets, have slowly eroded that share. It's not hard to fathom that the same could happen in the smartphone space.
However, there's a few things holding the new device back.
First, the small screen. While most are going bigger (including Apple's rumored iPhone 6) and offering phones with screens 5-inches and larger, the Fire is only 4.7-inches. That will turn off a sizable portion of the market.
Then there's the carrier limitation. AT&T will be the exclusive carrier. At least for now. Yes, AT&T is big, but by locking out Verizon and T-Mobile, Amazon reduces its available customer base.
Also, there wasn't anything in today's presentation, including the ballyhooed 3D interface, that stands out as a game-changer. In fact, some demonstrations felt stale, like the one highlighting the auto-scrolling gesture – something that Samsung rolled out a long time ago to mixed reviews.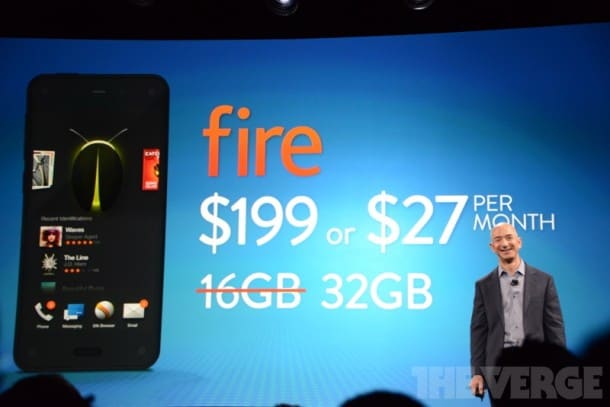 Ultimately, it seems likely those already on iPhone will be happy to wait for the next version later this year – no doubt the iPhone 6 will satisfy the faithful and likely leap frog the Fire in several key areas.
Those on Android will likely prefer more powerful offerings from the likes of HTC, and Samsung.
For the casual user who values customer service and simplicity, the Fire Phone could be just right. They're late to the game, though. Unlike the tablet market where Amazon moved early in 2011 to eek out share from first mover Apple, the Fire Phone comes after much of the market, at least domestically in North America, is largely saturated. Many on existing contracts will not be able to consider a new device for months to come. Will they even consider an Amazon offering when the time comes? Hard to say… mobile is a bloodsport. Only the ruthless survive. Amazon's been there, done that. I wouldn't say it's impossible, but odds are Apple and Samsung will be large and in charge in the coming years.
Amazon's Fire Phone will sell for $199 (32GB) and $299 (64GB) with two-year contract on AT&T. Pre-orders are now available on Amazon for individual and family plans. Shipping begins July 25th
Investors seem to like what they see so far. Amazon (AMZN) stock is up over 2.5% on the announcement of the new phone.