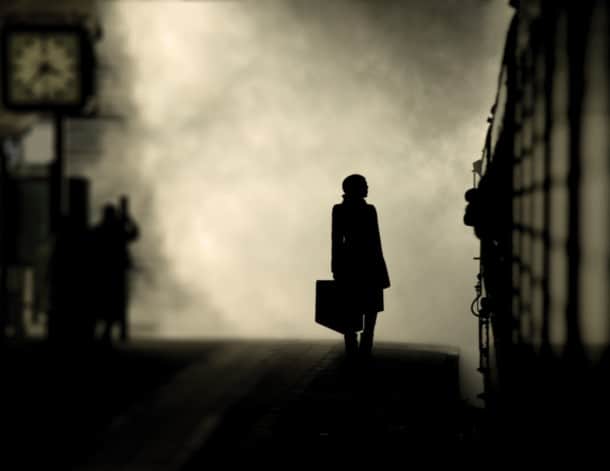 The Bay Area Theatre Critics Circle (BATCC) have announced this year's winners. At a gala last night in Oakland, 64 awards were handed out to theaters, both big and small across the San Francisco Bay Area. In addition special honorees at the award gala (now in its 38th year) included the African-American Shakespeare Company, Bill and Susi English of the San Francisco Playhouse, and Elly Lichenstein of Cinnabar. The list of winners is listed below, and can also be found on the BATCC web site.
Julius Ahn won best male performance in a musical for his standout–and very memorable–turn on the A.C.T. stage in Stuck Elevator (review).
San Francisco Playhouse scooped up seven awards in total including Bill English for set design (Storefront Church), and several awards for performances including Susi Damilano (Abigail's Party), Gabriel Marin (The Mother F**cker With the Hat), and Monique Hafen (Camelot).
For touring shows, the nod went to SHN for the apparently eternal musical Anything Goes.
Vanya and Sonia and Masha and Spike, which played last year at the Berkeley Rep, also scored well among critics, with Caroline Kaplan (Featured Female – Drama) and Sharon Lockwood (Principal Female – Drama), and Richard White (Stage Direction) all picking up awards.
ON SET WITH STARK INSIDER: DISCONNECT at SJ REP
San Jose Repertory Theatre, Ray of Light, Novato, NCTC, Impact, Cinnabar, Marin, Masquers, Aurora, Cutting Ball, 6th Street Playhouse, California Shakespeare Company, Novato, Ross Valley Players, Spreckels (6 awards total), Rhinoceros, TheatreWorks, Wily West, Word for Word and Custom Made were also among those represented at the podium.
After reviewing the list of winners, a few things came to mind.
Theater here in San Francisco is as diverse as ever.
We've got Broadway revivals (Du Barry Was a Lady at 42nd Street Moon is a current example). Incredibly interesting and creative new works (To Sleep and Dream). A deep, deep pool of talented actors. Edgy blackbox productions. And so many theaters to enjoy–despite the challenging environment for the arts–that it truly feels like being the proverbial kid in a candy shop.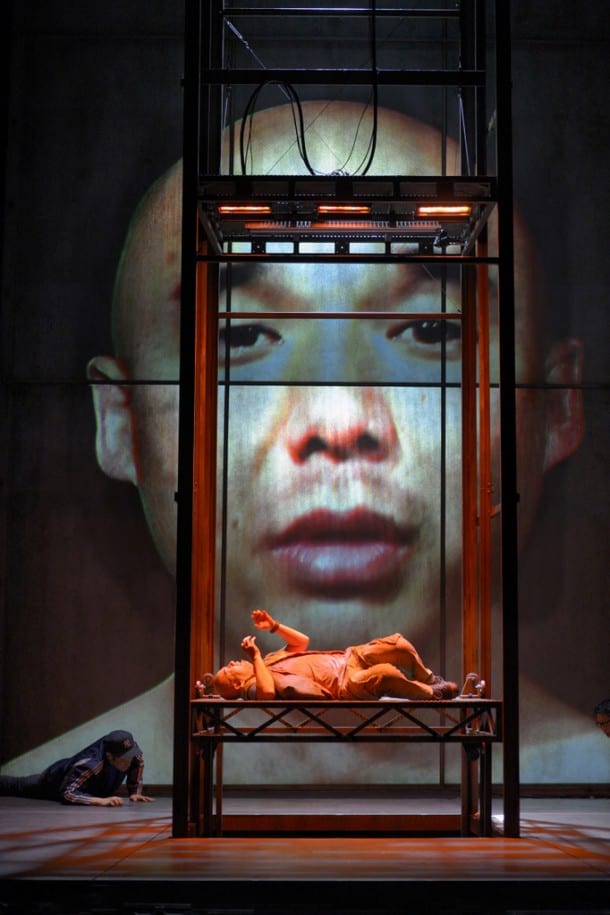 Where's Magic Theatre?
A surprising omission. No Magic this year. Zero awards. Something doesn't seem right about that (though it did receive several noms for Buried Child). If you've seen Rod Gnapp in any number of his ground breaking performances there you'll know what I'm talking about (he did win a BATCC award for his performance in Marin Theatre Company's The Beauty Queen of Leenane). Along with Berkeley Rep, this is a theater that sticks with you, almost every time. And if you just can't get enough full-frontal, then Magic is your bff.
BEHIND THE SCENES: STUCK ELEVATOR at A.C.T.
Bigger budgets don't necessarily mean better productions.
Often, quite the opposite. Case in point: the most recent Superman movie. Want to see creativity unleashed? Give someone $100, 10 chairs, and a kiwi. The results might just astonish. Or not. Either way, I especially love the risk-taking element seen so frequently across theaters here. I think we'll need more of it – in this age of  mobility, social media, multi-screens, attention spans are fleeting. In that respect I'd label this year's list as "safe." I'm not so sure Millennials are too interested in old revivals, or the same old touring shows. We may scoff, but that's the future ticket buyer. What's worked in the past likely won't going forward. More money is not necessarily the answer… the answer may lie in the deconstruction of long-standing theater norms. What that entails exactly, I'm not so sure. Does anyone?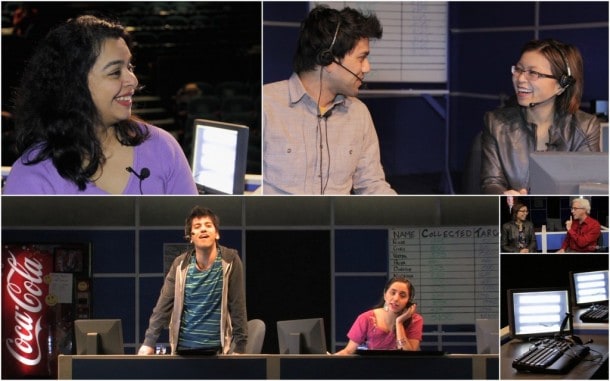 Cliche and trite, but in the end they're all winners. Any work that makes it from the imagination to the stage is, to a large extent, already a success. That we get to bathe in the riches is a remarkable luxury. One that I hope endures.
SAN FRANCISCO THEATER AWARDS
Bay Area Theatre Critics Circle (BATCC) Award Winners for 2013
| | | | |
| --- | --- | --- | --- |
| NOMINATION | NOMINEE | TITLE | PRODUCER / COMPANY |
| Choreography | Anjee Norgaard | Closer Than Ever | Masquers Playhouse |
| Choreography | Lauren Rosi | Into the Woods | Ray of Light |
| Choreography | Michella Snider | Young Frankenstein | Spreckels Theatre Company |
| Costume Design | Mara Blumenfeld | 1776 | American Conservatory Theater |
| Costume Design | Sheri lee Miller | La Cage Aux Folles | Cinnabar Theater |
| Costume Design | Laura Hazlett | In Friendship | Word for Word |
| Ensemble | Red | Red | 6th Street Playhouse |
| Ensemble | The Whipping Man | The Whipping Man | Marin Theatre Company |
| Ensemble | Young Frankenstein | Young Frankenstein | Spreckels Theatre Company |
| Entire Production | In Friendship | In Friendship | Word for Word |
| Entire Production | The Whipping Man | The Whipping Man | Marin Theatre Company |
| Entire Production | Young Frankenstein | Young Frankenstein | Spreckels Theatre Company |
| Featured Actress in a Drama or Comedy | Caroline Kaplan | Vanya and Sonia and Masha and Spike | Berkeley Repertory Theatre |
| Featured Actress in a Drama or Comedy | Luisa Frasconi | As You Like It | Impact Theatre |
| Featured Actress in a Drama or Comedy | Mary Ann Rodgers | Pack of Lies | Ross Valley Players |
| Featured Actor in a Drama or Comedy | Alexander Lenarsky | As You Like It | Impact Theatre |
| Featured Actor in a Drama or Comedy | Ron Gnapp | The Beauty Queen of Leenane | Marin Theatre Company |
| Featured Actor in a Drama or Comedy | Tom Bloom | Dead Metaphor | American Conservatory Theater |
| Featured Actress in a Musical | Jennifer Stark | Closer Than Ever | Masquers Playhouse |
| Featured Actress in a Musical | Mary Gannon Graham | Young Frankenstein | Spreckels Theatre Company |
| Featured Actress in a Musical | Valentina Osinski | La Cage Aux Folles | Cinnabar Theater |
| Featured Actor in a Musical | Brian Herndon | Being Earnest | TheatreWorks |
| Featured Actor in a Musical | Jordon Bridges | Next to Normal | Custom Made Theatre Company |
| Featured Actor in a Musical | Wilson Jermaine Heredia | Camelot | San Francisco Playhouse |
| Lighting Design | Heather Basarab | The Chairs | Cutting Ball Theater |
| Lighting Design | Lap Chi Chu | Romeo and Juliet | California Shakespeare Company |
| Lighting Design | Maxx Kurzunski | Next to Normal | Custom Made Theatre Company |
| Lighting Design | Stephanie Buchner | The Arsonists | Aurora Theatre |
| Music Direction | David Moschler | Into the Woods | Ray of Light |
| Music Direction | Pat King | Closer Than Ever | Masquers Playhouse |
| Music Direction | Sandy and Richard Riccardi | Young Frankenstein | Spreckels Theatre Company |
| Original Musical | music by Byron Au Yong, libretto by Aaron Jafferis | Stuck Elevator | American Conservatory Theater |
| Original Musical | Tom Orr | Dirty Little Showtunes | New Conservatory Theatre Center |
| Original Script | John Fisher | To Sleep and Dream | Theatre Rhinoceros |
| Original Script | Morgan Ludlow | Gorgeous Hussy: An Interview with Joan Crawford | Wily West Productions |
| Principal Actress in a Drama or Comedy | Maria Giere Marquis | As You Like It | Impact Theatre |
| Principal Actress in a Drama or Comedy | Sharon Lockwood | Vanya and Soina and Masha and Spike | Berkeley Repertory Theatre |
| Principal Actress in a Drama or Comedy | Susan Zelinsky | Steel Magnolias | Novato Theater Company |
| Principal Actress in a Drama or Comedy | Susi Damilano | Abigail's Party | San Francisco Playhouse |
| Principal Actor in a Drama or Comedy | Danny Scheie | Next Fall | San Jose Repertory Theatre |
| Principal Actor in a Drama or Comedy | Gabriel Marin | The Mother F**ker With the Hat | San Francisco Playhouse |
| Principal Actor in a Drama or Comedy | Miyaka Cochrane | As You Like It | Impact Theatre |
| Principal Actor in a Musical | Julius Ahn | Stuck Elevator | American Conservatory Theater |
| Principal Actor in a Musical | Rob Broadhurst | The Rocky Horror Show | 6th Street Playhouse |
| Principal Actor in a Musical | Tom Orr | Dirty Little Showtunes | New Conservatory Theatre Center |
| Principal Actress in a Musical | Denise Elia-Yen | Young Frankenstein | Spreckels Theatre Company |
| Principal Actress in a Musical | Julianne Lorenzen | The Rocky Horror Show | 6th Street Playhouse |
| Principal Actress in a Musical | Monique Hafen | Camelot | San Francisco Playhouse |
| Set Design | Bill English | Storefront Church | San Francisco Playhouse |
| Set Design | Harry Reid | Steel Magnolias | Novato Theater Company |
| Set Design | Yoon Bae | Disconnect | San Jose Repertory Theatre |
| Solo Performance | David Strathairn | Underneath the Lintel | American Conservatory Theater |
| Sound Design | Erik Carstensen | The Pianist of Willesden Lane | Berkeley Repertory Compan |
| Sound Design | Liz Ryder | Eurydice | Custom Made Theatre Company |
| Sound Design | Matt Stines | The Arsonists | Aurora Theatre |
| Sound Design | Rick Lombardo | The Tragical History of Doctor Faustus | San Jose Repertory Theatre |
| Specialty: Fight Choreography | Miguel Martinez | Camelot | San Francisco Playhouse |
| Specialty: Movement | Daunielle Rasmussen, Movement | Eurydice | Custom Made Theatre Company |
| Specialty: Projection Design | Erik Scanlon Projections | Carrie, the Musical | Ray of Light |
| Specialty: Projection Design | Micah J. Stieglitz | Camelot | San Francisco Playhouse |
| Stage Direction | Norman A. Hall | Steel Magnolias | Novato Theater Company |
| Stage Direction | Richard E. T. White | Vanya and Sonia and Masha and Spike | Berkeley Repertory Theatre |
| Stage Direction | Sheri Lee Miller | La Cage au Folles | Cinnabar Theater |
| Touring Show | Anything Goes | Anything Goes | SHN |