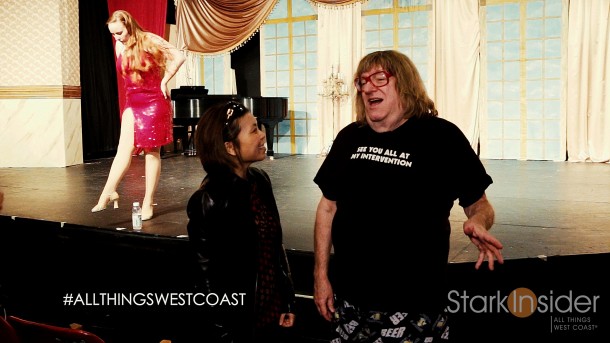 "You can see why the French lost the empire, they couldn't get dressed."
Famed comedian Bruce Vilanch is in town for the 42nd Street Moon revival of Du Barry Was a Lady. The rare musical debuted on Broadway in 1939, and was later made into a film starring Lucile Ball and Gene Kelly. An extended dream sequence has Vilanch's character, a washroom attendant, believing he is King Louis XV of France. As you can see in this Stark Insider interview, the costumes are absolutely beautiful — if not elaborate, and just a tad tricky to put together.
As for Bruce "See you all at my intervention" Vilanch, he's the kind of guy you'd likely instantly recognize, but have a tough time specifically placing. There's a reason for that: he's been everywhere. Hollywood Squares. Writing for the Academy Awards (most recently for Tina Fey). Starring in a documentary (Get Bruce). Appearing on Broadway (Hairspray).
"I'm the Vera Wang of my kind," he says, describing the different types of comedy writing required for various artists that contract him. "I do many bridal gowns for many kinds of brides."
The six-time Emmy winner notes that being so visible for so many years can occasionally veer towards overexposure. "Geez, I'm kind of sick of me already."
In this wide ranging interview, Bruce talks with Loni Stark about being recognized on the streets of San Francisco… as Michael Moore. And as the Mayor of Toronto (only in the Marina). And, when it comes to the Art of the Namedrop, nobody does it better.
Du Barry Was a Lady plays 42nd Street Moon through May 18.
WATCH: Bruce Vilanch Interview at 42nd Street Moon, San Francisco
With Loni Stark contributing from San Francisco.