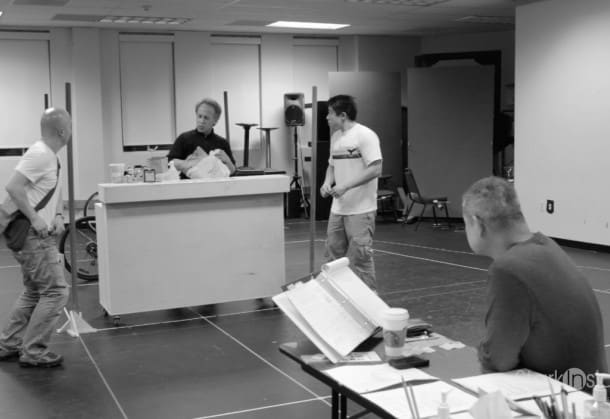 You find yourself trapped in an elevator. What do you do? Maybe for the first few hours you remain calm and wait. After the tenth hour, the twentieth hour, the fiftieth (!) hour of solitary, though, hunger sets in. Reality blurs. If you're Guang, a Chinese deliveryman, you eventually find yourself hallucinating – about family, friends, life.
The events are true. Guang ultimately spent 81 hours in a stuck elevator before being released.
But, there was one other problem.
He is an undocumented immigrant. His desire to be rescued lingers in tense contrast with his concern for being caught, possibly deported.
"There's the emotion, the immediacy of wanting to get out. After a while you start thinking about things," says Chay Yew (OBIE for best direction, Durango) who directs the play Stuck Elevator, an adaptation of the events.
Substitute the elevator with an isolated slot canon, Guang with James Franco, and you might even have the Bronx version of 127 hours.
When we headed this week to the A.C.T. rehearsal space in San Francisco, I expected a straightforward account — okay, here's a guy stock in an elevator, who hallucinates in fantastical, hyper, stereo-vision, before being remarkably rescued days later. Case closed. Substitute the elevator with an isolated slot canon, Guang with James Franco, and you might even have the Bronx version of 127 hours. Isolation, hallucination, hunger. We've seen that before. But there's a few things that takes this production in otherwise unexpected directions.
For one, we soon see the elevator as a metaphor for the American Dream; symbolizing what we can and cannot achieve. Specifically, immigration becomes a major theme.
"Instead of an awful Andy Warhol experience of trapping you in a little elevator for eighty-one hours for you to be with this one person," says Yew. "The elevator is beautiful in that wonderful metaphorical way. Most people are stuck. We forget that a lot of illegal immigrants basically service this country in so many ways."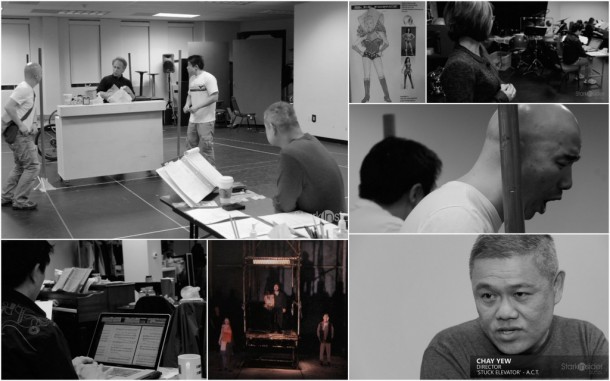 "If you see a Mexican gardener, he's one of the few lucky ones that has crossed the desert to be here. You don't realize he's working for $30 per day. And he's seen, smelled and maybe even experienced a bit of death along the way."
In the words of artistic director Carey Perloff, "Who would have thought you could turn the true story of a frightened Chinese deliveryman stuck in an elevator into a hilarious and heartbreaking musical about hunger, immigration, family, dreams, and duck sauce?"
The other facet of Stuck Elevator that caught my attention as I watched the six member ensemble during the spirited rehearsal session was the hybrid nature of its presentation. Yes, it's a play. But it's one that employs a stylish mix of opera, musical theater, and solo performance to tell a story rich in quasi-reality.
And what about the real-life Guang, where is he today? And did Chay Yew and the A.C.T. artistic team connect with him to learn more about his story? Well, I don't want to give away any endings… to find out you'll just have to watch this Stark Insider TV segment featuring rehearsal footage, and conversations with director Chay Yew, and actor Joel Perez:
WATCH: Stuck Elevator and the story of American immigration
Stuck Elevator: April 4-28 at the A.C.T. Geary Theater in San Francisco. It runs less than 81 hours.