While we've seen cheap tablets before, we have yet to see them offered by top tier tech companies. With a new, ridiculously cheap $99 Android-powered tablet, HP could be changing the low-end tablet landscape as we know it. Interestingly, as HP goes low, others such as Microsoft–with the Surface 3 Pro making its debut this week–are going high (starting at $799), and large (featuring a 12-inch screen).
Dubbed the HP 7 Plus, the budget pleasing tablet is, as expected, slightly modest when it comes to specs and performance.
In the ARM Cortex, you do get quad-core for the price, albeit running at just 1GHz. Still, not bad. Don't expect the latest and greatest version of Android – the 7 Plus ships with Android 4.2.2 (Jelly Bean). That means no advanced Google Now features, though who knows what the aftermarket ROM community will drum up. Other specs of note: 8GB Ram, 2800 mAh battery, microSD (always a plus in my books), .3MP front camera and 2MP on the rear (below average no question).
The display is 1024 x 600 – more akin to the tablet resolutions you'd find in 2011. But, again, did we mention the price?
Weight clocks in at .65 pounds; that compares favorably to the Apple iPad Mini at .73 pounds, though the latter features a slightly larger display (and far more impressive specs… with a price tag 4x larger).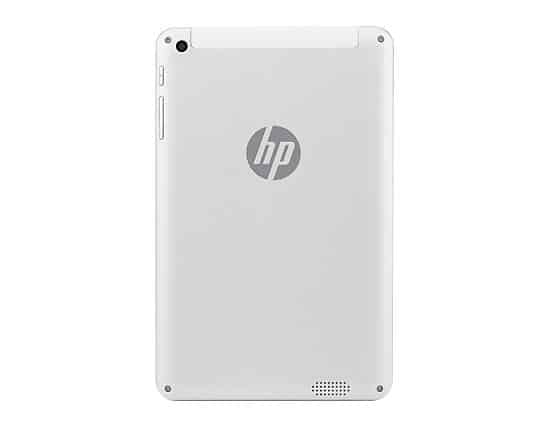 Overall, for $99 this is a pretty good deal.
The HP 7 Plus would make a great throw around tablet for children. Or, maybe, an fun purchase for an Apple-ite not sure if they're quite ready to make the Android leap. For others it could be just a fun testing and/or hacking device. Those with a need for speed, and a willingness to drop another C-note, will want to look at the 7-inch Android class leader, the Nexus 7 (made by Asus).
Maybe HP hasn't literally declared a price war, but by quietly sneaking in this tablet into its broadening Android range, it certainly could be the first step in a series of moves by various tablet makers in the coming months to revive slowing tablet sales. As a rabid tech consumer, I have no complaints about that potential trend.