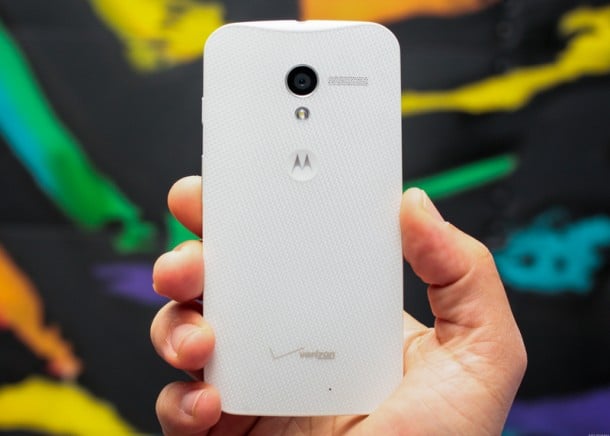 According to reports, Motorola is about to take awkward 21st century product naming to a whole new level. The sequel to the popular, and highly customizable, Moto X (2013) is rumored to be called–wait for it–the…
Moto X + 1.
Is this a product name only an engineer could love or what?
CNET finds it hard to believe that a Moto X follow-up would be launched in the next few months, though it doesn't entirely rule out a summer launch.
Motorola Moto X + 1: coming soon pic.twitter.com/7c8Gy16rdl

— @evleaks (@evleaks) April 6, 2014
Many are suggesting the new phone could appear in tandem with the hotly anticipated Moto 360. One of the first watches (along with LG's G Watch) to run Google's new wearable version of Android, the 360 will feature voice activation features and a card-based interface built using the Google Now service. The 360 will require an Android phone (paired via Bluetooth) to take full advantage of its notifications and voice-based capabilities, so it's not much of a stretch to believe that the Moto X successor and 360 watch would hit the market at the same time.
As for the name Moto X + 1 itself, it's too early to say if that's final. Evleaks, though, has been prescient in its predictions.
For its part HTC also enjoys potentially confusing product names. The HTC One (M8) or the new HTC One are both being used to refer to its new flagship handset, a followup to last year's HTC One. Got that? I would've really preferred the HTC One Two. Maybe mobile is in transition. Will we see naming conventions follow those of the auto industry, and feature a model name attached a year?
Interestingly, if real, Moto X + 1 evokes Google's social networking platform, Google+. It's version of a Facebook "like" or Twitter Retweet is a "+ 1" so this naming idea feels very much one coming from Google, and not from Lenovo, the new owner of Motorola Mobility.
If the past is any indication, Lenovo/Motorola Mobility will position the X + 1 as a friendly mid-range device. Last year's X wasn't a spec demon, yet it appealed to the masses thanks to its ease of use (touchless controls), huge variety of customization options (bamboo!), and, perhaps most importantly, as a massive marketing campaign reminded us, that it was "Made in America" (or, at the very least, assembled domestically).