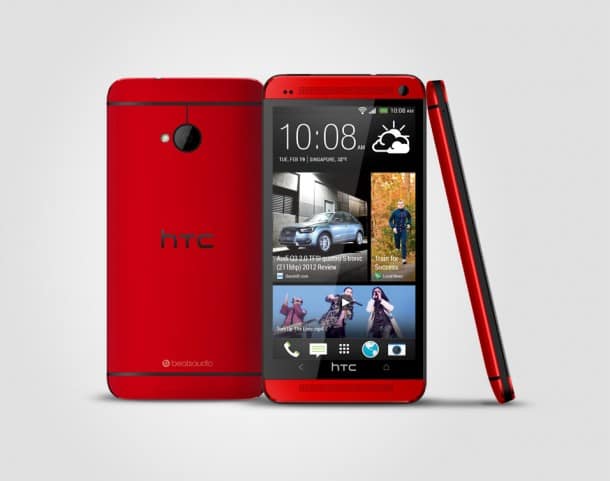 With the competition moving slowly in 2014, HTC has a chance to strike. On March 25th the Taiwanese manufacturer will reportedly release the "all new" HTC One. Considering its abysmal financials (q/q and y/y revenues are down substantially), the company needs a hit. Fortunately for HTC, upon examination of the current market dynamics for Android smartphones, there could be a window of opportunity.
Samsung's Galaxy S5 made a somewhat understated entrance this year. Sure, it's a solid Android handset. The screen is upgraded (5.1″, 432ppi), as is the processor (Snapdragon 801), and cameras (16/2MP). Unless, however, you really must have a fingerprint scanner or a heart rate monitor–both features that should eventually be standard on all flagship smartphones–there's not many reasons left to choose the S5 or something like, say, the impressive LG-made Nexus 5 (fragile screen notwithstanding, see below for more on my experience with that).
Q1 this time around is markedly different. In 2013 the S4 was a huge deal. Samsung raised the bar for what we could expect from a phone. And, for once, its TouchWiz interface was actually decent (as much as it pains this Android purist to admit), and actually improved the stock Android experience, and actually made the phone easier to use. The results: sales went through the roof.
With the S5 what we have is another proof point in support of my theory that we're entering an incremental era (wearables look to be where the next wave of innovation will happen). Quantum leaps in mobile happened in 2009. "Droid Does," a joint marketing campaign by Verizon and Motorola, shook the iPhone establishment. Through 2010-2012 we benefitted from a cavalcade of mobile innovation–the app economy, maps, the cloud, voice recognition. In the last twelve months much of that has appeared to have slowed. Even Apple–an icon for pushing the envelope–seems content to release a mere interim "S" refresh every other year of its flagship iPhone.
Let's take a brief look at what HTC is up against this year.
Apple will likely release the iPhone 6 in the second half of 2014.
Google will also likely do the same with its Nexus 6 (though I wish they'd kill the Nexus moniker – it's time for new branding). Some reports suggest Google will release the Nexus 5 successor some time this summer. That's when LG is expected to release the LG G3, the phone that the next Nexus will ostensibly be based upon. Given Google's past history, which includes releasing a Nexus device in Q4 for the past four years, I'm skeptical about this scenario.
Motorola will likely have new handsets come summer. If its strategy last year was any indication, though, the new Lenovo owned company won't make a huge push for the high-end. Moto X, recall, was clearly a (friendly, well made) play for the mid-market, what with its 720p display and cheerful color options.
HTC, then.
March is a perfect time to be launching an Android flagship phone. Apple, Google, and Motorola won't be releasing new devices for months to come. And the Samsung Galaxy S5 was a bit of a letdown. That leaves the door wide open.
But, sadly, from what I've seen so far, the 2014 HTC One doesn't look revolutionary either.
Leaks suggest the design is pretty much in line with the current One model. That's not a bad thing. HTC is tops when it comes to design in the world of Android (though its far from tops when it comes to appeasing investors). Capacitive buttons have been moved on-screen, just as we're accustomed to seeing them on the Nexus 5 (and Moto X). So far we don't know much else. The early word, though, doesn't point to quantum leaps over the current model. (I'm hoping for big things. My Nexus 5 screen now has a hairline crack. Not from a drop… from what, I don't know. Maybe when phone was in my pocket the flex while sitting caused the ripple? I Googled a bit and discovered that the Nexus 5 screen is fragile, and prone to cracking. Even though I just got it last October, I could be seriously considering the HTC One.)
Given Samsung's brand recognition, and its sales momentum with the S4, could price be HTC's only true selling point?
Possibly.
HTC's financial weakness means it likely can't afford to play the role of loss leader. Samsung, with its massive cash reserves, is in the luxurious position of bleeding the competition.
Given that the S5 didn't blow everyone's doors off, and that the competition's flagship Android refreshes are a ways off, there is a silver lining for HTC. The door is ajar, if slightly. Can it take advantage? Will the "all new" HTC One have what it takes to steer consumers away from the Galaxy S5? We should have more intel on the matter in the weeks ahead. Meanwhile, I'm pulling for HTC.