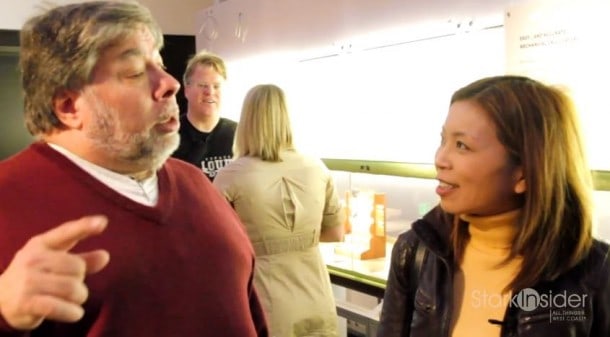 By now you know what Steve Wozniak–the mighty Woz, incredibly nice guy, Segue owner–suggested that Apple should make an Android phone. The remarks came at the Apps Wold North America conference here in San Francisco. He said, ""We could compete very well. People like the precious looks of stylings and manufacturing that we do in our product compared to the other Android offerings. We could play in two arenas at the same time."
Woz is a talkative person. I've never seen him wave away a camera – quite the contrary. We interviewed him at the Computer History Museum in 2010 and then again at the C2SV tech conference last year in San Jose. Both times he was gregarious, eager to talk tech (and pretty much only tech), and quick to dismiss the Ashton Kutcher film Jobs. Like just about everyone else in the Valley I've got nothing but praise. This, idea, however, is ludicrous. It's one bus stop short of insane. In fact, I'd go far as to call it:
The second worst idea ever.
I think we get a clear understanding of what Steve Jobs was the business and marketing brains, and Steve Wozniak was the tech and innovation master.
Could Apple build an Android phone?
Of course. Anyone can. Google has (smartly) made the Android operating system open source. You can take the code, customize it, and use it, for example, to control systems in a car. Saab does for its Infotainment system. Or maybe you're a researcher and want to build custom software to control a robotic arm. Android answers the call again.
Should Apple build an Android phone?
Negative, good sir.
Apple makes most of its money from software and services. CEO Tim Cook has reinforced that strategy. "We are not a hardware company," he said. There's a good reason for that. Hardware is low margin business; China will make just about anything for a dollar or less it seems. Lock someone into your ecosystem, as you do when you sell them an iPhone for instance, and the world's your oyster. So even though the lion's share of Apple's revenue does indeed come from selling iPhones, iPads, and Macs, that $16 billion it made from iTunes in services in 2013 is not exactly chump change – though we can't say for sure, I make a bet that the margin is much higher on those sales than their hardware counterparts.
If Apple were to make an Android phone no doubt it would be beautiful. Maybe even more Godly than the almighty HTC One. But it would put into every buyer's a hand the Google Play Store. And that would lead to app, music, movie, and book-related revenue to a certain competitor named… Google. Sure, Apple would make money off the sale of the device, but it would end there.
Further, by offering consumers the choice to walk out of an Apple Store with an Android-powered device would almost be akin to letting buyers walk out of a BMW showroom with an Audi. What happens if that person turns out to really adore Android or Audi? Chances are, next time they'll look around further, and when ready to upgrade again possibly look at other Android-based phones.
Most damning of all, though, is the mere suggestion that Apple make an Android phone strikes at the very core of Apple. The thought is verboten. Apple was (and is?) the anti-Microsoft, the anti-IBM, and, presumably as recent legal actions would indicate, the anti-Google. Apple thinks different. It doesn't copy others (well, except for the Android notification shade) and it doesn't license other operating systems. This is a company that has spent its entire lifetime differentiating itself in the marketplace by creating premium-designed products, including an operating system (iOS) that forever changed the mobile market in 2007.
Woz is, wittingly or not, adept at keeping himself in the headlines. He always has something interesting to say, and makes for a great conversation. But every now and then he'll come up with something a head-scratcher. Perhaps it's his exuberance, his brain running a million miles an hour.
Oh, that second worst idea ever?
Ben Affleck. Batman.