Another day, another streaming music service.
There's apparently only one other mobile segment seeing more action so far in 2014, and that would be the flood of home replacement apps being released for Android (more on that soon).
Beats Music is here. But will anyone care given that the market is so crowded?
At $9.99 per month the new streaming service had better have a lot going for it, as it's clear Beats has decided not to compete on price (much-loved Spotify and the upstart Google Play Also Access also charge $9.99 per month).
I gave the new Beats Music app (available today for iOS and Android) a test run on my Nexus 5. I admit I'm skeptical. Not because I have anything against Beats (they're an astonishing brand success story – white iPod wires used to be the uber cool, not it's bulky headphones… who knew?!). Rather I'm overly served when it comes to streaming music. And loving it.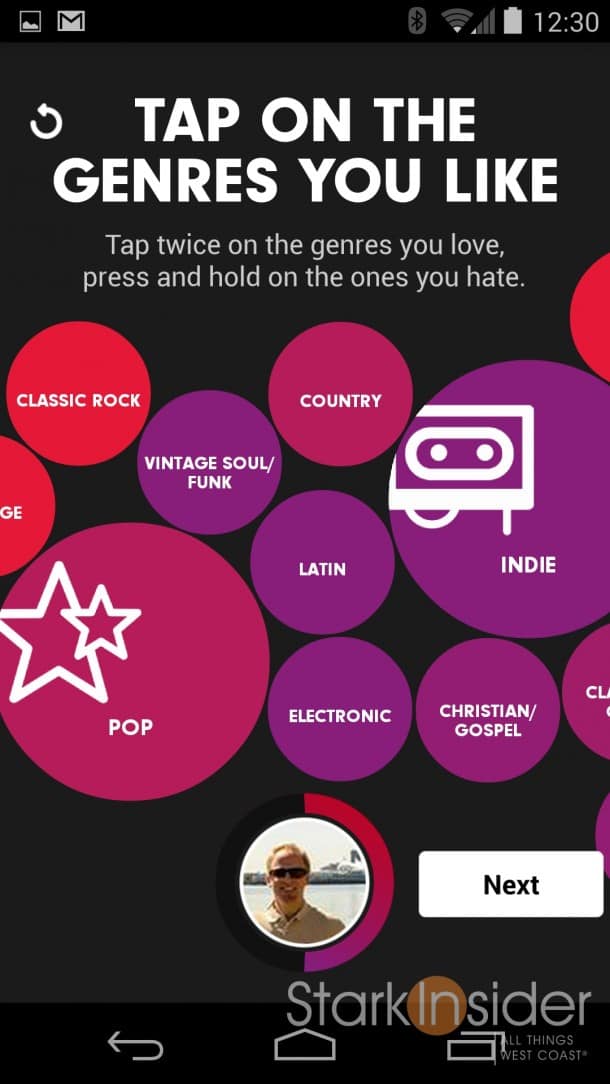 Pandora is my streaming service of choice. I recently paid the $36 per year fee for the upgraded service ("One") that gives me higher audio quality, and no ads. I use it a lot in the car. Queue up that "Honeymoon Suite" station and revel in my "Bad Attitude" and the glory that is 80's hard rock, Canadian style. Pandora works without a hitch across my Mac, PC, Nexus 5, iPad Mini, and oh-so-many Android tablets. I also use it to stream music via Sonos throughout the home. Brilliant stuff.
Google Play Music is my app of choice for accessing my personal collection. Regrettably, I find my mp3 collection quite 80s/early 90s-ish in orientation. But I've purchased some gems. There's nothing like some American Idiot or Rihana at the gym. Google's done a great job with the app – it's fast, pretty to look at, and sounds terrific (tracks bought from Google come encoded at a high 320kbps which I definitely appreciate).
Songza is my wild card. The relatively new app introduced to hand-crated playlists. Depending on your mood–working out, making out, lounging–you get served up eclectic and rich assortment of tracks. First class. And free.
What then Beats Music?
For starters, the interface is modern, easy to read, and fun. Pandora could learn a thing or two here. I especially like the large sans-serif fonts throughout, and the little bubbles used during setup to gauge your interests.
There's four ways to access tunes using Beats Music:
1. Just for You – artists and tracks based on your interests
2. The Sentence – a fun answer to Songza's mood-based offerings. Here a customization sentence is used to determine your mood at that particular mood. Mine was: "I'm (in the future) & feel like (BBQing) with (my innner child) to (the 80s)."
3. Highlights – Curated, with plenty of current stuff, like Lorde. Also, features such as Bob Dylan.
4. Find It – navigate by genre, activity (hello again Songza), curators.
Using Beats Music is a breeze. A large now-playing screen has all the familiar controls including track control, repeat, shuffle, ratings (love, no love), share (Twitter, Facebook), and add button (to library, playlist, offline). No surprises here.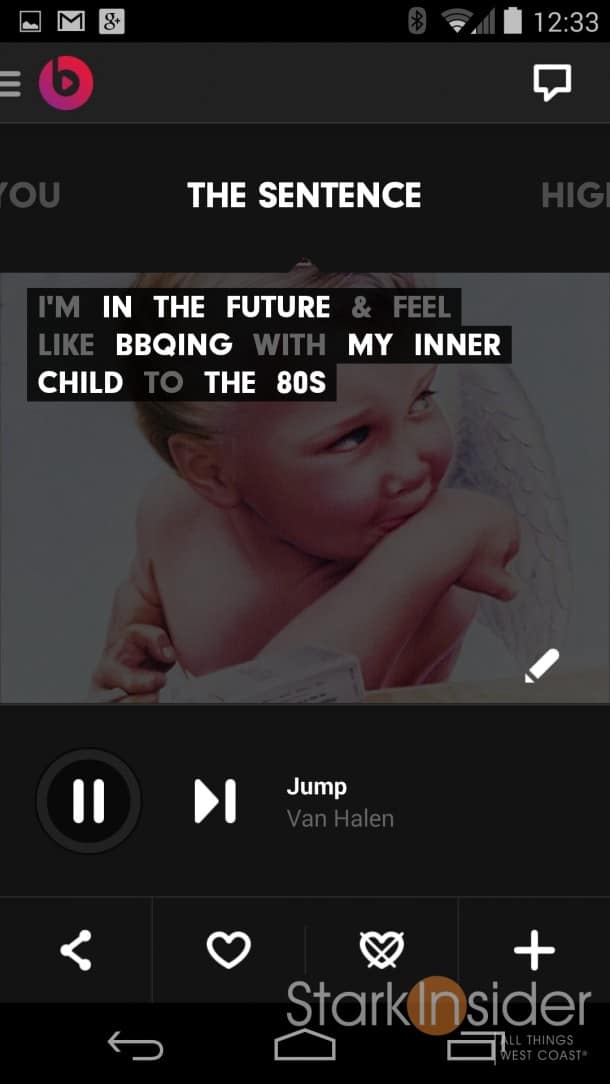 The biggest problem here has to do with the why. Why would I replace any of my existing streaming services with Beats Music?
There's no clear answer.
Price is the same as Spotify and Google All Access.
Music selection (perhaps slightly leaner at launch) looks pretty good.
The interface is pretty, easy to use; then again, so is the existing competition.
Dre could've really shaken things up by undercutting the market. I suspect that runs counter to the premium branding of Beats – their headphones win because they're cool, and they sound great. Like Apple, premium products come with premium pricing. No doubt there's an incredible opportunity for Beats to bundle the service with their headphones – I expect this to be a significant part of their strategy. Buy some Studio Over-Ears and get 6 months (maybe 12?!) of Beats Music free. No one else has that merchandising option. Only Beats can offer a retail/point of sale tie-in. Further, I expect to see the likes of HTC bundle Beats Audio with Beats Music on its upcoming handsets. Again, that could be a huge selling point.
At the end of the day, at least for now, with no differentiator in price or service level, there's nothing to distinguish Beats Audio from the likes of Spotify and Google All Access. The app is modern, fast. The library of 20 million songs should provide enough depth for music lovers to sink their teeth into. If Beats Audio had come out two years ago it would be the cat's meow. Instead, it's a bit me-too. But, given the success of Beats headphones and the universal appeal of the logo, I suspect they will be a fierce competitor. For now, I'm going to wait and see. 2014 could soon see a streaming music price war… followed by a shakeout.
Download: Beats Music for iOS, Android (free 7-day trial without credit card, $9.99/month)
IN PHOTOS: Beats Music for Android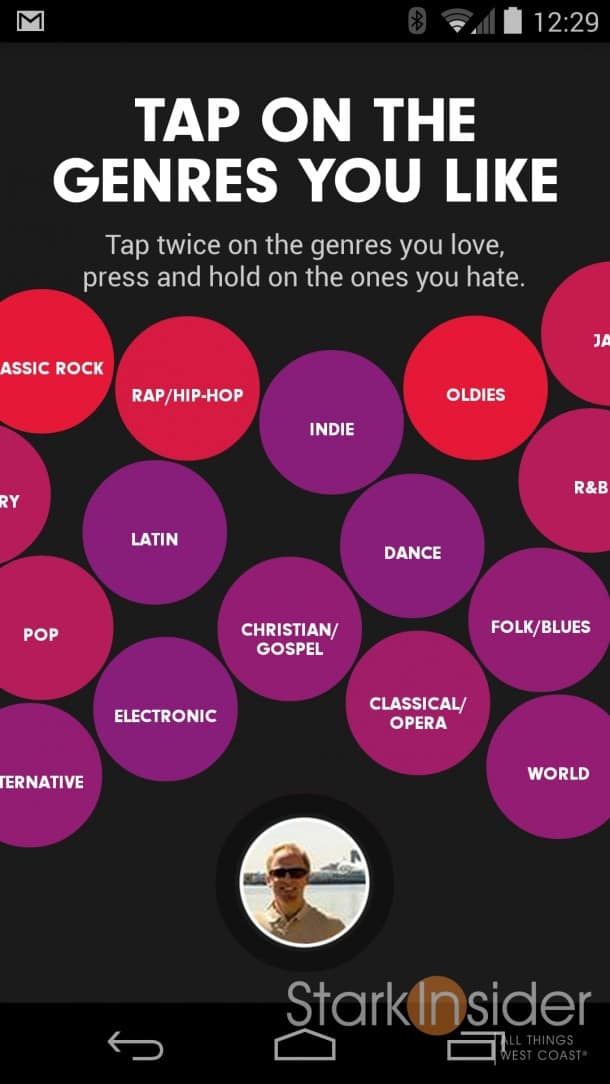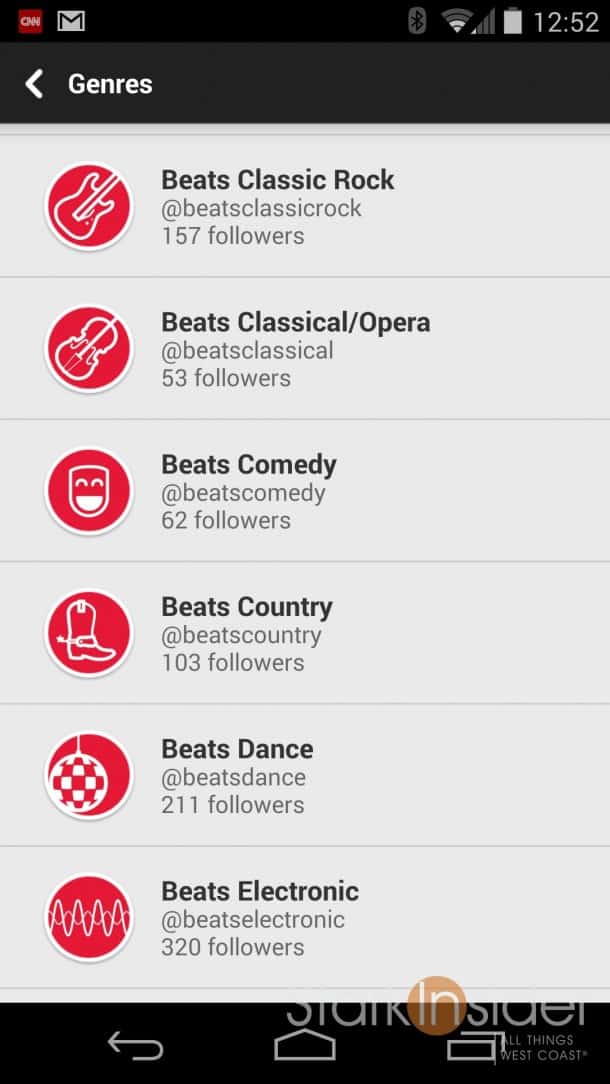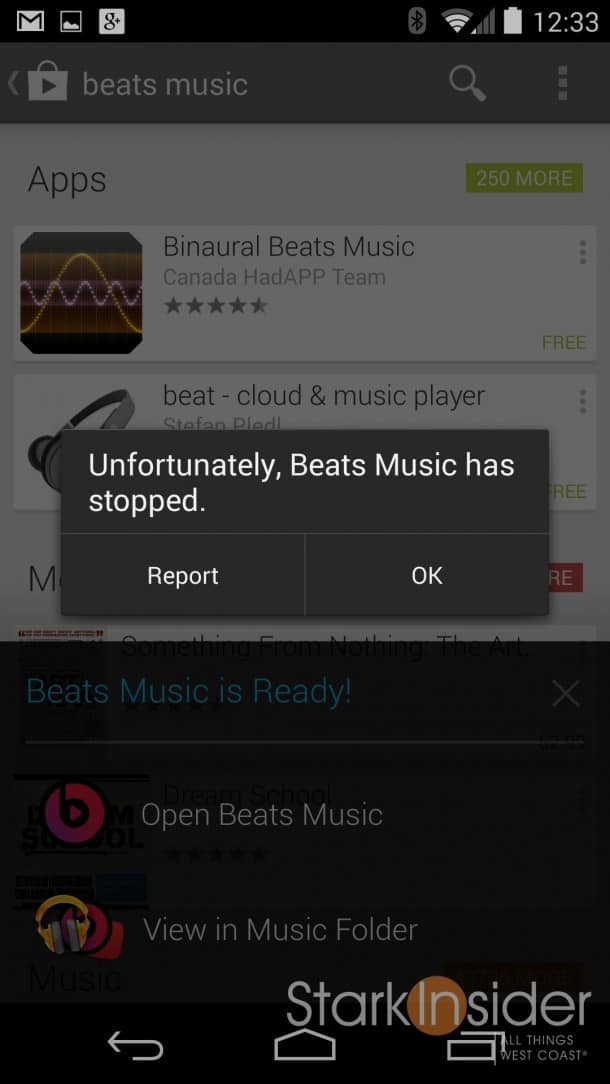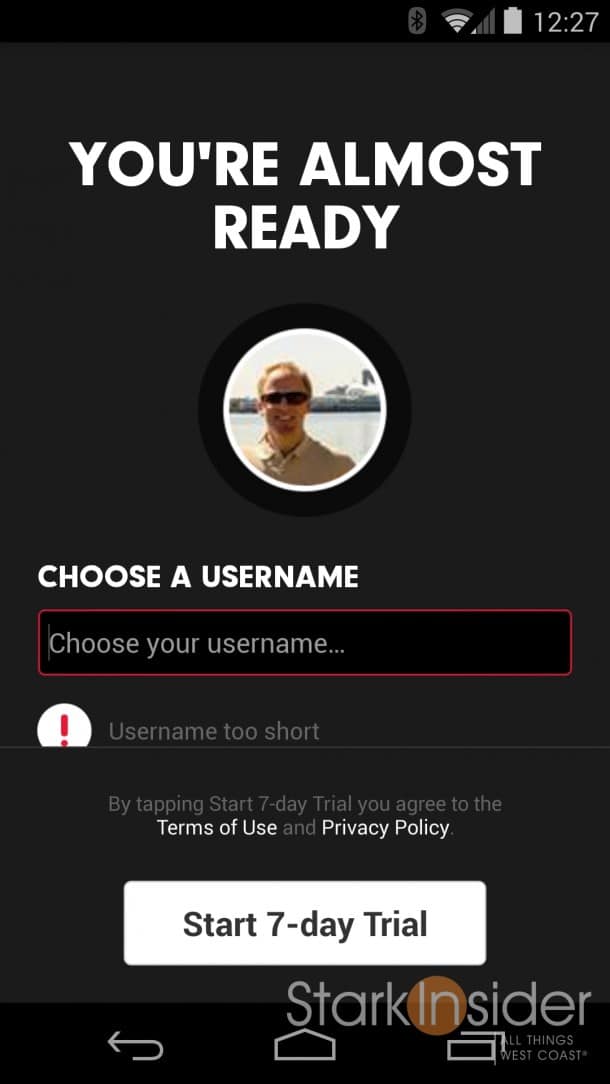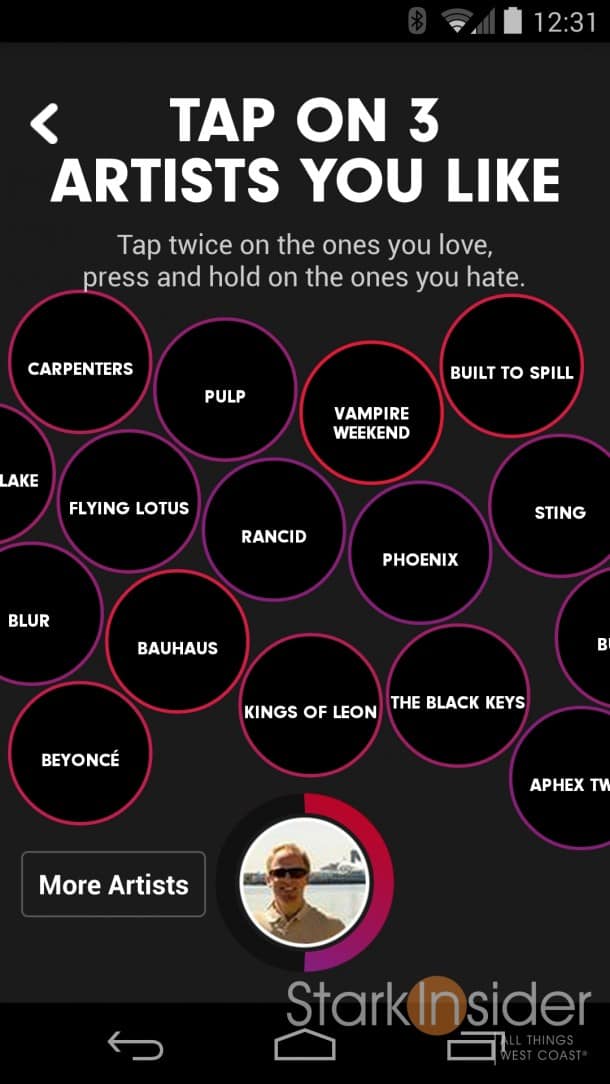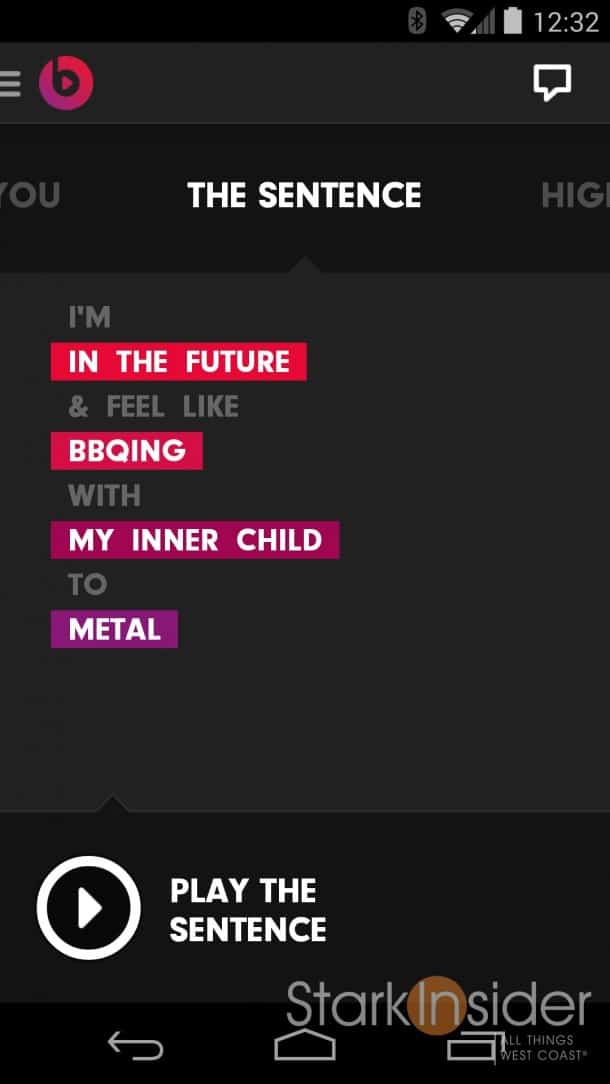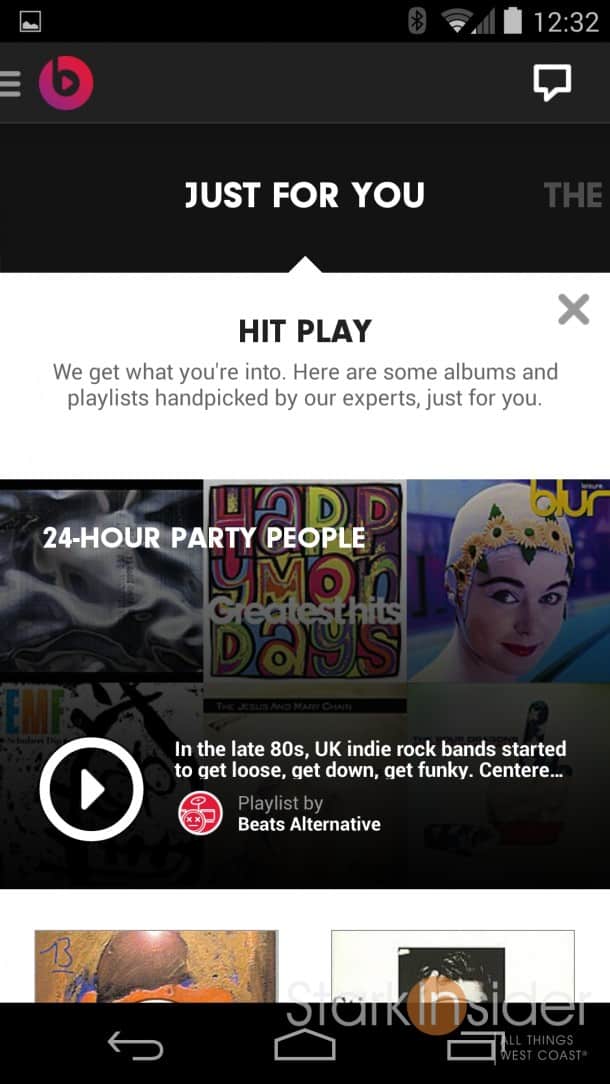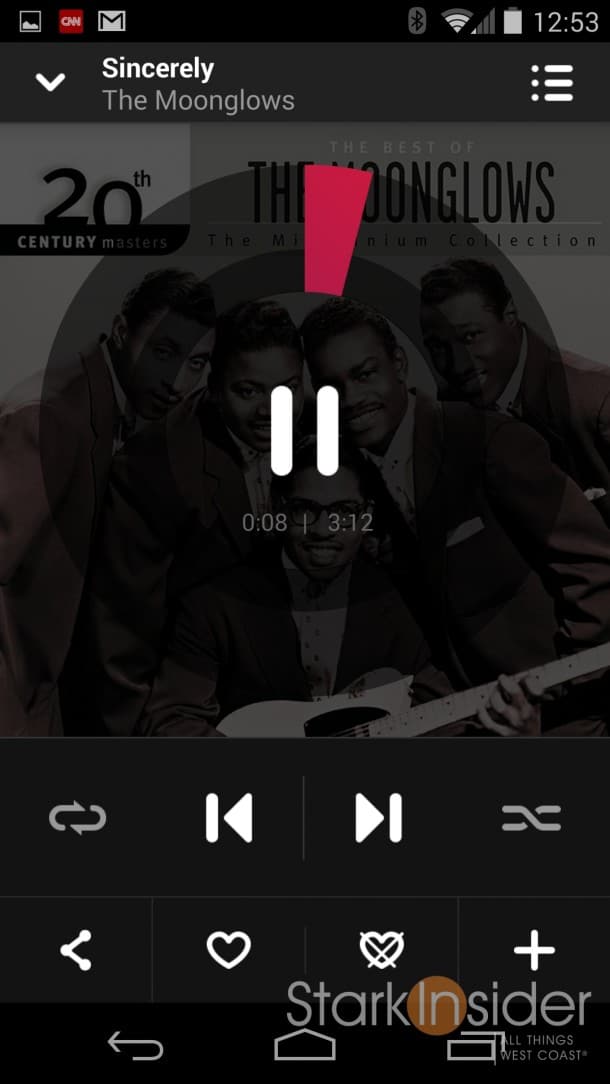 Come on, baby, you know there's something missing
Don't find nothing, no more coincidences
Ready, baby, before you give up all you've got
You've got to come closer, you've got to give it one more shot
The beat's so lonely, I'll bet she's lonely at the top