Producing a play so well known that it's etched into the audience's DNA is always a risky proposition.  Our images of George Bailey, Mr. Potter and Bedford Falls are so fixed in our memories that any deviation is suspect. San Jose Stage pulled off a brilliant It's a Wonderful Life, A Live Radio Play. This production just might be one of the best things they've done since their magical Every Christmas Story Ever Told back in 2011.
This story hugs the movie version tightly, with minor additions to make the story conform to a radio play. Characters didn't deviate significantly from the movie, even though they were all performed by a cast of six (Kevin Blackton, Judith Miller, Allison F. Rich, Martin Rojas Dietrich, Will Springhorn Jr., and Halsey Varady), who fluidly shifted between roles.
Politics aside, this is San Jose Stage at their best.
It's hard to say who was most impressive. Will Springhorn Jr., played Jake Larents, who in turn played George Bailey, in all his wet behind the ears glory. His treatment of this character was pitch perfect, alternating between fits of enthusiasm and naiveté.  However, other actors had more of a stretch, such as Martin Rojas Dietrich who played Harry Jazzbo Heywood, who in turn played both Clarence and Mr. Potter with an effortless kind of grace (which was all the more remarkable in that plaid suit).
I'd be remiss if I didn't mention the stunning costumes that make this show sing. Stephen Hilliard's costumes could be out of a 1940's Vogue… and his costumes for men are equally memorable. Hilliard's costuming makes this show.
Program notes fleshed out the history of this show. While originally written in 1939, It's a Wonderful Life never really took off until the 1970's and '80s when it became part of the Christmas canon.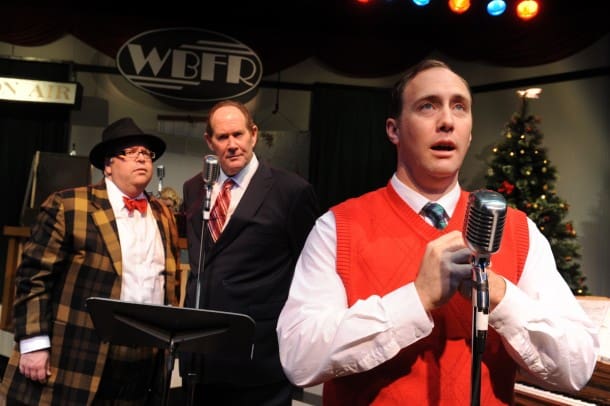 A 1998 paper by John Noakes published by the Indiana University Press notes that the FBI scrutinized the movie and found it wanting. According to Noakes, the FBI criticized the film's exposure of domestic tensions, from racism to the reception of military personnel when they returned home. The FBI deemed the movie subversive because "values or institutions judged to be particularly American are smeared or presented as evil" and "values or institutions judged to be anti-American, particularly pro-Communist, are glorified."
Red is a lovely Christmas color.  While we're emerging from the damage inflicted by the banking system, do take in It's a Wonderful Life: A Live Radio Play.
Politics aside, this is San Jose Stage at their best.
MORE STARK INSIDER CULTURE:

The Book of Mormon: Irreverent, adolescent, sophisticated, brazen, hysterical, and just plain fun (Review)

Short film "Morado" featuring Loni Stark shot in Loreto, Baja (Video)