If you are humor-impaired, a die-hard theologically devout Mormon (or, frankly any other religion), bringing young (16 or younger) children, are easily offended by explicit language, or are a plain old stick-in-the-mud, then I highly recommend you do NOT see The Book of Mormon. For all the rest of you – this is a must-see show.
I was curious and eager to see this show at the Orpheum Theatre in San Francisco the night before Thanksgiving, having had the good fortune to have seen the original production in New York City. From the opening curtain I knew we were in for a good night – the stage and space are noticeably larger than the smallish Eugene O'Neill theatre on Broadway – and the audience was vibrant, appreciative, and responsive.
For those of you not familiar with the show, the story centers on a pair of newly minted Mormon missionaries (Elder Price and Elder Cunningham) who, instead of being sent to Orlando (Elder Price's lifelong dream) are sent to a remote village in Uganda. The entire show is dripping in sarcasm, poignantly clever lyrics, musical themes that pay homage (but not necessarily respect) to the traditions of Disney (Lion King is lampooned more than once), heavy metal ("Man Up"), and good old fashioned Broadway ("Turn It Off" is a classic tap routine,and "Orlando" is a loose musical parody of West Side Story's "Maria"). The show is written by Trey Parker and Matt Stone of "South Park" fame and Robert Lopez ("Avenue Q" plus several Disney credits). The Wikipedia entry for the show has some great background information if you want more.
The Book of Mormon is a must-see show.
From the very opening number ("Hello") to the big closing Finale, we are taken on a journey that is at times intricate and clever ("Hello"), bawdy and shocking ("Hasa Diga Eebowai" and "Spooky Mormon Hell Dream"), silly and sarcastic ("Orlando"), beautiful and ironic ("I Am Here for You", "I Believe"), or just plain entertaining ("Turn it Off").
And yet throughout the theme of religion, belief, and how what insiders hold unquestionably true is perceived by complete outsiders, constantly present challenges to the audience to think more universally about what we ourselves believe and hold unquestionably true. This is not just a show about how what Mormons believe seems incredible to non-Mormons. It's a show that looks at how what anyone believes involves a leap of faith.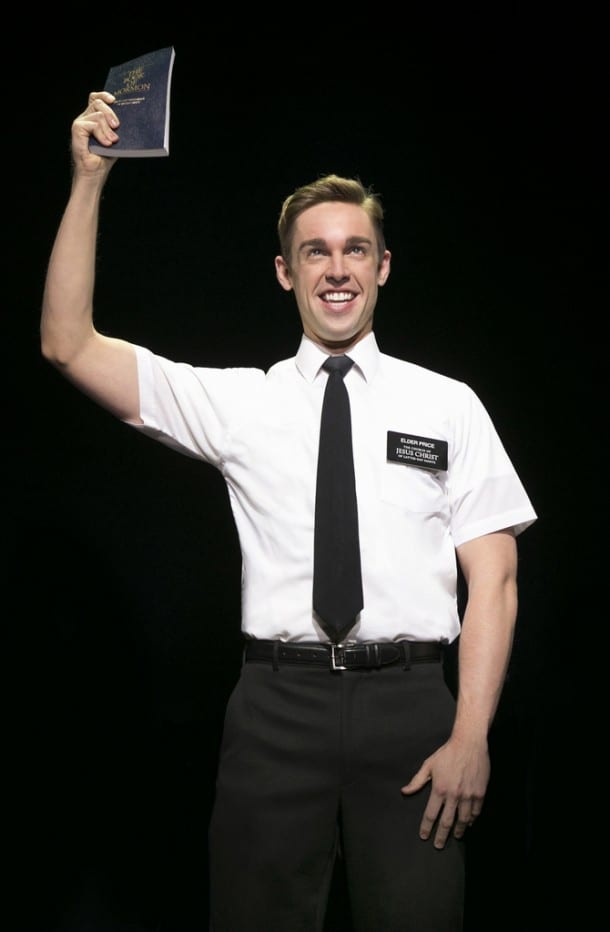 In the song "All American Prophet", a particularly irreverent (but mostly theologically accurate) condensed version of the history of the Church of Latter-Day Saints, there is a telling (and insightful) stanza sung by Joseph Smith:
"Oh God, why are you letting me die
Without having me show people the Plates
They'll have no proof I was telling the truth or not
They'll have to believe it just 'cause
Oh, I guess that's kinda what you were going for"
Well enough of the heavy stuff – back to discussing the actual show and performance. The cast was as tight and overall as impressive as the original production in New York. The ensemble of Elders was noticeably tight (their tap routine in "Turn it Off" shone), and the overall stage, which seemed noticeably larger than in New York, seemed to give the cast more room to move, breathe, and act.
Syesha Mercado's Nabulungi was commendable, but a little disappointing compared with Asmeret Ghebremichael whom I saw in New York. Much of the singing range for the part sits a little low for Mercado, who excels in the big high finishes of her songs but sounds a little forced in much of the rest of the songs.
But the real standout in the cast, especially in comparison to the Broadway production, is A.J. Holmes who plays the (at first) complete loser Elder Cunningham. Holmes' acting made his character's transformation credible (as much as is possible within the farcical framework of the plot), and his remarkably strong singing voice brought every one of his big numbers front and center and left an indelible impression on every member of the audience. Most notably, his sense and control of timing – both dramatic and comedic – are exquisite. The transition from the lyrically poignant soft opening to the heavy-metal humorous main body of "Man Up" was flawless.
After all of the standing ovations were finished, I took note of the faces on the sold-out audience as we filed out of the theatre. Everyone was smiling.
P.S. In case you are wondering how the Mormon church feels about the show, there were 3 full page ads taken out by the church in the show program. Great evidence of a good sense of humor…