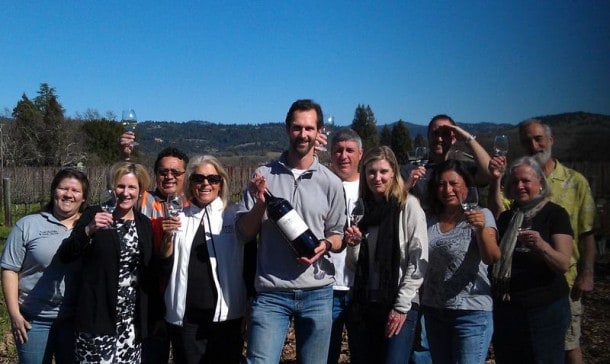 Rioja is on a roll. Spain took home top honors as the best wine of 2013. The list, compiled by venerable publication Wine Spectator, ranks the best wines of the year according to "quality, value, availability and excitement."
The top scoring wine, Cune Rioja Imperial Gran Reserva (2004), was described as "firm" and "austere." It retails for $63 and was given 95 points. That's quite a bargain, given that several of the top 100 wines of the year cost over $100 (e.g. Caymus 2010 Cabernet, $130). It's the first time Spain has taken the top spot.
Whether or not we use points, thumbs-up/thumbs-down, a five-point scale, letter grades, or some other form, we just love to compare and rate things.
Eighteen wines on the list hailed from California (Sonoma and Napa, and one from Paso Robles), with three placing in the top ten.
Hewitt 2010 Cabernet Sauvignon Rutherford ($92) came in at #4, representing the best of California for the year according to WS (wine critic James Laube gave it 95 points). Grapes are sourced from a "historic site located at the base of the Mayacamas Mountains." And yet, only 296 Facebook Likes!?
Caymus, one of my go-to Cab favorites (but, certainly not every day sadly), once again made the list (#83).
Other top California picks included wines from Kongsgaard (#5), Lewis (#12), Bedrock (#14), Epoch Estate (#25), Lagier Meredith (#30), Patz & Hall (#31), Beringer (#46), Failla (#49), Honig (#54), Donum (#59), Hourglass (#63), Rodney Strong (#64), Marcassin (#70), Shafer (#72), Raymond (#89), and Carlisle (#90).
Now in its 25th year, the Top 100 list is based on tastings of over 20,000 new releases. That's up from about 3,000 in 1981. How the wine world has grown! More for those who like their wine paired with baseball informatica: the average score was 93 points; average price $52.
DON'T MISS: The Best Wine Advice Ever
And, yes folks, Angelina Jolie and Brad Pitt's wine, the "Mirival" Rosé ($28), made the list of the best wines of 2013. It's only fair now – let's give them their share of credit, god knows they could use a little luck in the success department. Earlier this year the Jolie-Pitt wine sold out. Consensus says it's far above your average celebrity wine. WS gave it 90 points. Others had similar praise for the wine.
As if to defend the 100-point system, or to apologize for ranking wines at all, WS noted in the article accompanying the list that "It's human nature to make lists, to rank our experiences by their value and interest."
I completely agree.
Whether or not we use points, thumbs-up/thumbs-down, a five-point scale, letter grades, or some other form, we just love to compare things.
As I've suggested before, the need for scores and rankings is cultural. Hence: Metracritic, IMDB, Rotten Tomatoes, Yelp. I see equal relevance in tastemakers of the world (official critics) and crowd-sourced reviews (average Joes) – they are complimentary, and bring different value to different audiences. That may evolve (and it should), but there's great joy in using them to stoke conversation with friends and family, to elicit our own thoughts and opinions… Which did you like better? Why? Defender your choice (and your honor!). In the end these lists and rankings create conversation. It's fun. And I'm sure this is just the first of many year end wine lists will be seeing. Hmmm… Top 5 Wine Personalities for 2013…?
[Wine Spectator: Top 100 Wines of 2013]