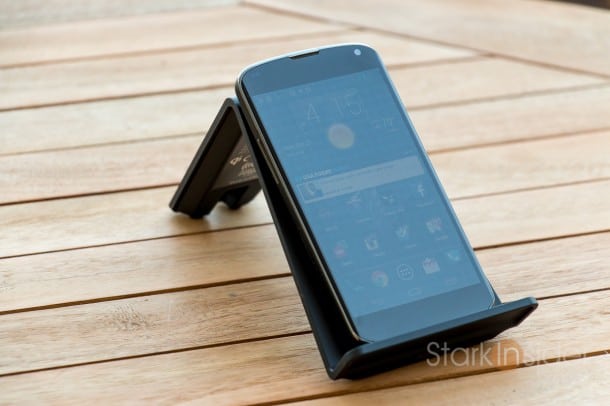 It doesn't get much attention, but Qi is one of my favorite Nexus 4 features. The wireless charging standard is actually quite commonplace. If you run a modern Android device, chances are yours has the feature. With Qi, you don't need to bother plugging and unplugging your phone. Instead you just drop it on a pad, which in turn is plugged into a charger. I've got a (rather pedestrian looking) Qi charging pad in the office, and now I've got (a much better) one as seen in above photo on my nightstand.
I've got to hand it to TYLT, they make some pretty sweet kit. Though I have to wonder who on earth came up with their branding and name: TYLT? But never mind that, their Qi "VU" charging pad, though a tad pricey, is a keeper.
Design-wise, perfect. The company calls it "ultra-modernistic." I concur. There's simple beauty in the 45-degree sloped lines. It feels solid too, with a pleasing feel to its soft touch surface.
A small LED (that you can't see in the photos) is neatly tucked under the front lip. Unlike other brands I've tested over the years it's not liable to light up a dark room or distract if placed in a work environment — it discretely glows green (charging), white (standby) or red (error). A small groove at the back allows passage for the power cable ("cable management") without disrupting the stand.
I especially appreciate that I can view my Nexus 4 (soon to be 5?), in both portrait and landscape orientation, while it charges. There's really no going back to a flat pad that sits level. You can check sports scores (San Jose Sharks!), stocks, read some news and emails, watch videos, etc. Also, for those on Android, check out "Timely" a great clock and alarm app that's perfect for the bedside.
One thing I've noticed with other Qi pads is that they charge slow. TYLT claims that the VU charges as fast as a traditional plug-in charger. And, as I discovered over the past few weeks of testing, they're absolutely right. And what a treat that is, to be able to drop your phone onto the stand, and have it charge up quickly, without fiddling with the micro-USB connection.
I should note that I my Nexus 4 charged on this pad even when in a TPU shell.
My only (very minor) complaints are that the VU's AC wall adapter is on the large side. And at $69.99 it's a little pricey. Given that it will work with any Qi-enabled device, however, gives the stand lots of life. I expect to be using it any day now with the much-leaked, much-rumored, much-lusted Nexus 5.
The TYLT VU is available in four colors: Green, Blue, Red, Black. Moto X fans will surely appreciate that. The company says there are 38 Qi-compatible phones on the market today including the Nexus 4, the Lumia series (810, 820, 822 and 920), and Droid DNA. Sadly, iPhones are not Qi compatible.
TYLT VU, easily my favorite Qi charging pad to date.
TYLT VU Wireless Charging Pad

Highest recommendation.

Available in green, blue, red, black

For Qi-enabled smartphones

Buy: tlyt.com

$69.99
IN PHOTOS: TYLT Qi-enabled Wireless Charging Stand