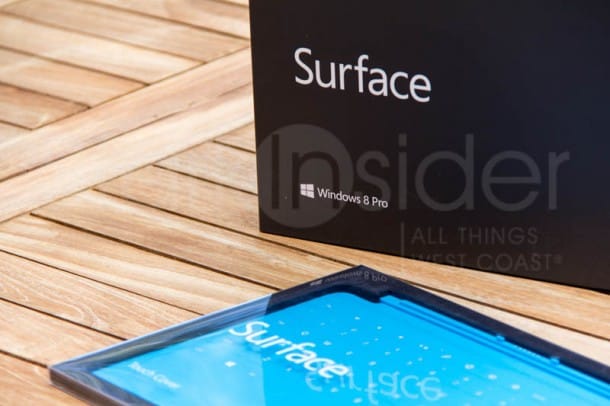 Microsoft will take the wraps off the second generation Surface tablet today in New York City. We're likely to hear about new features. It will be lighter, faster, cheaper. It will run on NVIDIA Tegra 4  and Intel Haswell (RT and Pro, respectively). Some things in tech just don't require a crystal ball. When it comes to that $900 million write down, related to unsold Surface tablets, expect Microsoft to be mum–this is, after all, a product launch, not an investor call.
The Surface tablet comes close, but needs significant re-tooling to seriously compete with the Apple iPad and the sea of Android tablets, most notably the Asus made Nexus 7, now sold via the Google Play Store. Consumers have spoken, and the Surface is a sales dud.
That massive financial hit was a wake-up call of BlackBerry-esque proportion.
According to IDC, Microsoft sold about a million Surface tablets in Q1 of 2013. At best, it earned the company a meager 2% market share.
But there's hope.
I find myself consistently gravitating towards the i5-powered Surface Pro here at the Stark Insider office; those incredible Bings app (Finance, News, Sports, Health) are one of the main reasons. Also, the thing is a speed demon, far outperforming the (admittedly cheaper) iPad Mini when it comes to browsing the Web and watching videos. The screen, though not quite "Retina" calibre, is crisp, bright and, to my eyes at least, easy to look at for hours on end. If you're a DirecTV NFL season pass subscriber, viewing games on the Surface tablet is about as good as it get… Red Zone Channel!
Here's what Microsoft needs to do with the Surface 2 to right the ship, and take a serious run at Apple and Google in the tablet market:
1. Lower the price already
$499 at launch for the base Surface was too much. Period.
2. Battery life matters
Both the Surface RT and Surface Pro have disappointing battery life. For a mobile device in 2013 that's inexcusable. iPad and iPad Mini users don't need to think about battery life much because those tablets just go and go. In my tests the Surface Pro can run through a charge in about 90-110 minutes. If I'm traveling, I'll take the iPad Mini every time. Granted the Surface Pro is a full-blown laptop at heart (Intel i5 chip, full version of Windows 8) and can do things–run Microsoft Office, Adobe applications–that the others can only dream about. None of that manners, however, if the Surface is truly supposed to be a mobile device, one that's designed to be used on planes, trains and automobiles.
3. Micrsosoft, please stop confusing us
RT? What's this?! Pro? What's that?!
Head to your local Microsoft store and listen to the sales clerks try to answer these questions. I feel for them. The marketing team at Microsoft missed the mark, by a long shot, when it came to the messaging and product naming related to Surface. Yes, they got "Surface" right. Great name. But all the other nomenclature around the product is confusing. Does it run Windows or not? And is the Surface supposed to be a tablet or a laptop? It really should do one thing well.
ALSO SEE: Apple iOS 7 – Brought to you by a Lunatic with an Axe
4. Follow Apple, go fully integrated (for mobile)
Microsoft is, again, a bit different than either Google and Apple when it comes to integration. Apple is purely vertical: it designs, makes and sells its products. Google is mostly horizontal: it licenses its technology and relies on partners for manufacturing. Microsoft is a bit of both. It licenses Windows to PC makers. But it makes its own tablets. And, now that it has acquired Nokia, will also make its own smartphones. Microsoft licensed Windows RT to partners and it made its own Surface branded tablet. The former strategy didn't pan out well. For starters Asus, Lenovo and Acer all have other, more lucrative businesses. Once it was evident Windows tablets (and hybrids) weren't selling, partners eased off, reduced marketing expenditures. This time around Microsoft needs to be large and in charge–walk into a Microsoft store, and we should see one tablet product… made, marketed, sold by Microsoft. Control the message.
5. Portrait, portrait, portrait
Yes, landscape mode is great for watching videos. And using the Surface Pro to watch NFL is terrific. But most people, most of the time, use tablets to read–email, news, articles, magazines, Facebook, Twitter. Most of these work better in portrait orientation. When we pick up just about any document, by second nature we do so in portrait orientation. It's intuitive. It's comfortable. The best selling tablet in the world is, of course the iPad. Note that it's designed to be used in portrait mode. Apple figured it out. And why Microsoft doesn't follow its lead baffles me. Differentiation is necessary, no doubt. But the tablet market has spoken, and products designed first for portrait orientation fare better.