Turns out smartphones are quite the popular mobile devices. At 51.8% of the overall phone market, for the first time ever they've accounted for the majority of sales, surpassing the share of lower priced "feature phones."
According to analyst firm Gartner who released the quarterly report, Samsung continues to dominate. It sold over 70K devices in Q2 of 2013, accounting for 31.7 of the smartphone market – that's up two points y/y.
Meanwhile Apple's fortunes have cooled. It moved almost 32K iPhones in the period, good enough for second place, but significantly down 4.6% y/y.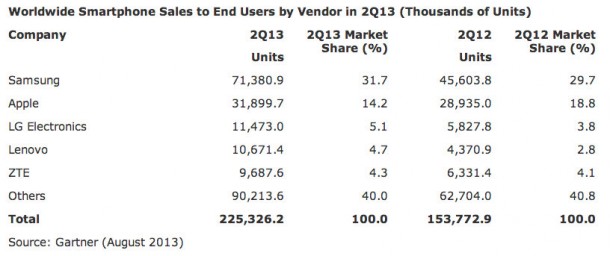 As for the much rumored new low-end Apple iPhone, possibly the "5C," Gartner (and other analysts) express concern that the new model could lead to cannibalization of the higher end products. The strategy could potentially backfire on Apple, negatively impacting market share and margins.
In terms of mobile platforms, Android (79% share) still dominates, followed by iOS (14.s%).
ALSO SEE: The convenience of Qi
Bad news though for BlackBerry (2.7%) though as it continues to fade. Microsoft (3.3%), with its Windows 8 Phone operating system, overtook the struggling Canadian company and is now owns third place.
Bada, Symbian, Nokia and other companies that once thrived before the smartphone landed with the arrival of the iPhone in 2007, have almost fallen completely off the charts.
And, finally, the outlook for the remainder of the year:
"With second quarter of 2013 sales broadly on track, we see little need to adjust our expectations for worldwide mobile phone sales forecast to total 1.82 billion units this year. Flagship devices brought to market in time for the holidays, and the continued price reduction of smartphones will drive consumer adoption in the second half of the year," said Anshul Gupta, principal research analyst at Gartner.