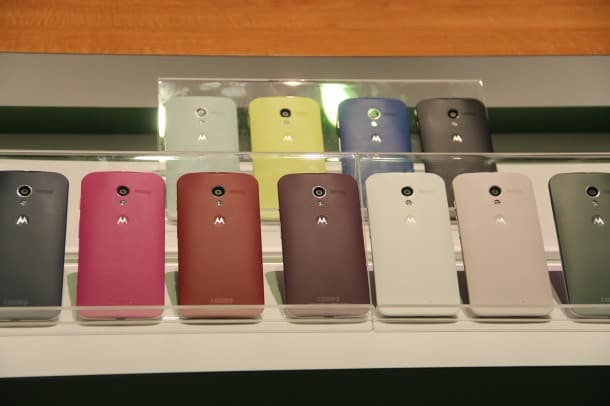 The Moto X is a decent Android. If it were released in 2012 or late 2011, no doubt, it would have turned heads. But as it stands, with an average processor, average screen, average overall package, there's really not much here to get too excited about. Unless you like personalization.
With Moto X, Google is playing up a buyer's ability to choose colors, making it the modern day equivalent of the Swatch.
I can't help but think this was a strategic decision made by necessity — by the time X hit the market it was so woefully underpowered and unremarkable, management had to turn to its marketing team (handing them a $500 million budget in the process) and ask them to spin up some magic. An Apple iMac-like campaign, circa 1998, was born. Remember Bondi Blue?
Granted, X has some nifty tricks up its sleeve. Most notably is Touchless Control, the ability, like Google Glass, to continuously "listen" for voice commands. "OK Google Now" "Navigate to the nearest Best Buy"
That same handy feature, however, is also available on a slew of stellar-looking Droids announced last week. Verizon took the wraps of the Mini, Ultra, and Maxx, three nicely-speced, well designed (Kevlar) smartphones that will ship later this month (with two-year contracts).
Emotion moves product.
I wrote the other day that Moto X is Google's attempt to put a friendly face on Android. After yesterday's reveal I think that's still the case. Specs take a back seat to user experience, and features that put emphasis on doing everyday, fun things with X. The problem is we're living in the heightened era of techno-sizzle. Each component in a new modern smartphone is critiqued or praised by thousands of tech blogs. We've been conditioned to immediately ask: "Quad-core or dual-core?" "16GB or 32gB" "720p or 1080p?"
Moto X then seems lightweight.
Earlier this year a Motorola Mobility executive talked about his concern about the lackluster pipeline for mobile products in his division's pipeline. I wonder if he was referring to the Moto X, which was largely believed to be Google's iPhone moment; the opportunity to woo the mass market, to instill lust beyond belief for a gadget.
It's biggest competitor may be its siblings. The new Droid line-up seems far more impressive. And there's brand name recognition already in place–quite masculine at that for better or worse. For $199, I'd much rather go for a Droid Ultra than the X. Sure, I can get the latter in blue (but not Bondi!), but I readily admit specs do matter in 2013. Speeds and feeds it is.
Hello Moto X:
You're no gamechanger my little friend.
But you are a friendly face in a sea of homogenous Androids.