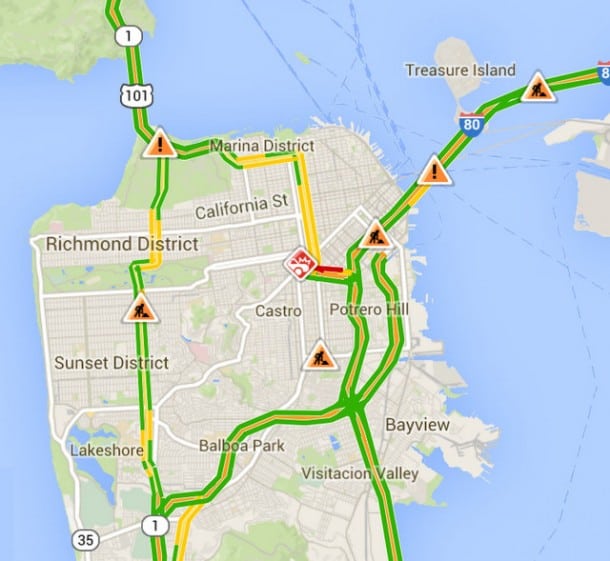 For the last few years I've been a regular user of both Google Maps and Waze. They're both terrific nav apps. Google brings the power of search, voice, and a clean interface; Waze brings a social layer that provides useful alerts, traffic updates and fun (though perhaps not so critical when finding your way to the nearest Rotten Robbie) such as chat. If the GPS market (Garmin, Magellan) were on their death beds, you could pretty much blame these two for pulling the plugs.
When Google bought Waze for $1.3 billion last summer my suspicion was that we'd see a "Waze layer" type of option that would place all of its social capability on top of the existing Maps app.
So far that hasn't happened.
Instead, Google Maps and Waze continue to morph – and, before long, could look like long lost twins.
Today, for instance, Waze real-time traffic reports, that absolutely can't live without feature that required subscriptions in the pre-smartphone days, have been integrated into Google Maps.
In the SF Bay Area, with especially joyous rides such as the Monster 101, HellWorld 880 and SuperCrawl 580, having alerts about road closures, accidents, and construction can potentially save hours of time. Here the power of social reveals a community willing to help out their fellow drivers. In a sense it's a bit like an open source navigation project with each of us adding information via our smartphones into a database that benefits the greater good.
Conversely, Waze is getting some Google bits. From the announcement on Google's Lat Long blog:
"The Waze community will also benefit from two new features. First, the Android and iOS versions of the app have been updated with Google Search. Wazers will now have access to even more search results when navigating. Google Search joins other search providers making it easy to find favorite businesses and any local address."
Interestingly, the Waze team continues to operate independently in Israel. It's impossible to say whether this relationship is a toxic one (I doubt it), like the Apple ][ vs. Mac teams in the 80s, or a love-in often seen at the outset of a recently completed acquisition.
My prediction: Google Maps will live on as the brand and app. Waze will live on too, but as a feature set, not a standalone app.
Regardless, the winner here is us, the road-weary commuters.