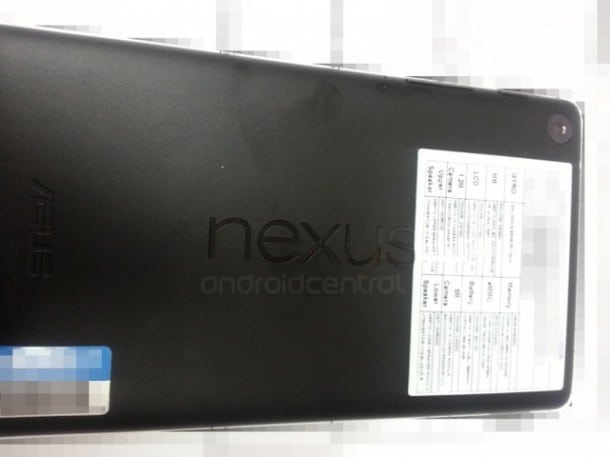 The Nexus 7 was a bonafide hit for Google last year. No question, the $199 price had a lot to do with that. Equally important was first mover advantage. 7-inch tablets were a rarity–at least ones with brand names–just twelve months ago. Next week, it looks like will get a look at its successor. Big G has summoned the tech press for a July 24th "breakfast". I expect a look at a new release of Jelly Bean (4.3), some updates to the Chromebooks (slow, but steady growth), and, of course, what we're all waiting for, the secondgen Asus-made Nexus 7 tablet.
I'm a huge Android phone when it comes to smartphones. I was an OG Droid guy back when "Droid Does" hit in November of 2009. Android was a baby back then. How quickly the open source OS has grown. It wasn't long before Google turned the early Android Market which I always felt was like walking through a bad neighborhood into the shiny, super slick Google Play Store. Now, life with Nexus 4 is just about perfect (though I hope the next Nexus is made by someone other than LG… Sony or HTC would be nice).
But when it comes to tablets, especially in the 7-inch bracket, no one does it better than Apple.
From time to time I get a chance to play around with my wife's iPad Mini. And I'm wickedly impressed – despite my initial apprehension that without Retina it would be substandard.
Almost every single app, save for native ones made by Google, are of better quality on the iPad. It seems like I can control the world in the palm of my hand. Or at least my home that is. In addition to the regular stable of social, news and reading apps, I've installed apps for home automation (Insteon), security (IP Cam Viewer), and home theater (XBMC, and Onkyo remote). In almost every case the iOS version is not only prettier, but also more functional than its Android counterpart.
Take XBMC.
This is a devilishly good piece of kit. It's an open source home theater media center that works astonishingly well. The official app is the perfect companion, allowing you to navigate movies, music, photos, etc. On Android the remote control is perfectly serviceable. I use it on my Nexus 4 all the time. But on the iPad Mini, everything looks better – the graphics are nicer, the scrolling/flow is smoother, and the overall functionality more comprehensive. Quite simply, I'd much rather control my home theater with XBMC on the iPad Mini than I would on my Nexus 4 (or a Nexus 7). This is but one example. There are many more.
NEXUS 7 II – RUMORED SPECS

7-inch display with 1920×1200 resolution

Quadcore Snapdragon 600 processor

2GB RAM

5MP rear camera

1.2MP front camera

Narrower bezel

Android Jelly Bean 4.3

Manufactured by Asus

Price? (some are saying $229/16GB, $269/32GB)
After three or four months of dating the Mini, I wondered: what is it about the iPad Mini that makes it feel so good in the hand, so perfect a tablet? It could be the aforementioned quality of apps. It could be the loooong battery life. It could also be the sexy build quality and sleek monochromatic design.
I went back and forth between the Nexus 7 and the Mini, and then I realized it:
The TV-like 4:3 aspect ratio of the Mini is far better for a 7-inch tablet than the 16:10 widescreen, landscape-oriented one found on the Nexus 7.
Yes, movies look better on a widescreen. But watching feature length films on my tablet ranks pretty low in terms of activities. For that, I have the home theater. And for YouTubes, heck I don't care about screen orientation or cinematic scope. If reading magazines, news sites, and using apps like Flipboard, Facebook and News360 then the wider screen on the iPad Mini is far better. 90% of the time I hold a tablet in portrait mode.
Do I expect Google to follow in Apple's footsteps and adopt a more portrait-friendly display?
Probably not; the leaked shots that have hit the Internet the last few days suggest Nexus tablets will favor a landscape 16:10 orientation.
The (stubborn) fixation with widescreen, like we also see on the poor selling Microsoft Surface tablet, at least gives the product differentiation. Make it look too much like an Apple product and the the Nexus 7 could look like a cheap copy. Regardless, all of this is behind us, as Google already has the device into production and is more than likely set to unveil the Nexus 7 II next week in San Francisco.
I'm tempted to thrown in and buy an iPad Mini, but I'll definitely give Google and the new Nexus 7 a chance to sway me.