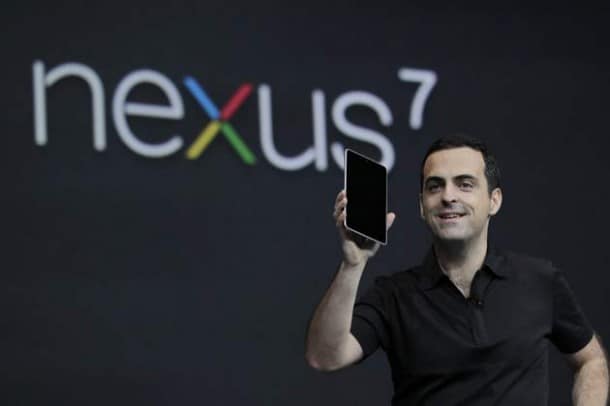 Will Google deliver a tablet blockbuster this summer?
According to several reports today Google, with the next-gen Nexus 7–the 7-inch tablet that Google first brought to market last year to rave reviews–will once again beat Apple to the punch. An updated version is expected next month.
Research firm IHS told CNET that Japan Display and AUO would be making the display for the second generation Nexus 7. Resolution is expected to come in at 1,920×1,200 – that's a much needed upgrade over the 1,280 x800 current spec. Word is Google will price the tablet with 16GB at $229. A comparable iPad Mini sells for $329.
Most interesting perhaps though is the fact that Google will (once again) beat Apple to market.
If the refreshed 7-incher does launch in July it will give big G at least a quarter, possibly more, to take sales away from Apple. And with the growing success of the smaller tablet market (7-inch and 8-inch appear to be the sweet spots for consumers, offering the perfect balance of portability and utility), investors are likely going to be none to pleased that CEO Tim Cook's product teams appear to be slowing down when it comes to release cycles. Then again, the iPad Mini was a latecomer and sales were not hugely impacted – brand loyalty appears to still be a huge factor when it comes to mobile device purchases.
Tablet and Smartphones continue to morph
With the proliferation of device sizes, and form factors, at what point does a tablet stop being a "tablet" and a smartphone stop being a "smartphone"? Functionality is more or less the same–aside from the inclusion of a cellular chip–and the apps generally the same too.
Regardless of how consumers react over time to the myriad of choice, it appears for now that: (1) 7″ is the hot category for the tablet segment; and (2) 5″ is becoming the de facto standard for smartphones.
Meantime I can't help but think Apple missed a huge opportunity. At its recent developer's conference, little innovation was revealed in the way of new, shipping products. Yes, the MacBook Airs are best-in-class. But the other products announced, such as iOS 7 and the MacPro, won't ship until later this year. Given that the pace of product cycles in mobile, at least for hardware, has slowed dramatically since the heydays of 2010 maybe this isn't a complete disaster. Still you have to wonder how much longer Apple can continue to lag the competition and still command a premium market cap.
That's why the nextgen Nexus 7 is more than just a sequel. It's a precursor of what we can expect for the remainder of 2013, and a barometer of the level of innovation between Cupertino and Mountain View. Let's also not forget about Amazon. Bezos and company have been quiet recently. When will the new, improved Kindle take to the stage this year?