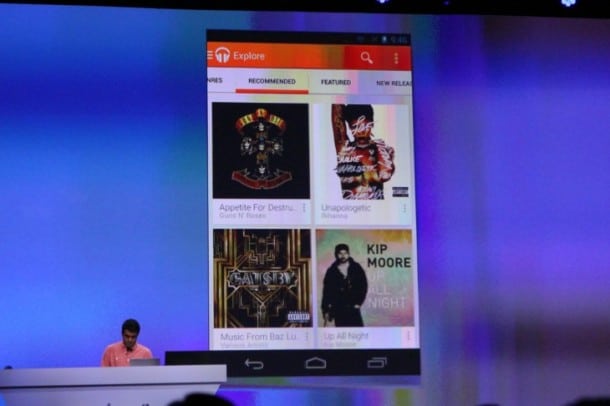 Among one of the more interesting announcements today at Google's developer conference today here in San Francisco is its new music subscription service dubbed 'All Access'.
With the success of Spotify, Pandora, and upstarts like Songza (really terrific) it's no surprise that the heavies are now looking to jump into the subscription fray. Apple is widely expected to offer a similar iTunes-based model next month. But Google got the jump today at the I/O conference.
So, what is Google Play Music All Access?
Think of it as a Spotify killer – at least that's likely the internal thinking at Google. It runs on Android devices, of course, and relies heavily on the company's superb search algorithms to "surface" songs and artists of interest.
But there's some challenges.
First off, at $9.99/month, it's not cheap. Still, that's on par with the industry leading Spotify's premium plan. Clearly Google is confident enough that it won't need to compete on price.
Google states it has millions of songs, but we don't know how many exactly at this point. Spotify has over 17 million tracks, and in the  order of 20 million users. It's unclear to me what compelling reason(s) would cause existing Spotify subscribers to switch.
I'll have more soon after some hands-on time and comparisons of All Acess with my favorites, Pandora, Songza, and Spotify.
Meanwhile, one thing Google should consider is countering Amazon Prime. Well, everything but the two-day free shipping. That doesn't apply with Google. A bundling of services–All Access music, magazines, free apps a la Sony PlayStation Store, etc.–for one annual fee could be an interesting way to reduce price friction that many consumers will inevitably encounter as they begin to add up a la carte costs.