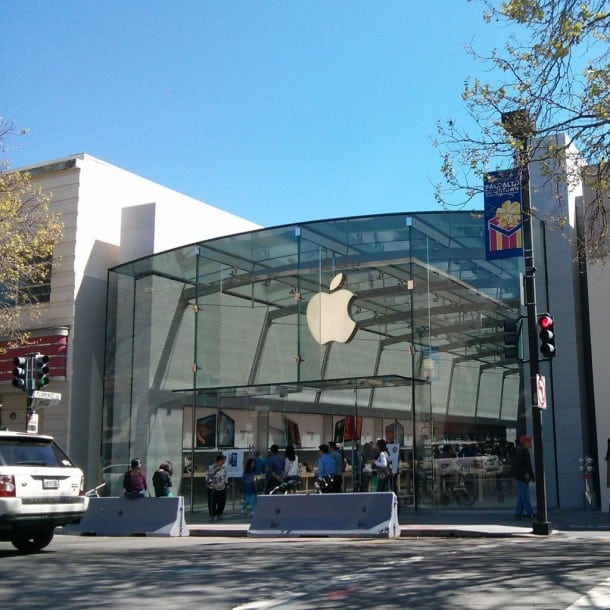 One of the biggest questions in tech coming into 2013 was: What's next for Apple? Almost three months in, and I'm not sure there's been much evidence that gives us armchair prognosticators anything more to gnaw on when trying to figure out the company's next big thing.  Apple stock (AAPL) is down about 13% this year. That much we know. Meanwhile, Google's Android continues to make inroads, now threatening the iPad's dominance in the tablet market.
Over the weekend I checked out the new Apple store in Palo Alto. It's an architectural gem – expansive glass (including the roof), airy ceilings, clean lines. It certainly makes a statement. Later, when checking comparing Retina displays to their non high-res counterparts I realized, with that strong California sun streaming through the glass, that it might not be the ideal environment for assessing screen quality.
My 2010 MacBook Pro is aging (though SSDs and extra memory have given it new life) and I've started to contemplate a replacement. The new Macs are decent. More of the same; nothing to really complain about. The quality of Apple displays is unparalleled, which is probably why I'll stick with Mac for my next laptop. I do like the Lenovo Carbon X1. It comes in a "Touch" model which takes full advantage of Windows 8 Metro (I still like to call it that!). Microsoft has done some superb design work with Win 8. If they had left the start menu intact, I'd say they produced a winner. Sales suggest otherwise. Too bad. By comparison, the MacBook Pros sitting (with little customer interest apparently – everyone was playing with iPads and iPad Minis) in front of me not only looked lonely, but they looked staid. In a world of touch, Microsoft would seem to have the jump.
Sure, there will be new Macs this year. New iPhone(s). New iPads.
As I've written before, however, I believe we entered the evolutionary era when it comes to mobile tech. Things will no doubt continue to get faster, cheaper, lighter. But its hard to imagine another string of market-makers like the iPhone in 2007, or the iPad in 2010. Steve Jobs was at the height of his creative genius. Jon Ive was the right guy in the right place.
Wearable Computing
Enter the smartwatch.
With so many rumors swirling around so many companies I'd bet the farm we'll see a new generation of smartwatches this year. And, on first blush, that's the oddest thing anyone could ever have predicted. LG, Google, Samsung, Apple – all are pegged to be working on such a device. It's half crazy. Check out wrists next time you're in a cafe. Watches are of declining interest (blame the smartphone). I spoke about with some friends at Cupa Cafe earlier that day. Slowly I became convinced that the idea might have merit, particularly when combined with something like Google Glass. If had a smartwatch communicating with some sort of heads up display then maybe I wouldn't need a smartphone at all! Maybe…
Ironically what saved Apple in 1996 was next. As in Next, the Steve Jobs computer company. Next would become the backbone of the modern day Mac. Whether it was that or the return of Jobs that ultimately paved the way for an epic run for Apple could be debated. No doubt, both were significant factors. Perhaps they were ultimately one and the same.
In 2013 baby steps won't cut it. Lest Apple become a late '90s version of Microsoft, it needs to make bold moves.
So, what is Next for Apple?
With the plastic-centric Galaxy S III phone (and presumably the new S 4), Samsung proved that the masses don't necessarily always value premium, all-aluminum builds.
It's very possible CEO Tim Cook and team have some magic up their sleeves. If they do they're doing a good job of keeping us all in the dark, and of making us believe that Apple is two steps away from moribund. What kind of world are we living in when a kludgy BlackBerry device is getting more attention than the iPhone?!
When it comes to design, however, Apple does not appear to giving up the mantle. As I strolled around the Palo Alto store, I was still struck by the beauty of the iPad, the MacBooks, and the iPhone. Surprisingly, I thought the iPad Mini was gorgeous. As far as tablets go, 7-inches seems very much to be the sweet spot – the device is easily held in one hand, yet still large enough to present information with enough detail. In black, the iPad Mini is some sweet bit of kit alright. With the plastic-centric Galaxy S III phone (and presumably the new S 4), Samsung proved that the masses don't necessarily always value premium, all-aluminum builds. We were led to believe that our phones were extensions of our personalities. But, could it be, that we just really want the best possible camera, loads of cool features, and a battery that'll get us through the day?
Apple burn-out
Just about everyone I know has at least one iPhone, at least one iPad (and/or iPad Mini), and at least one MacBook laptop.
Like me, with my near three year old MacBook Pro, I suspect many are running devices one or even two generations old. And are no worse for wear. Common sense, and a quick glance at some IDC/Gartner trend data would confirm that growth going forward for Apple, at least in the U.S., is going to be tricky. The market is increasingly saturated. Apple, of course, is now a very large company and that alone makes growth tough (ask Microsoft). The irony: these mobile devices (both iOS and Android based) are getting so good now that we needn't upgrade every twelve months.
Microsoft struck gold with the Xbox. All of a sudden, just as PCs were becoming uncool, it built an entirely new platform market around the video game business. Mobile is threatening that severely we now know. But how will Apple fuel its next stage of growth; and how will it remain a cultural icon? A watch…? If it comes to be, I'll be Whistling Dixie with incredulity.