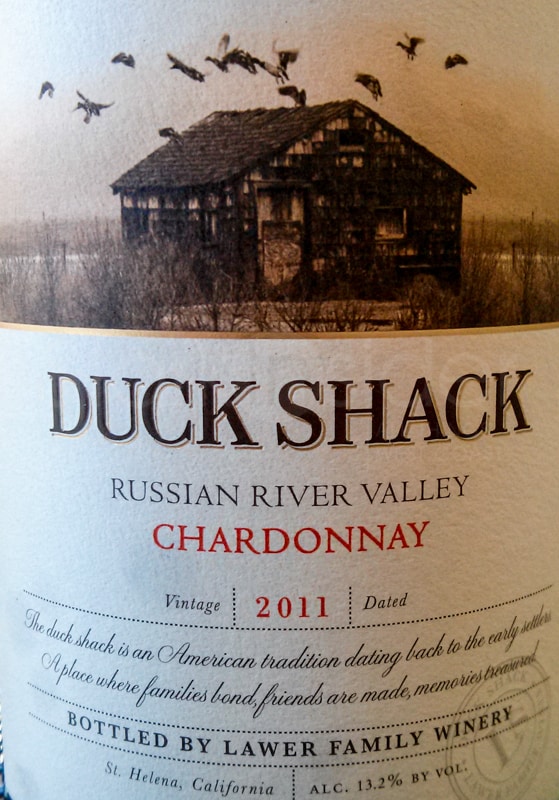 For reasons I can't entirely understand (and why should I need to?) I'm on a real California Chardonnay kick these days. I find the grape crisp, refreshing, and, unlike heavy reds, I don't find myself crash-landing on the couch. This Duck Shack, by Lawer Family Wines, hits the spot. Of the hundreds I've tasted over the past few months I'd rank it in the top 10%. In other words, a hearty recommendation.
The grapes come from the Russian River Valley in Sonoma, easily one of my favorite growing regions for Chardonnay (and Pinot). It's probably an over generalization, but there's some merit to looking for "Russian River Valley" on the label if you ever find yourself lost in a wine shop. Of course, asking for help is likely best – if you find yourself in Safeway, however, you're on your own.
And the story?
Wouldn't you know it, this wine has a story. As I wrote earlier this week, if San Francisco was built on Rock 'n Roll, than the wine industry was built on a story or two.
"Duck Shack" commemorates "the family's duck shack on Cook Inlet slough in Alaska."
Be wary not to confuse this with the "Love Shack" which, of course, commemorates Haight-Ashbury.
WATCH: Inside Premiere Napa Valley (Video)
Gentle fruits on the nose–grapefruit, apple. Vanilla on the finish, which I appreciate in both Chards and Pinots. Best of all this wine veers toward the far end of the minerality scale. In the mouth, that simply means you don't get that cloying/buttery/oaky effect. Maybe it's best referred to as a "clean" finish.
Only 210 cases produced. For the price, this is hard to beat. The winery itself is located at the northern end of the Napa Valley in Calistoga, a charming town known for mud baths, cowboys, and heart-stopping sunsets.
Lawer Family 2011 Duck Shack Chardonnay

Russian River Valley, Sonoma

100% Chardonnay, 22% new oak

90 points / $22

13.2% alc.