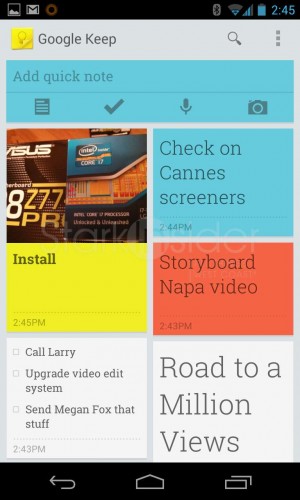 Mere minutes after I posted the 70 apps on my Nexus 4, and raved about the Any.DO task management app, along comes Google Keep. Sort of a cross between a checklist manager and note keeper, the much rumored app finally hit the Play Store (link).
Make that 71 apps now on my Android.
I promptly downloaded Google Keep onto my Nexus 4 to see what the fuss was all about.
The first thing the app asks for is an account. I signed in with my Google account. You'll then see a blank screen with a bar at the top where you can add four different types of items: note, task (checklist), audio file, or photo.
Using Google Keep is an exercise in simplicity. I was able to quickly add to-dos, and take photos to jog memory, or inspire creativity.
Items can be shared and marked complete (and archived). Easy enough.
Presentation is unique. Optional color coding allows you to categorize, or simply to go crazy in a Pastels sort of way. It can result in a pretty, Microsoft-like tile screen. Very pretty. If you prefer, you can select a (perhaps more functional) single column view.
On the web you can go to drive.google.com keep to see your notes – again you can specify a single column view, or a Pinterest-like grid.
Deadline driven checklist fiends will likely be unimpressed by Google Keep. I could not find a way to add a due date, or to specify any sort of timeline to an item. In that regard, it looks like Google is aiming for more of a lightweight Evernote offering than it is a full blown task manager a la Any.DO.
It's too early to weigh-in with a verdict, but it looks promising – on Play, Google Keep already has a 4.5 rating with 492 reviews. I'm not about to delete Any.DO anytime soon, but if Google adds more features (as I'm sure it will) than it could very well become the defacto for task management/note taking apps. Today, though, with the 1.0 release that appears a ways off.
Google Keep

Download from Google Play (1.5MB)

Bottom line: Handy app for keeping notes, photos, to-dos. Clean, uncluttered UI. Color coding, voice entry, photo uploads add to versatility. Lack of deadlines/notifications means it won't replace an app like Any.DO in terms of classic task management capability. Huge potential for integration with Google Now. Would be nice to see integration with Google Tasks (or replace it altogether) and Google Calendar. A good start. Expect this to become a class-leading app over coming months/years.