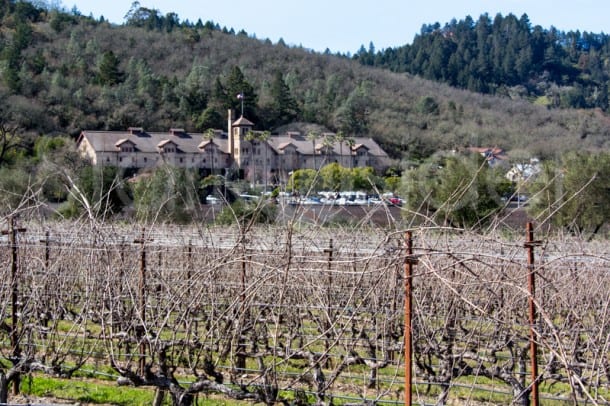 The official tally is in.
Napa Valley Vintners have announced that this weekend's wine futures auction raised $3.04 million. That's slightly lower than last year ($3.1 million), but perhaps dispels some of the grumblings that the '11 vintage (80% of the lots were from that vintage) for Napa could face a skeptical fine buyer.
According to the NVV, the average bottle price came in at $160.75.
At $75,000, 10 cases of Bevan Cellars and Chateau Boswell Winery (Lot 108, winemaker: Russell Bevan) was the top earner at the auction that featured over three hours of (mostly) frenzied bidding for 207 lots. Earlier in the day trade, including buyers, distributors, and collectors, made the rounds in the (extremely) energetic barrel room at the Culinary Institute of America at Greystone, tasting samples from the wineries.
I reached out to Linda Reiff, NVV executive director for her reaction, and she sent this via email to Stark Insider:
"The results of this year's Premiere Napa Valley exceeded our expectations and we are enormously grateful for the generosity of the bidders and vintners who contributed to the event. All week we felt tremendous energy and excitement among the trade and media who were in town, in particular for the 2011 vintage. This is welcome news for the vintners and growers who worked so hard to produce the kind of quality wines Napa Valley is known for, in spite of the challenging growing season."
ALSO: Watch: Merry Edwards, Robert Parker Inducted into Napa Vintners Hall of Fame (Video)
The auction capped "Premiere Week" which featured a wine writers' symposium at Meadowood, various panels across the Valley, tastings and events, and celebrations.
Premiere Napa Valley – Top Earning Lots

Bevan Cellars/Chateau Boswell Winery (joint lot); Reynolds Family Winery; Shafer Vineyards; Keenan Winery; Kapcsandy Family Winery; Rombauer Vineyards; Duckhorn Vineyards; Silver Oak Cellars; Derenoncourt California; Saintsbury; Hourglass; VHR, Vine Hill Ranch; and ZD Wines.
"With the 2011's on a whole, you see incredible style and finesse," said master sommelier Larry Stone. "Although the growing season was relatively cool, when you taste these wines, you realize that Napa Valley has come so far that its winemakers know how to deal with cold weather or warm weather and the result is great wines."
One of the more interesting events may well have been 'Napa Gras,' a lavish extravaganza hosted by Jean-Charles Boisset at Raymond Vineyards and featuring go-go dancers, Cirque-style aerial performers (serving wine no less), and plenty of story-telling and interesting  interludes in the winery's infamous "red room." More: recap and behind-the-scenes video of a Napa party sure to go down as legendary.
We'lll have more on Premiere Napa Valley shortly, including visits with Cathy Corison (Corison Winery), Tim Mondavi (Continuum), Jeff Smith (Hourglass), Greg Camp (Cornerstone Cellars)  and more.