Winemaker Merry Edwards, critic Robert Parker, labor leader César Chávez and wine writer Frank Schoonmaker have been officially inducted into the Vintners Hall of Fame in Napa for 2013.
The seventh annual ceremony, which featured touching tributes, the unveiling of beautiful plaques, and, of course, plenty of food and wine, took place at the Culinary Institute of America at Greystone. Author (and chair of the CIA's Rudd Center for Professional Wine Studies) Karen MacNeil emceed the ceremony.
Each year, inductees are selected by a panel of more than 75 national wine writers, critics, and historians.
Stark Insider was on location last night, and we're eternally grateful that we were invited to a year that features a truly outstanding class. The video you see here captures an evening I won't soon forget.
Robert Parker no doubt casts a large, and often controversial shadow, over the industry. Unfortunately, he could not attend, but did record a video acceptance, which you can see in this video segment shot at the "other" CIA.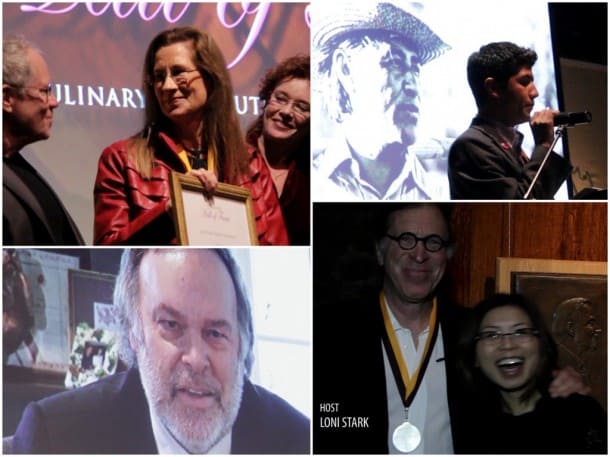 Merry Edwards, who was given an entertaining introduction by wine writer Steve Heimoff, inspired with an emotional speech. I'm sure I wasn't the only one in the hall last evening trying to keep it together. Here is a woman that has persevered in a male-centric industry for forty years, and came out on top. Not only that, as one of the first female graduates out of UC Davis, she's no doubt paved the way for future generations.
MORE STARK INSIDER TV: Jean-Charles Boisset, the James Bond of wine (Video)
Aside from the fact that Merry reveals where she sourced her tres cool red leather jacket – style, or what?! – I also learned that in absence of Parker himself, the Little Loni is not exactly shy when it comes to weighing in on the future of the 100-point wine scoring system.
Also making appearances in this video: wine collector Park Smith (81,000 bottle cellar!), Randall Grahm (Vintners Hall of Fame 2010), Lawrence Nolan (who sculpts the plaques seen in the hall of fame), and Peter Mondavi Sr. (at 98, this guy is as spry as ever – and watch out, as he says, "nothing like kissing the girls!").
WATCH: Vintners Hall of Fame Induction Ceremony featuring Merry Edwards, Robert Parker, César Chávez, Frank Schoonmaker
One of my favorite wines being poured at the celebration was this '98 Simi Cabernet: