Google innocently enough pushed out an update this week to its much-loved Android Search app. If you're interested to know more about Key Lime Pie (Android 5) and where the engineering brain-trust thinking is headed, take a very close look at this update. Let me explain why.
On first blush, there isn't anything earth shattering in the new version of one of the Play Store's most popular and well reviewed apps. Fandango movie passes are being rolled in to Google Search, along with movie reviews from Rotten Tomatoes (good call). Zillow is being tapped for real estate data, and there's a Google Now widget for the home screen and lock screen. That all sounds well enough, and it is.
However, take a close look at that Google Now widget.
Do you see anything?
I mean, look really, really hard. Stare long at it. Pretend it's Megan Fox (or Ryan Gosling as the case may be).
Sure, there doesn't appear to be much to look at. Here's the Google Now widget on my Nexus 4: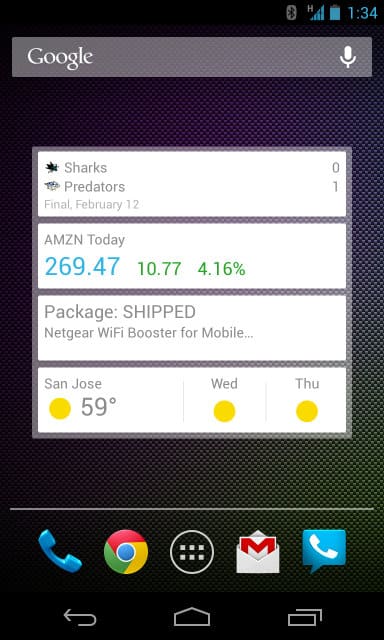 I get the latest Sharks score because Google knows this Canadian digs the sport and the team. There's the latest prices on one of the stocks I follow. A shipping update (how convenient) on a recent Amazon purchase (I need more wi-fi range for the casa in Loreto which confounds routers with its large, concrete walls), and local weather. Essentially, this is all the information I can get when I long press the home button and drag up (with Android Jelly Bean). The difference being, of course, that the widget displays a subset of all the information that Google Now is capable of presenting.
In this new world, the smartphone homescreen is less about icons, shortcuts and folders, and more about just in time information, actionable alerts, and contextual user-approved offers
Did you see anything yet?
Here's a hint, and what led me to start seeing the bigger picture wrt Google Now, and Android Key Lime Pie, which we'll surely see at Google I/O this May:
In your mind, take the Google Now widget, make it bigger, add various sizes of "tiles." Now imaging being able to size them, move them around.
Dare I say Metro?
I'm almost convinced the Google Now widget is a preview of the new Key Lime Pie user interface. Sure, I don't think it represents the entirety of what we'll see with Android 5, but you can see where Google is headed with its design thinking by carefully studying it.
What if regular, third party widgets were integrated into some sort of Google Now framework – that you could launch either the app itself (say, News360) or view its content within the unified user interface? Notifications (from Gmail, Twitter, Facebook, SMS, etc.) are integrated, so why not important content. Based on your location and the context of your activity, Android would be able to serve up content that matters most to you, only now instead of being accessible via a separate screen it would be the centerpiece of the user interface.
You've got to hand it to Microsoft on this one. With Metro and live tiles, I think they saw it first.
Apple invented the smartphone as we know it, and app icons. Google took it a step further with dynamic widgets, and customizable home screens. But Microsoft, with Windows 8 and Windows Phone 8, took the concept further by making the desktop and homescreen a living and breathing place, with dynamic information, useful notifications, all integrated into one live view.
Google is going to one-up all comers with its predictive Google Now platform, user profile information (primarily from Search, YouTube) and location-based data, and integrate it all into a new paradigm for mobile operating systems. Or so the vision goes. In this new world, the smartphone homescreen is less about icons, shortcuts and folders, and more about just in time information, actionable alerts, and contextual user-approved offers (be it events, movies, real estate or otherwise).
I'm also convinced that we'll see some form of Google "X Phone" that will harness all the latest goodies, and be a showcase for Key Lime Pie, and this new metaphor for smartphone operating systems. Chances are, it will be made in-house by Motorola, and will be the first time Google will ship its own software running on its own hardware. It will be a big deal. And you can start reading the tea leaves now by taking a closer look at Google Now and the most recent Google Search app update.