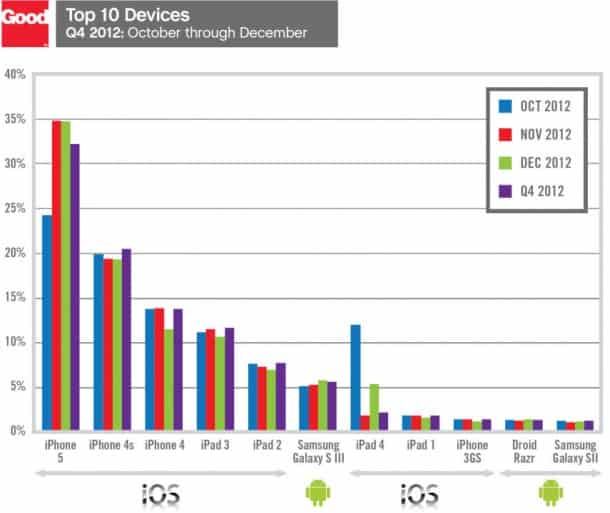 While Apple continues to battle it out with Google in the consumer space, a place where iOS is in fact an underdog (at least on smartphones), it is crushing the competition inside the country's largest companies. That according to mobile platform provider Good Technology.
Its just released Q4 2012 Device Activation Report shows a clear preference for iOS devices among corporations, with the iPhone 5, iPhone 4s and iPhone taking the top three spots. The data is based on activations within Good's customer based which includes half of the Fortune 100.
The iPhone 5 was the most popular device in Q4 of 2012, representing 32 percent of all activations for the quarter.
For Android, only the Samsung Galaxy S III achieved more than 5% device activation share.
In total, according to Good, iOS devices combined for 71% of all activations in the quarter, with Android smartphones trailing significantly at 21%.
ALSO: Chromebook Pixel: A pretty expensive dumb terminal
Neither Microsoft Windows Phone 8 nor BlackBerry were mentioned. That's not entirely surprising given the low impact both of the companies have had on the mobile market recently.
With the newly launched BlackBerry 10 platform and phones —  the Z10 and Q10 — it will be interesting to see if the Q1 report (January through March) changes significantly.
[Good Technology]