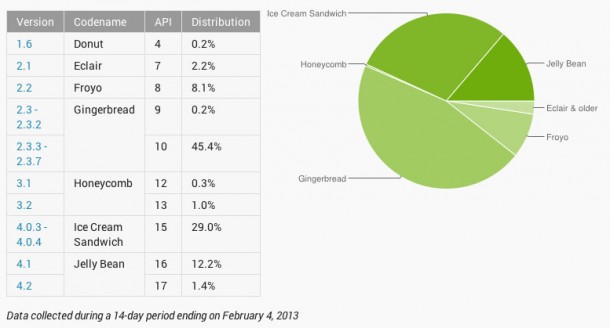 Android 4.1 and 4.2 ("Jelly Bean") climbed to 13.6% share in the most recent figures collected by Google. That's good enough to place the latest Android release in third spot, behind Gingerbread (46%) and Ice Cream Sandwich (29%).
According to the data collected, Jelly Bean has grown approximately 30% month-to-month.
Jelly Bean was released to the Android Open Source Project in July 2012, and ships with all new Google Nexus devices via the Play Store, and most flagship smartphones such as the Samsung Galaxy S III, an HTC Droid DNA.
While many critique Google's growing fragmentation problem, it hasn't appeared to harm the Android operating system, which is licensed via open source to manufacturing partners such as LG, Sony, Samsung, Asus, Acer, HTC, and scores of others.
ALSO: Is Samsung's 'Galaxy' a better brand than Google's 'Android'?
Recent reports indicate that 7 out of 10 mobile devices run Android. Still, there is concern that the large install base of users running older versions of Android will increase development and maintenance costs – Apple, meantime, sees significantly higher rates of adoption with iterative releases of its iOS operating system.
Google is widely expected to launch Android 5.0, "Key Lime Pie," in May at I/O, its annual developer conference held in Silicon Valley. Rumors persist that the company will also unveil an "X" phone possibly manufactured by its own Motorola Mobility unit, and targeted at the iPhone.