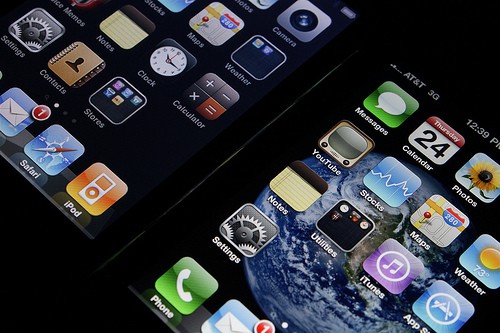 Smartphone sales continue to grow, with Apple (iOS) and Google (Android) leading the way. According to Boston-based research firm Strategy Analytics, the overall smartphone market in 2012 grew 43% year over year.
Last quarter Android once again dominated the market with 7 out of 10 devices sold running the ubiquitous operating system. All told 152 Android devices were sold during the three-month period ended December 2012.
Apple came in a distant second with 22% share, and 48 million units (iPhone).
The scraps, or about 8%, belong to the rest, including Microsoft (Windows Phone) and RIM (BlackBerry).
Despite the growth, the market did slow somewhat when compared to 2011 when y/y growth came in at 64%. Still, with the decline of the PC desktop market, it's clear that smartphones and tablets continue to occupy the consumer mindset.
Analyst Scott Bicheno referred to the market as a "duopoly" with consumers opting for either Android or iOS when making a smartphone purchase.
The data has remained fairly consistent throughout the year despite a large marketing push by Microsoft to launch Windows Phone 8 in partnership with hardware makers Nokia and HTC. Reviews have been solid, but sales have been tepid. Many cite the lack of apps as an issue for the challenged traction, while many analysts suggest the lack of differentiation from Apple's iPhone and Google Android phones is to blame.
RIM this week will attempt its comeback with the launch of BlackBerry 10.
Global Smartphone Operating System Shipments and Market Share in Q4 2012

| | | | | | | | | |
| --- | --- | --- | --- | --- | --- | --- | --- | --- |
| Global Smartphone OS Shipments (Millions of Units) | | Q4 '11 | | 2011 | | Q4 '12 | | 2012 |
| Android | | 80.6 | | 238.9 | | 152.1 | | 479.0 |
| Apple iOS | | 37.0 | | 93.0 | | 47.8 | | 135.8 |
| Others | | 39.4 | | 158.6 | | 17.1 | | 85.3 |
| Total | | 157.0 | | 490.5 | | 217.0 | | 700.1 |
| | | | | | | | | |
| Global Smartphone OS Marketshare % | | Q4 '11 | | 2011 | | Q4 '12 | | 2012 |
| Android | | 51.3% | | 48.7% | | 70.1% | | 68.4% |
| Apple iOS | | 23.6% | | 19.0% | | 22.0% | | 19.4% |
| Others | | 25.1% | | 32.3% | | 7.9% | | 12.2% |
| Total | | 100.0% | | 100.0% | | 100.0% | | 100.0% |
| | | | | | | | | |
| Total Growth Year-over-Year % | | 55.9% | | 63.8% | | 38.2% | | 42.7% |