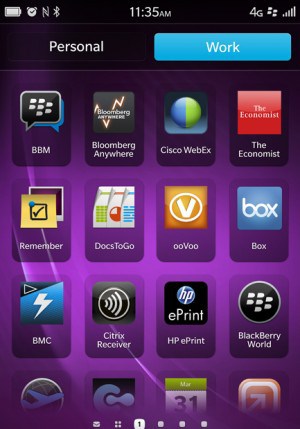 But will there be any apps to share?
RIM has been on an all out media assault this month. So far they're marketing push is garnering a fair share of headlines, and mostly positive ones at that.
One of the biggest questions relates to apps: Will there be enough of them?
In advance of the BlackBerry 10 launch, RIM this week has talked up BlackBerry World storefront, its renewed app store. "Amazing App Sharing" says the media note. I've never put app sharing high on my list of must-haves. Maybe I'm the odd one out. But what I'll be really looking for when BB 10 launches is the depth and quality of apps. If RIM can win over enough developers — and that's a monumental task with most investment and energy in the dev world focused on iOS and Android — then it has a fighting chance to become a solid number three mobile platform (in North America).
I was disappointed to discover that RIM was re-hashing an old video (from September 2012) to tout the features of BlackBerry World. Why not update that, and give the world something fresh, compelling? Instead, we see a bland, vague overview of the service that would've been adequate last year when BB 10 was still quarters away from release, but seems tired at this point:
I checked the BlackBerry channel on YouTube. With over 50 million views it has healthy traffic. Clearly people are still interested in RIM, with many primed for a comeback.
Microsoft is learning a harsh lesson in reality with Windows 8. Apps matter. Whether we like it or not, if consumers can't do the things they want with their smartphones — look for a place to eat on Yelp, check in on Foursquare, share photos via Instagram — then it's hard to establish momentum.
Here's my take on RIM and BlackBerry 10: I think it will be a niche play. BlackBerry still has a hardcore following, many whom adore its physical keyboard and messaging services. Retrenching to the enterprise (BlackBerry Enterprise Service 10), emphasizing security and messaging could be a smart move. Revitalizing RIM's consumer business is going to be a lot tougher. What feature or differentiator will BB 10 bring to the table to combat Android devices and iPhones? Nothing jumps out in my mind, be it variety of price points, depth of apps, or richness of the ecosystem.
I fondly recall my BlackBerry 8700. A chiclet keyboard, scroll wheel, and fast performance resulted in a smartphone that was unbelievably good back in the day. And ahead of its time. Now that I have all the apps I'd ever want on my Nexus 4, it's hard to imagine what RIM could possibly offer to remotely entertain a switch.