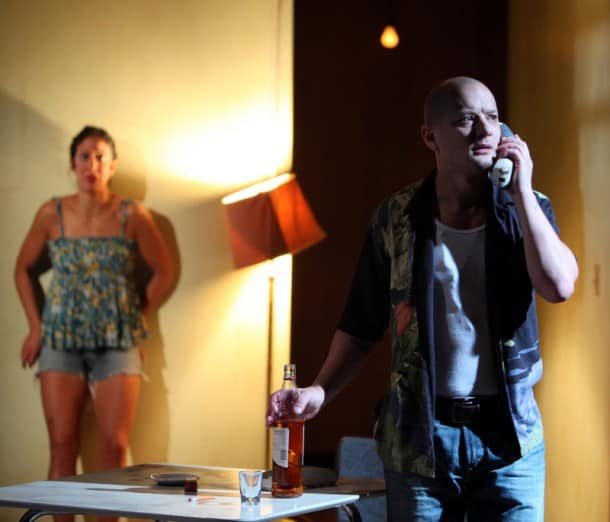 You can always count on Magic Theatre in San Francisco — located on the gorgeous grounds of the Fort Mason Center, next to the Marina and overlooking the Bay — for first rate acting. Over the years, I've come to expect nothing less than the best when coming here to see a play.
Last night, at the world premiere of Se Llama Cristina, was no different.
Every action seems to loop back on itself, and result in a shot (or prolonged chug) of Dewar's White Label.
Rod Gnapp, Sarah Nina Hayon, and Sean San José all deliver performances that feature an incredible range of emotion, fierce delivery and subtle nuance in bringing each of their troubled, gritty characters to life. If you're looking to enjoy an evening of fine acting, you can't do much better. Oddly, a fourth actor who makes an appearance in the last act is uncredited in the program guide, though I suppose that's par for the course for this often mind-bending material.
Written by Octavio Solis, who directed the searing Brothers Size here in 2010, comes a play concerned with language. There's beautiful rhythm to Solis' dialog, not to mention omnipresent despair. There's also a fair amount of confusion – I suspect that's by design, though I'm quite certain I was even more confused as to what exactly was happening than the character's themselves.
Are we ruined people?
The premise is one of my favorites, drawing from elements not unlike what we've seen over the years in other forms, notably in Christopher Nolan's Memento and the Saw horror film franchise (though Se Llama Cristina draws blood, it's not of the horror genre). Two strangers awaken and find themselves in a mysterious room without memory of how they got there. Worst still, the "Woman" can't even recall her own name, and the "Man" has a hypodermic needle hanging from his left arm and appears to be in the midst of freebasing in a roach motel (somewhere in the middle of Winslow, Arizona…?).
It's hard to discuss much of the story without giving away what happens. Solis relies on flashbacks, and creatively interweaves multiple story-lines while dropping clues along the way, allowing us to slowly piece together the puzzle, just as the characters on stage are doing the same.
There's a fog of war effect exacerbated by some drug use that confounds perception of reality and fantasy, resulting in more than a few marijuana minutes. Why on earth is there a chicken leg in that crib?
What I especially like about this work is the absence of perfection. Each of these characters is deeply flawed – they may very well be their own worst enemies. Every action seems to loop back on itself, and result in a shot (or prolonged chug) of Dewar's White Label. Dreamy, poetic language and dogged perseverance, however, provide glimmers of hope.
Safe to say, if you're in the mood for some Sugary Broadway Bubblegum, see the easily digested, entertaining Wicked at the Orpheum, and if you're in the mood for a harsh, challenging and mysterious journey through addiction, abuse, and anguish see Se Llama Cristina at Magic. Better still, see both; fine examples of what makes live theater so engaging.
Why on earth is there a chicken leg in that crib? -> Review: 'Se Llama Cristina' at Magic Theatre starkinsider.com/2013/01/review… via @starkinsider

— Clinton Stark (@clintonstark) January 31, 2013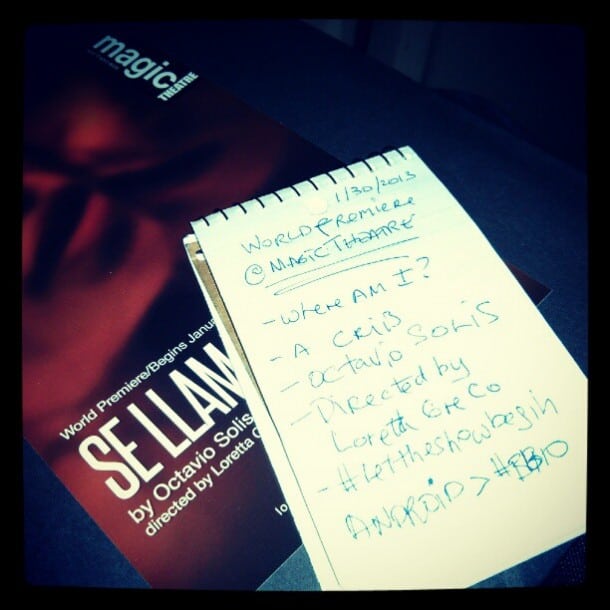 StarkIn

Se Llama Cristina was commissioned by The Denver Center for the Performing Arts

Words used liberally by Octavio Solis in the script: 'fuck,' 'holmes' and 'migwell'

"Right on the edge of the fog belt. With the ocean just out of view. All just enough to make us feel smaller than we ever have." – a character describing Daly City

Magic Theater is now in its 46th year