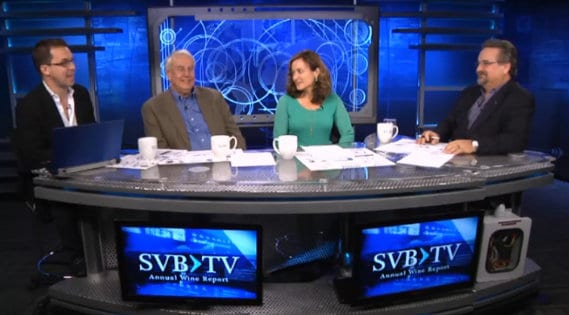 In a stagnant economy, wine continues to sooth our souls.
Thankfully we can expect quality California wines — and more of them — to continue to reach our glasses in the years ahead.
According to a report (State of the Wine Industry 2013) from Silicon Valley Bank, this year's harvest was the "best ever." Not only were record yields reported, but quality is said to be "high."
"The perfect harvest: a perfect growing season produced a rarity, very good yields and great quality," SVB's Rob McMillan noted in the 39-page report. "It's no exaggeration to call this vintage perhaps the best ever for the West Coast as a whole."
The comprehensive 39-page report, released each year at this time, covers everything from wine sales by age group and the effectiveness of social media on wine sales to retail price projections and supply-side metrics including winery margins, and bulk wine inventory in California.
Harvest is estimated to have come in at 3.7 million tons.
Sales growth in fine wine is predicted to be in the range of 4-8 percent in 2013, which is a lower rate of growth than in the previous three years.
ALSO: Half of U.S. Wine Market Owned by 3 Companies
Inventory is balanced. But higher priced wineries are indicating short positions.
A tough year for the small guys
It was also the finest modern era vintage ever when viewed in the context of all West Coast growers.
"Wineries that expressed having the most difficult year were often in smaller production models with average retail pricing in the range of $20-$29," wrote McMillan.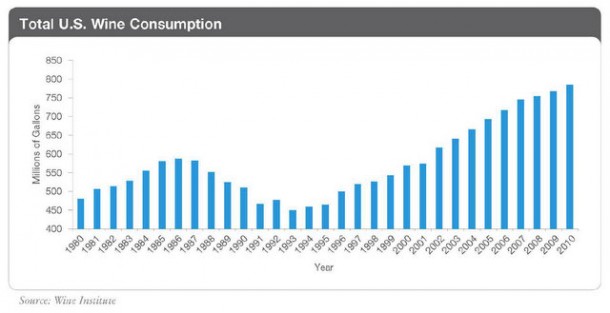 In 2010 total U.S. wine consumption surpassed 750 million gallons (about 3 gallons per capita), marking year over year growth since 1993. Interestingly, consumption peaked in the mid-80s at 587 million gallons, before declining when "a combination of M.A.D.D., neo-prohibitionists, and health advocates teamed to deliver an anti-alcohol message that stuck with a changing consumer." The French Paradox — that wine consumption leads to lower risk of coronary heart disease — reversed that trend and domestic wine consumption has grown ever since.
SEE: Harlan and the Philosopher
Additional highlights from the State of the Wine Industry 2013 report can be found in this infographic.
Infographic: State of the Wine Industry 2013

[Silicon Valley Bank: Annual State of the Wine Industry Report]