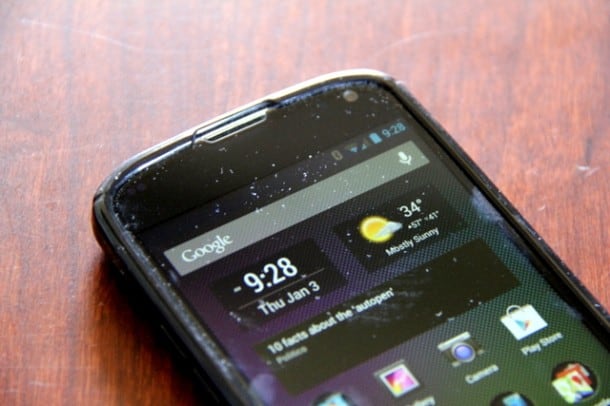 Today I'm sharing my top 3 favorite cases for the Google Nexus 4. Smartphone cases are a very personal thing. Some totally dismiss them, preferring the clean lines of the original design. I don't blame them – odd isn't it to cover up LG's tasteful, classy design including that swanky matrix-like glass on the back of the N4 with cheap plastics and poly-carbonates?
Then there's that whole Otterbox trend. Some just sleep better when they're smartphone is in lock-down mode, protected to the gils with military-grade defense accoutrements. You know, for that time you're invading a small country with your new Nexus. Or maybe you plan to travel to the center of the earth. 5430 Celsius?! Can't touch this.
For those new to Stark Insider, I've been an Android since the OG Droid (yo) hit Verizon shelves in November 2009. Droid Does. It was a miraculous day when I had my BlackBerry 8100 put down and forever jumped on the Android legion – simply entering my Google/Gmail credentials and seeing everything sync was magic (at least it was back then). That was the only phone I did not put on a case to protect. Those who know the original Droid know it was build like a brick; lots of metal, and a rock solid slider mechanism. From then on, though, I've always used a case. Smartphone construction these days tends to be quite plastick-y, especially Samsung phones. The Nexus 4 is simply the best Android I've ever owned – more reading for those so inclined include my Nexus 4 first impressions, and a word on battery life (it's better than you think, just don't stream The Dark Knight Rises two times in a row).
Okay, here we go, my top three Nexus 4 cases are:
Cimo S-Line Back Case Flexible TPU Cove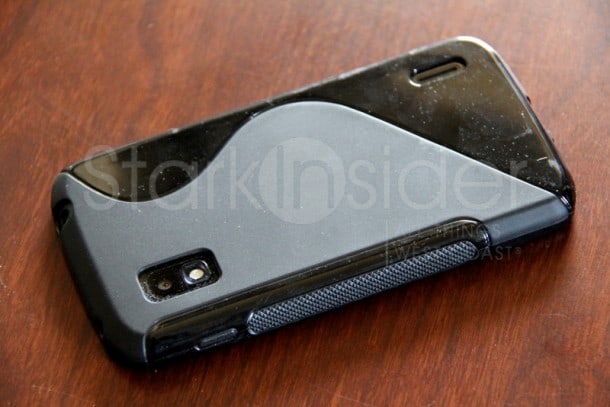 This is my daily driver. Yes, I'm a cheap date. For less than $10 you get a well built, decent enough looking case that completely protects the sides and rear of the Nexus 4. A few things I especially like about this one over the competition. First, it has textured areas along the sides, which ensures a rock solid grip on the phone. Also, the buttons are completely covered. To use the volume and power buttons you actually press the cover which in turn makes contact with the N4. Some may prefer cutouts and the precision feeling that comes from using the actual buttons. Finally, I like that this case adds friction, so that when the Nexus 4 is sitting on a desk or other slippery surface it's far less apt to go for a jump off the edge. At first I didn't like this case – it's not the tightest out there (convenient if you want to take it out to put it in a car dock) and the S-line design on the back is not for everyone. My N4 spends 95% of its like in this Cimo.
Cimo S-Line Back Case Flexible TPU Cove
Cost: $19.99 (or $8.93 via Amazon)
Available in Black, Red, and all sorts of funky colors
Google Nexus 4 Bumper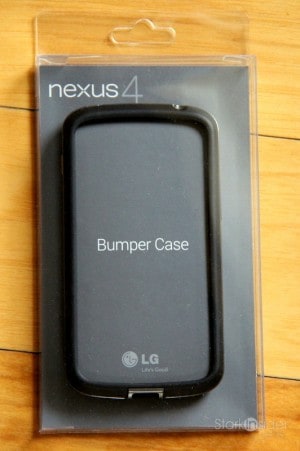 Apparently the Nexus 4 Bumper — available direct from the Google Play Store, but currently sold out — is a favorite with the people. The simple case, which protects only the edges of the phone and adds a short bumper to the top and bottom, has been receiving rave reviews. Yes, you really really like this thing. And it's not even deep fried for god's sake! Well, I can assure you it is very well made. The bumper, like the Cimo above, uses its own buttons. Unlike the Cimo, however, they're nicely chiseled and have action almost as good as using the Nexus 4 controls directly. You'll greatly reduce the chance of scratching that beautiful glass on the back with this bumper as neither the front screen or rear will ever come in contact with a surface. Still, you'll need to be careful keys and such in your pocket don't come in contact, as there's a lot of phone still exposed. I owned this one for a few days, then ended up selling it for more than I paid (I know, I know, Clint the evil opportunist!). Two reasons why I prefer the Cimo: (1) it protects the entire back of the Nexus 4 – and I plan to sell the N4 as soon as the next hot, unlocked Android comes along so I want to keep the phone in pristine condition; and (2) I don't like the ridge this bumper creates – when I hold the phone I prefer a clean contour from side to rear. YMMV, of course.
Nexus 4 Bumper
Cost: $19.99 (but it's sold out, and do watch out for Google's high shipping charges)
Available in every color, as long as you like black
Skinomi TechSkin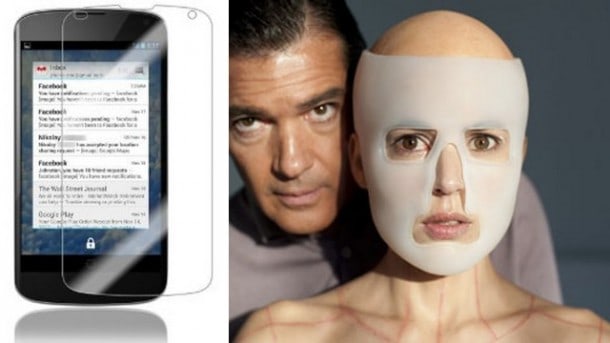 Remember I said cases were personal? Case in point: skin. Some people out there (though I don't know any) like adding a discrete, see-through layer of skin to their mobile devices (speaking of skin, you really should see The Skin That I Live In, a surreal, trippy film with overtones of Re-Animator, but without the glorious camp). So with this Skinomi ("Skin-on-me" – ha!) you make like Antonio Banderas and neatly apply thin layers of translucent skin onto your phone. If you do it right — and being good with a tiny squeegee is critical — then you'll have protection for your phone that is virtually invisible to the eye. Though, in my tests the results looked far less attractive than Elena Anaya.
Skinomi TechSkin
Cost: $13 on Amazon