One of our favorite magazine apps has just sweetened the pot. Next Issue, an iPad app that offers a Netflix-like subscription model for popular magazines, has added eight new titles. ESPN, Fast Company, Food & Wine (available Dec.), Inc., Men's Fitness, Men's Journal, New York Magazine, and Travel + Leisure (Dec.) bring the magazine library available to Next Issue subscribers to eighty.
Available in two all-you-can-eat tiers, subscriptions start at $9.99 per month for the "Unlimited Basic" plan (73 titles available), and $14.99 for the "Unlimited Premium" (all 80 titles).
Though all title are available for the iPad, those using Android tablets should check out the Next Issue compatibility page to ensure titles are available – the Android selection is limited. As far when the new titles will make their way to Android tablets, we're told, "work is currently underway." No ETA has been provided.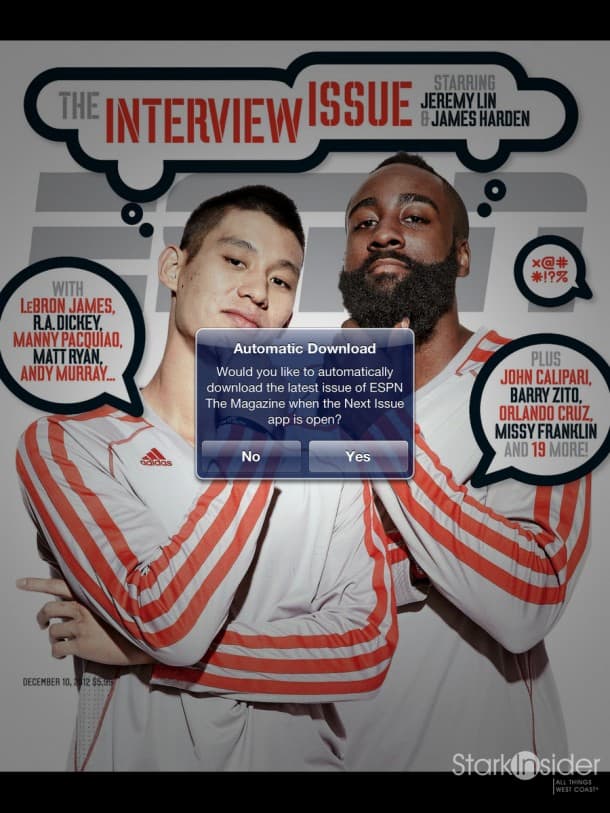 In his review of Next Issue for Android (3 out of 5 stars), Clinton Stark wrote, "Overall, the interface is slick. I particularly like the cover flow page view. Issues can be "pinned" for storage on your tablet, until you want to free up some space."
As with most things tablet related, we recommend the iPad version (4.5 out of 5 stars). Not only will you get a larger selection of magazines, you'll also get faster downloads, and smoother overall performance.